China has already enacted a stimulus plan of decent size to combat their ailing economy. It is also widely believed that they are working to put together another stimulus that will surpass some of the largest expectations in terms of its reach and size. Beyond the sheer magnitude of the stimulus, it is designed with what appears to be broad economic stimulation rather than frivolous government spending. In addition, China has no capital gains taxes. I am not entirely sure if they have dividend taxes, but I am somewhat confident if they do have taxes on dividends, the tax rate is probably smaller than here in the United States.
Personally, I am growing tired of seeing countries previously thought to be "liberal" anti-business nations such as France, or Communist nations such as China, becoming what one might call more responsible capitalist moderate nations than the United States. That shall be enough ranting for this article.
So, how many of you have heard of the Purchasing Managers' Index (PMI)? According to Investopedia, the PMI is a composite index of five "sub-indicators", which are extracted through surveys to more than 400 purchasing managers from around the country, chosen for their geographic and industry diversification benefits. The five sub-indexes are given a weighting, as follows:
Production level (25%)

New orders (from customers) (30%)

Supplier deliveries - (are they coming faster or slower?) (15%)

Inventories (10%)

Employment level (20%)
As it turns out, China reports a Purchasing Managers' Index as well. In fact it was just reported a couple of days ago. According to China Daily,
The Purchasing Managers' Index (PMI) of the manufacturing sector rose to 49 from 45.3 in January, 41.2 in December and a record low of 38.8 in November, the China Federation of Logistics and Purchasing (CFLP) said Wednesday. A reading of above 50 suggests expansion, while one below 50 indicates contraction. The PMI includes a package of indices that measure economic performance. The survey covers purchasing and supply managers of more than 700 local manufacturers.
Granted, China's economic growth is still in a period of contracting from their blistering growth rates seen in recent times. But it is becoming evident that stabilization is underway.
At least some of this stabilization should be attributed to good economic policies coming from Beijing.
Since late last year, China has announced several aggressive measures to ease the domestic impact of the global downturn. These included a 4-trillion-yuan (584.8 billion US dollars) economic stimulus package, a plan to expand rural home appliance purchases and support plans for key industries.
China hasn't just left it at that. They are working on an additional stimulus plan, which if the first one was any clue, will be widely praised for its likelihood of success.
Zhang Hanya, an economist with the National Development and Reform Commission, the country's top economic planner, said gross domestic product growth (GDP) would bottom out in the first quarter as these efforts began to pay off. Zhang forecast GDP would grow 10 percent for the full year.
So, what is the actionable idea? Figure 1, shown below, is a chart of the monthly percent change of China's Purchasing Managers' Index from June 2005 through the March 2009 data point (which shows up as a percent change for February 2009). But how can investors gain exposure to these positive actions that are becoming more evident as each month progresses?
click to enlarge images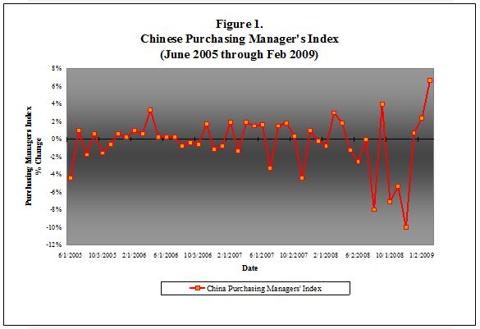 Click to enlarge
It is my understanding that China has two goals in mind as they create their economic stimulus programs. First, they want to purely stimulate their economy via creating jobs. Their country is lacking substantial infrastructure so, of course, a lot of their stimulus dollars are aimed in that area of the economy. Next, they have figured out that a purely production/exports driven economy is not necessarily the best thing compared to a balance between production/exports and their own internal consumption. So, what sort of companies might benefit from this stimulus? In my opinion several sorts of companies that will do well are copper, iron, steel, coal, and other various materials.
So the next logical step, make a portfolio of relevant "recovery" stocks that might serve investors well as a proxy for a Chinese recovery. The companies I think are logical for this exercise are Southern Copper (PCU), Freeport McMoRan (NYSE:FCX), Vale (NYSE:RIO), ArcelorMittal (NYSE:MT), and Nucor Steel (NYSE:NUE). I simply took an equal allocation of 20% in each stock to make the portfolio.
Figure 2, shown below is a graph of the monthly percent change of the portfolio of recovery stocks overlaying the monthly percent change of the China Purchasing Managers' Index.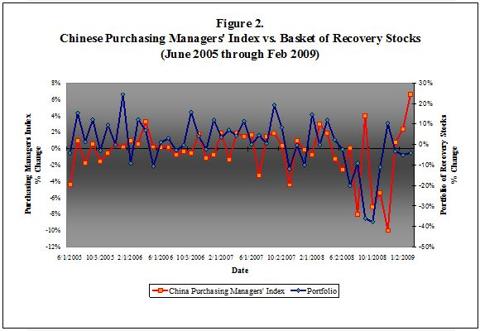 Click to enlarge
As you can see the portfolio of recovery stocks seems to correlate nicely with the China Purchasing Managers' Index. In fact there seems to be some sort of leading power to the PMI index compared to the portfolio. Notice how the PMI has moved up m/m compared to the portfolio of recovery stocks in the previous few months?
I believe some very positive things are going on in China. Since we can't count on the U.S. recovery anytime soon, maybe it is time for investors to look elsewhere. Perhaps more moderate countries moving in the right direction, such as China. I believe this basket of stocks coupled with a short position on SPY (to mitigate some of the volatility) will outperform the market over the next several years.
Disclosure: Author holds long positions in PCU, RIO, NUE, SCHN, PAAS.