The most recent Nielsen Mobile Consumer Report is out and it has some very interesting observations. But before we get to them, let's ask ourselves some questions.
How many times have you heard pundits say that consumers won't buy this or that smartphone because it does not have enough apps? I have heard it many times and so have you I imagine.
However, I have always doubted that people buy a smartphone for the apps. I don't think the number of apps make the phone. The reason people buy a phone device (smart or otherwise) is to communicate.
Now let's think about that for a moment. By "communicate", what do we mean?
There's oral communication

There's text messaging communication

There's email communication
Well, according to the Nielsen report, the top three things people in the U.S. do with smartphones (besides talking that is) are:
Text messaging/SMS (86%)

Email (75%)

Social Networking (63%)
There are the many reasons people buy a smartphone, but those reasons have little to do with playing games. People actually use smartphones to communicate and care very little for the flashlight apps.
Of course there are people that need a specific app and buy a smartphone based on the availability of that specific app, but they are in the minority. In fact, they are a very tiny minority.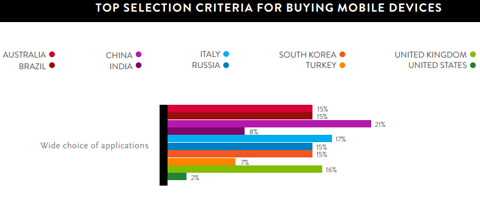 Click to enlarge
According to Nielsen, only 2% of consumers in the U.S. state as their top criteria the availability of apps when buying a smartphone. In other words, most people don't buy a smartphone to play games but to communicate.
What does this mean you ask? It means there very few people actually buy an Apple (NASDAQ:AAPL) iPhone because it has over 2.000 flashlight apps. People buy the iPhone because they like they phone, the ecosystem or some other reason. But whatever the reason might be, it has very little to do with apps.
If people decide to buy the BlackBerry (NASDAQ:BBRY) Z10, it will be because they want to communicate and nothing else. In fact, people who decide to buy the Z10 probably don't care at all for games or 90% of the apps altogether. The main criteria for buying the Z10 is the communications experience. And for my money, the BlackBerry Hub feature on the Z10 is probably the best communications tool out there.
Bottom line
The fact that BlackBerry does not have 700,000 apps like Apple will not deter people from buying a BlackBerry Z10.
Contrary to what most investors think, apps are not the single most important criteria for consumers when they decide to buy a smartphone. The main reason is the communications experience.
As for as BlackBerry, there are many reasons people might decide not to buy a Z10 device, but the lack of app availability is not one of them.
Disclosure: I have no positions in any stocks mentioned, and no plans to initiate any positions within the next 72 hours. I wrote this article myself, and it expresses my own opinions. I am not receiving compensation for it (other than from Seeking Alpha). I have no business relationship with any company whose stock is mentioned in this article.