Apple (AAPL) has fallen five percent in the past month and investors are scratching their heads. Apple started 2012 with a strong run but has been one of the worst performing stocks recently. Optimism surrounding the company has vanished and the media is now extremely critical of Apple. Now more than ever it is important to monitor developments for Apple and its competitors. Below I will layout the reason why I continue to recommend Apple and, as a supplement, present complementary option strategies. For details on my methodology please consult the first article in the series as well as my Instablog.
(Source: Yahoo! Finance)
Apple has declined 26% in the past quarter and 35% in the past six months. Let that settle in. At this time in 2012 Apple was in the midst of a run from $405 to $630 fueled by strong holiday sales. We all know the nitty-gritty numbers well but I think it is prudent to take a step back and put this underperformance in context. Apple is one of the biggest losers in the past quarter while perennial technology underperformers Hewlett Packard (NYSE:HPQ) and Dell (NASDAQ:DELL) have jumped over 45%. Dell is a bit of a special case as the firm was undervalued and it has a leveraged buyout offer. Do not even get me started on Netflix (NASDAQ:NFLX), which is up over 200% in the past six months despite a questionable international growth plan. Apple is now trading at a mere 6.2% above its January 2012 price as investors have been quick to dismiss Apple's tremendously profitable 2012. I too have grown less optimistic on Apple's prospects but concerns about competition and margin compression are greatly exaggerated. Alan Greenspan penned the term "irrational exuberance" to describe the tech bubble in 1996. I believe we have entered into a period of "irrational pessimism" with Apple given its valuation. Dell is currently trading at current and forward P/Es 9.76 and 8.48, respectively. In contrast, Apple is trading at 9.52 and 8.24. Ask yourself this, would you be willing to pay the same amount for Dell as you would for Apple?
(Source: Finviz.com 3 Month Bubble Chart)
Early in 2013 I presented three catalysts that Apple will need to move materially higher:
Apple increases its share repurchase plan significantly
Apple increases its dividend payment significantly
Apple announces a breakthrough new product
Despite David Einhorn's lawsuit against Apple loosely related to its cash policies, we have had no advancements on any of the three fronts. Apple historically announces its refresh of the iPad around March and 2013 should be no different. If the rumors are true, Apple will be releasing a redesigned New iPad that is slimmer, faster, and lighter: essentially it will borrow from the iPad Mini design. Many analysts and investors will start to groan when they hear the common refrain of "slimmer, faster, and lighter" but Apple still has no real competition in the tablet space. Microsoft's (NASDAQ:MSFT) Surface tries to be a laptop and tablet but essentially cannot offer the same user experience as the iPad. I am not suggesting that Apple should stop innovating but I believe investors dismiss how strong the iEcosystem is. As Apple ties you into its lifestyle brand and has you purchase more and more products with iTunes, it establishes strong barriers to entry. If Apple is able to announce a physically refreshed iPad in the next two months, I believe we should at least see an Apple pop. Remember that Apple has not dramatically redesigned the iPad and I believe the time has come.
The iPhone 5S and similar upgrades for its main product lines will keep consumers satisfied until it comes out with its next breakthrough products whether it be iTV, iWatch, or iGlasses. Apple is a massive company with an army of engineers and creative geniuses - if you believe the company is resting on its laurels and will simply be releasing incremental upgrades, you do not know Apple's corporate culture. I know that the firm is different without Steve Jobs at the helm but Apple still has many years of profitable growth ahead. I am more than willing to pay ten times trailing earnings that Apple reinvents or creates a new product line in the next five years like it has done so many times in the past.
An appeals ruling was recently handed down in the Apple vs. Samsung (OTC:SSNLF) California legal battle and the two firms continue to battle over every detail. For example, Apple sought damages for the infringing devices and the two companies argued whether the interest should be compounded annually (Apple) or not at all (Samsung). The headline that the judge reduced Apple's jury award 40% will grab all of the headlines and create the illusion that the judge sided with Samsung but is not as simple as that. Without getting too technical, the law permits the jury to award certain percentage of damages for certain types of infringement. For example, certain types of infringement would grant Apple 40% of Samsung's product on the infringing device. The ruling was quite technical but the judge concluded with:
"Because the Court has identified an impermissible legal theory on which the jury based its award, and cannot reasonably calculate the amount of excess while effectuating the intent of the jury, the Court hereby ORDERS a new trial on damages for the following products: Galaxy Prevail, Gem, Indulge, Infuse 4G, Galaxy SII AT&T, Captivate, Continuum, Droid Charge, Epic4G, Exhibit 4G, Galaxy Tab, Nexus S 4G, Replenish, and Transform. This amounts to$450,514,650 being stricken from the jury's award. The parties are encouraged to seek appellate review of this Order before any new trial."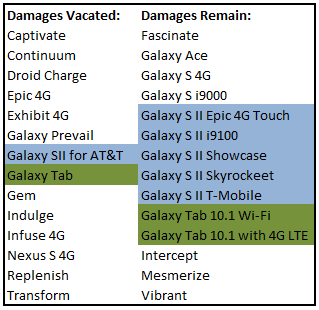 In conclusion, the ruling was not that Samsung did not infringe on Apple's intellectual property but that there were legal technicalities that made the original damages incorrect. Since the court could not recalculate the damages, it was forced to have those products included in a new trial. If you look at the list of infringing devices above, it is clear that the issue was primarily the calculation of damages as similar devices are listed in both columns. Apple will likely prevail in a subsequent suit or reach a settlement with Samsung. This is another case of the media jumping on any negative Apple news and running with it.
Below I present three possible scenarios and the potential returns for the Apple options:
Apple Down 5%
Apple Unchanged
Apple Closing at 50 Day Simple Moving Average
These scenarios are forecasts and there is no guarantee that they will come to fruition. For more information on the fundamentals of covered calls, consult Investopedia. I utilize conservative covered calls to simultaneously generate income and reduce your effective cost basis.
Additionally, if you would like even more information, I have prepared a sensitivity analysis for absolute return and percent returns, respectively. After studying the information above, these two charts make it easy to pick a strike price based on where you believe Apple will close at the end of the week. Estimate where you believe Apple will close and select the strike price with the highest return.
With this information, executing a buy-write on AAPL March 8 $440s is the preferred risk-return strategy as an opening Apple transaction. The option has a potential return of $3.75 (time value) and should provide coverage against a slight drop. This strategy is excellent for long-term Apple investors who want to generate income while still staying long the stock. An alternative approach is to sell out-of-the-money $425 puts and collect the premium without having to purchase the stock outright. The $425s are currently trading around $5.25 and appear to offer the best risk-reward profile for the week. Note that if the stock declines to the strike price, you are obligated to buy the stock (or closeout the position). You should always consider the risks (particularly with naked calls or puts) raised in this article in light of your personal circumstances (including financial and taxation issues) in consultation with your professional financial adviser.
Please refer to profile page for disclaimers.
Disclosure: I am long AAPL. I wrote this article myself, and it expresses my own opinions. I am not receiving compensation for it (other than from Seeking Alpha). I have no business relationship with any company whose stock is mentioned in this article. Author is long AAPL June $500 Calls.Please refer to profile page for disclaimers.