By: Jayson Derrick
Shares in Apple (NASDAQ:AAPL) have been beaten like a rented mule since the stock hit an all time high of $705.07 back in September 2012. At that time many analysts, investors, and business news pundits on TV have predicted the stock will be trading at $1000 and the company will be valued at 1 trillion dollars. Since September, all these predictions were thrown out the window and the stock has tumbled around 40% to where it stands today at around $440 a share and is testing a new 52-week low.
Will a split actually work?
Rumors began surfacing of a possible split in Apple's share price. Stock splits typically have a positive psychological impact as investors view the stock as "cheaper." Historically Apple has split their stock on a 2 for 1 basis on June 15, 1987, June 21, 2000, and most recently February 28, 2005 to great success.

Click to enlarge
Keeping in mind a stock split does not add (or remove) any intrinsic value to Apple's market share, a 2:1 split will place Apple at roughly the same price as a fellow tech company, Amazon (NASDAQ:AMZN) which has a market cap of $120 billion vs. Apple's $408 billion. I believe that if this were to occur, Apple would see immediate appreciation to their share price, especially if the stock is added to the Dow Jones Industrial Average (NYSEARCA:DIA) and index funds would be forced to accumulate shares.
But will it actually happen?
A stock split in theory sounds great, however we need to look at the reality. With a current share offering of around 940 million shares, a 2:1 split would translate to 1.88 billion shares, which would require shareholder approval as the company is only authorized to issue 1.8 billion shares. Last year CEO Tim Cook said it can in theory be a possibility, but it just isn't going to happen at least for now. Buying Apple stock now with the hopes of a split would be foolish, as would be waiting for the stock to split before buying.
So now what?
The company held their annual shareholder conference with the elephant in the room being the $137 billion in cash sitting around and doing nothing. This is no longer 2008, when the mystique and God like stature of former CEO Steve Jobs would allow the company to completely avoid answering these important concerns as everyone was distracted by the new products within the iFamily being released. Today investors are questioning the tactics that management is using and are demanding a change in policy with regards to the hoard of cash. At the front line of the battle is activist shareholder David Einhorn who has been pressuring Apple to increase shareholder value and even filed a lawsuit against the company to release some of the cash. At the meeting, Tim Cook exclaimed that the company is "seriously considering" returning cash to shareholders. Yes, we have heard this before to the tune of a $10 billion share buyback which is a step in the right direction, but it is not enough.
Potential actions?
There are two actions the company can take that should please shareholders. First being a more aggressive buyback program. I don't think anyone would be surprised if the company announced a $25 billion or more share buy back which would decrease the shares available by 5%. The second action the company can take would be to announce a hike to the dividend which is currently yielding around 2.4%. I believe that when Apple announced the dividends last year, the company had a longer term outlook to raise it on an annual or every two year basis. Any of these actions, or any combination of the two will make investors happy, and Apple stock will be everyone's BFFE (best friends forever) once again.
A dividend hike or buy back will help the stock today, what will drive the price up in the future
Apple is a great company with great management, great products, great profit margin and most importantly great innovation. Let's take a look at some of the products in the Apple pipeline that will generate revenue in the years to come.
Potential Chinese Goldmine
With Qualcomm's (NASDAQ:QCOM) new LTE solution supporting TD-LTE, Apple is likely to gain access to China Mobile (NYSE:CHL) network at some point in 2013. Tim Cook met with China Mobile in early 2013 and stated that China will become Apple's most important market in the not too distant future. China Mobile is by far the world's largest carrier with over 700 million subscribers, all of which are potential clients in the future as income, prosperity and wealth in China will continue to rise, and with it the consumption of luxury goods.
Apple can build a more affordable iPhone model for the Chinese market, as the rumors are currently suggesting. By eliminating some of the expensive metal parts and replacing it with plastic, Apple can come up with an affordable product aimed at the Chinese market that is very price sensitive. Morgan Stanley analyst Katy Huberty agrees that this would be a great move for the company to dominate the Chinese market. Apple has already sold over 2 million iPhone 5 models in China to a mostly wealthy and as such without a China Mobile deal the market potential is currently limited. I can't begin to imagine the effect of a China Mobile deal that can expand the potential market into the tens of millions over a few years.
Tim Cook meets with China's Ministry of Industry and Information Technology in his second visit in less than a year to China in early 2013
The other emerging market: India
India is on pace to become the world's third largest smartphone market behind USA and China. Apple has plans to gain market share as Samsung devices appear to be the more popular choice amongst Indians, as Apple accounts for just 5% of the market versus 40% for the market leader Samsung. Samsung simply beat Apple to the Indian market and is offering Android phones at a substantially cheaper price compared to the iPhone. To counter the higher premium Apple began heavily advertising in full front-page ads in major newspapers as well as offering installment payments that make the phone more affordable to users who are part of a country that is at a crossroad between emerging economy and advanced economy. As a result, iPhone shipments to India between October and December 2012 nearly tripled to 250,000 units from 90,000 units in the previous quarter. Granted these figures are nothing to boast about, but the following fact most certainly is. The Indian smartphone market is expected to grow more than five times from 19 million units last year to 108 million units in 2016. Best case scenario Apple dominates the market in 2016, worst case the market seems large enough for each of the major manufacturers to enjoy a very large enough 'piece of the pie'.
Domestic Growth: Selling the iPhone at Wal-Mart (NYSE:WMT)
Wal-Mart and Straight Talk Wireless (America's largest no-contract cell phone provider) began offering the iPhone 5 on a $45 unlimited talk, text and data plan. To make things even more attractive, no interest fixed monthly payments for $25 a month is available for users that want to finance the cost of the phone instead of paying the upfront $649 cost. A move like this benefits Wal-Mart and hurts other carriers like AT&T (NYSE:T) and Verizon (NYSE:VZ) as the unlimited plan can end up saving the end users a lot of money. A similar plan with one of the "big boys" over a two year period will cost roughly $3550 versus $1729 for the Straight Talk plan and this figure includes the full price of the iPhone 5. With this partnership, Apple will fulfill a promise Tim Cook made several years ago for their phone to be available "for everyone, not just the rich" and a promise to offer services to clients that prefer the pre paid route who are often ignored. While data is not available to confirm the success of the partnership, I have no doubt that it will play in Apple's favor, keeping in mind Apple will receive the same profit margin as they do with post paid carriers.
What time is it? Let me check my iWatch.
At first I have to admit I found the idea of an Apple watch product laughable and ridiculous. I have changed my mind recently because the product will be more than just a watch that tells time, it will be Apple's transformation into the relatively new segment of wearable technology. The company hopes to jump start the brand new industry. The product is real, it is no longer a rumor as Bloomberg reports Apple has a team of around 100 product designers working on a wristwatch-like device. The possibilities and functions at this point are not known, but we can assume that the device will perform some of the tasks that is now handled by the iPhone and iPad, and the watch will act as some sort of central hub that can communicate with other devices. When the iPod was first introduced the value and impact the product will play in our lives was underestimated, that is before the device revolutionized the entire music industry. Apple has a history of not only knowing what we want in advance, but telling us what we want. Apple seems to be banking on the fact that we need an iWatch. "It's unlimited, the number of wearable things you can tap into," said Gene Munster, an analyst with Piper Jaffray, who imagines small companies making inexpensive products like belts with sensors that alert the watch when you've eaten too much.
Let's be honest here, whenever someone asks me what time it is I reach into my pocket and check my cell phone instead of looking at my very expensive Omega watch. Fashion is dead and is now being replaced with modern technology.
While it is too early for revenue projections for an iWatch considering we don't even know what it will do, this hasn't stopped analysts from throwing out numbers. Amit Daryanani from RBC Capital markets predicts an Apple watch can bring in an extra $9 billion in revenues in the first year of the product. "It's an accessory device. At the end of the day it's something you probably will buy along with your iPhone to tap more into the apple ecosystem," Daryanani said.
Update on the rest of the iFamily
Apple has filed a very interesting patent that will update and improve the way the iPad will be used. The patent is an advanced case and stand that will allow a safe way of attaching the tablet for use in cars, treadmills, and more. This is an interesting development that when released will allow the iPad to do more, and attract an even larger audience.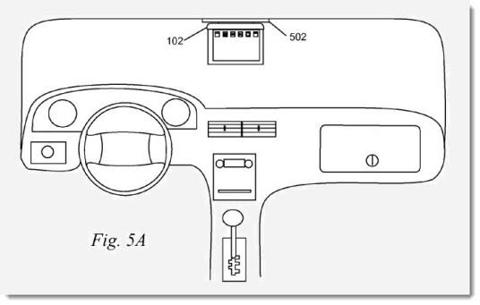 Click to enlarge
The iPad's little cousin, iPad mini is the recipient of good news for the market, as new research has suggested that demand for smaller sized (and smaller priced) tablets will be growing much faster than that of the larger tablets. I'm not suggesting that the demand for larger size tablets is shrinking, quite the opposite the demand is still surging as reports are indicating that for the first time ever tablets will outsell computers. I'm not going to ignore the fact that Apple has been losing market share to competitors such as Samsung (I own a Samsung tablet and love it) but I would like to point out that Apple's position in the tablet market is greater than the numbers 2 and 3 combined.

According to some rumors, Apple will be releasing either an iPhone 5S (S for security) in addition to a cheaper phone previously discussed. There is very little detail even in the rumor mills about this new phone, but I would like to point out that there is no reason to not believe that the new iPhone will be anything but a success for a potential fall launch. Let's look briefly at the fall figures:
| | |
| --- | --- |
| Date | Fall iPhone Sales - reported as fiscal Q1 |
| 2009 | 8.7 million |
| 2010 | 16.24 million |
| 2011 | 37 million |
| 2012 | 47.8 million |
If a new iPhone is indeed scheduled for a 2013 fall release as is the current rumor, I believe that the stock price will appreciate in value to factor in a 5th consecutive year of impressive growth.
Nothing new to report with the iPod. With several different models and different price points the product doesn't need any revamping for 2013. "If it ain't broke, don't fix it"
Conclusion
The key to fixing Apple's stock price is to give the company more time to do what it does best and that is earning a larger profit than Microsoft (NASDAQ:MSFT), eBay (NASDAQ:EBAY), Google (NASDAQ:GOOG), Yahoo! (NASDAQ:YHOO), Facebook (NASDAQ:FB) and Amazon COMBINED. The company is not broken, nor are their products 'uncool', rather the stock is suffering from extreme shareholder pressure to do anything that will create additional value. Apple is well positioned to deliver continued growth within the domestic market, and is in an amazing position to finally realize their full potential growth within the key emerging markets that are becoming increasingly more important. Apple should provide a consistent growth that outperforms all major benchmarks, however the days of excessive irrational growth is done with. As everyone is paying closer attention to the company, the stock valuation will reflect the performance moving forward. I encourage you to think of the long term, and based on all the topics I discussed, ask yourself "will Apple be larger and more profitable this time next year? In 2 years? In 5 years?". If you believe that the answer is undeniably yes, then stop paying attention to the day to day performance of the stock, questioning when the decline will end, and just buy some shares and don't look back if the short-term road is still bumpy.
To conclude, I want to look at a few key fundamentals and compare them to their rival, Google to show how Apple is in better shape and is undervalued.
| | | |
| --- | --- | --- |
| Item | Factor/Number | Note on Google |
| P/E ratio | 10.18. | Google currently trading at double the stock price with a P/E of 25. A lower P/E is viewed as cheaper relative to a peer that is trading at higher earnings. |
| Cash on hand | $137 billion. | Roughly 3 times more than the second highest cash hoarder, Google with $48 billion. |
| Annual dividend | $2.65 per year, ~2.4% yield | No dividend offered. |
| EPS | $44.10 per share. | Google is earning less per share, $32.47. |
| Market cap | ~$405 billion. | Less than half at ~$265 billion. |
| 52 week lo-high | $431.28 - $705.07 | $556.52 - $808.97 |
| Stock trading at | 52 week lows. | Google near 52 week high. |
| YTD performance | Down 19.5% ytd | Up 22.8% ytd |
Price target
$545 is a reasonable target based on the stock's average multiple from the past two-year period (as of January 23, 2013 when the company reported December 2012 results) of 11.5x to FY14 EPS estimates of $47.55.
Disclosure: I have no positions in any stocks mentioned, and no plans to initiate any positions within the next 72 hours. I wrote this article myself, and it expresses my own opinions. I am not receiving compensation for it (other than from Seeking Alpha). I have no business relationship with any company whose stock is mentioned in this article.