Two long/short battlefield stocks with huge volatility and daily headline activity are Herbalife (NYSE:HLF) and BlackBerry (NASDAQ:BBRY). HLF has an outstanding short position of 33.598 million shares out of 103 total shares outstanding and BBRY has 136.5 million shares short out of a total of 524 million shares outstanding. We are long both names for various reasons. First, we were attracted by their strong asset-rich balance sheets with cash generation capability and in the case of BBRY, no structured debt at all. Second, both companies have been in business a very long time and have withstood many types of economic and internal ordeals. Third, both companies offer products that help people's lives and both companies are in the limelight on Wall Street regarding their prospects going forward. Last but not least, both companies have large outstanding short positions. We view the large short interest as a huge insurance policy in these cash and asset rich companies. Moreover, we think these positions can be considered as a valuable off-balance sheet asset for them if used to their advantage.
What do we mean by "shrink wrap the shorts?" Both HLF and BBRY may become targets due to event risks beyond their control from major holders who can cause an uncoordinated lethal event to freeze the shorts in place, especially because shorts are known to be stubborn, patient and contumacious.
Headline and Event Risks At For Both HLF and BBRY
HLF
1. Carl Icahn increasing his position in HLF.
2. Bill Ackman investors getting anxious and redeeming, forcing an undesired short position cover.
3. New celebrity "Doctor" campaign could reinvigorate HLF product lines and sales force recruitment.
4. Icahn's option to share conversion tightening the supply of borrowable shares for short sellers as described by fellow SA writer Scott Hotaling here.
BBRY
1. BBRY US Z10 launches in March simultaneously announcing a huge beat on the units sold/shipped in the first month over the low 300k estimate by bearish analysts including Canaccord Genuity analyst T. Michael Walkley.
2. More highly-publicized positive reviews like the one in the Financial Times in London this weekend claiming the Cupertino folks should be nervous Nellies.
3. Microsoft's (NASDAQ:MSFT) Bill Gates has been very vocal about being disappointed for missing the leadership role in mobile. We quote this excerpt from The Verge where there is also a video link to the interview:
"There's a lot of things like cellphones where we didn't get out in the lead early," says Gates. "We didn't miss cellphones, but the way that we went about it didn't allow us to get the leadership."Gates says this strategy was "clearly a mistake."
This interview was linked to "Rumor: BlackBerry goes positive on speculation of a Microsoft partnership" that TheFlyOnTheWAll reported. A partnership like this would wreak havoc on the shorts.
4. An investor like Carl Icahn or Dan Loeb of Third Point Partners announcing a stake in BBRY further squeezing the supply of borrowable shares.
The Numbers
HLF major shareholders snapshot:
The 13D and 13G holders own roughly 59.1 million of the 115 million outstanding. Icahn only needs to do a tender for the 56 million which he now has approval to do from the company. Bill Ackman, the CEO of $12 billion Pershing Square Capital Management and his rival in Herbalife is in a precarious position, especially given his mounting losses in J.C. Penney (NYSE:JCP). Ackman, is the biggest shareholder of JCP with a 18.11% stake, or 39,075,771 shares. On February 27th alone, Ackman lost $150 million in value in his J.C. Penny shares.
But something strange is happening in HLF, according to SEC filings :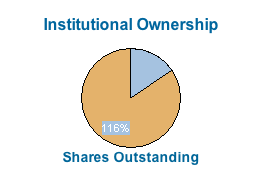 The "shrink wrap" may already be underway in plain site with institutional holdings reported of 116%.
Meanwhile back at BlackBerry, things seem to be happening in a similar fashion to that of HLF.
BBRY holder snapshots:
And the institutional ownership pie chart shows a 56% ownership without including the founder/insider Lazaridis' 29.9 million shares: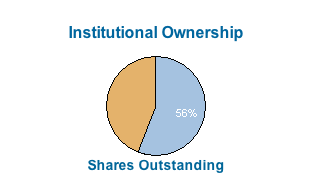 The major risks in being short these two particular names is that they continue to generate positive cash flow and increase their net assets and therefore have time to completely reinvent their businesses. Moreover, they have a cult-like following in their user base. However, HLF cult followers do seem to lose interest more often than BlackBerry lovers. Facebook (NASDAQ:FB) even has a page dedicated to Herbalife cult followers. Both companies are in undeniably hot market segments. Truth be told, it is tough for a company to ultimately go to zero (which all shorts sellers want) if they have positive cash flow. Both HLF and BBRY have positive cash flow, although for different reasons. In the case of HLF, they sell health related food, supplements and vitamins. This is a growing market segment especially with the marketplace fixated on the obesity epidemic in the U.S. and other developed countries. If, with the vast resources of Icahn, HLF can straighten out the misperceived business practices and re-energize the marketing channel with a "star/celebrity" nutritional guru, the company's revenues could soar. Great products make great companies. We have told our readers that we believe the new BBRY BB10 phones are great. We have not bought HLF products since high school. But we certainly buy similar products at Whole Foods and other health food stores. So what's so farfetched about HLF getting its product mojo with a celebrity chef/nutritionist in tow and really shut down the critics? We think Icahn is on to something and who knows, he may even take a stake in BBRY too. We know he did well with Motorola.
We want to explain the risks of having a short position in a company that is financially sound. First of all, in a situation where there is a negative rebate as explained above, there is a cost to carry the short position. Then there is a possibility of a share recall. This happens when a shareholder wants to either take physical possession of their share certificates or if they want to place it into a cash account from a margin account. This could only happen if the shareholder owns his shares outright with no borrowings. Moreover, sometimes brokerage houses place shares that are fully owned with no debt in street name anyway, making them eligible to be lent out to a short seller and earning the negative rebate all for themselves. In the case of the former, sometimes shareholders want to present to shares as for gifting purposes. Rare and esoteric, but there have been times when shares actually become collector items. The practice of collecting these shares is called Scripophily. Let's say, for example, when BlackBerry officially changes its name as previously announced at its next shareholder meeting, it has to replace all the physically held share certificates in paper form to reflect the new name. Hypothetically, they could have Alicia Keys mechanically autograph the new certificates possibly creating a demand for physical possession. Other things can happen that create squeezes, such as a large shareholder increasing their stake. In the case of HLF, Carl Icahn did, which caused the shares to restart their upward spiral. You can bet he is not holding the shares he bought in street name. This would create a need for the shares he is purchasing to be recalled and therefore have to be replaced by other shares to be borrowed to sustain existing short sellers' positions. If shares are hard to find, the negative rebate goes up, thereby driving the cost to carry for the short seller. This can become a vicious circle, possibly forcing the short position holder to close out his position at the then market price, which most likely is going up. We explained this scenario in a previous article mentioning the VW (OTCPK:VLKAF) historic squeeze.
Short Selling Rules and Terminology
We want to outline some fairly complex but necessary technical details about the short-selling stock trading activity. These details are not widely understood outside Wall Street. First, we want to state that we think shorting stocks is very important to the stock market and are not in the camp who believe it's a bad practice. But it is risky for those who approach nonchalantly. Let's start with the process on how to short a stock. A trader has to find shares to "borrow" so that he can sell them. Share that are held in margin accounts at brokerage houses are labeled "held in street name" thereby allowing various institutional brokers to lend them out to short sellers. There used to be a practice called naked shorting which skipped the step of finding the "borrow" of street name shares. This became illegal when regulation SHO was implemented on January 3, 2005. Regulation SHO established "locate" or finding the 'borrow' and "close-out" or closing out a short position because the shares have been recalled by the owner. Regardless, naked shorts still exist and are reported every two weeks on the SHO list found here. When shares of a company are in large demand for short sellers who want to sell them short, the institutions who "locate" and "lend" them the "borrowed" shares can extract what is commonly called a negative rebate, which is an annual interest-like charge to hold the position. This activity is done by the "short desk" that runs the "short book." The "short book" is a very opaque activity at these institutions primarily because there is little real time transparency in short positions. This leaves large discretion in negative rebate pricing power in the hands of the people running the short desk. Needless to say, these operations can be very profitable for these institutions.
Just an ending note here which both shorts and longs may embrace: we don't understand the time lag in the short interest positions. See Nasdaq:
Why can't investors get the raw data as submitted on the due date and compile the data themselves? The time lag here is significant and adds to opaqueness of the short selling practice.
Disclosure: I am long BBRY, HLF. I wrote this article myself, and it expresses my own opinions. I am not receiving compensation for it. I have no business relationship with any company whose stock is mentioned in this article.