Shares of Google (NASDAQ:GOOG) recently topped the $800 mark, and at Friday's close of $806.19, were less than $2 from the 52-week high. Google shares have done quite well in recent months, up nearly 45% since the middle of June 2012. Google shares appear to be going to the moon, with Apple (NASDAQ:AAPL) shares dropping to 52-week lows. The question today is if Google's rally mirrors Apple's rally, and we are close to topping out. We are seeing some similar signs, including the multiple $1,000 price targets on Google, which reminds me of the $1,111 price target on Apple. Boy did that turn out foolish. Google is showing more growth right now, but trades at an enormous premium. So is Google's growth worth the price? Let's take a look.
Google's revenue growth jump:
Google made a bold acquisition when they acquired Motorola Mobility. There were many critics at the time that questioned the $12.5 billion purchase price. However, Google needed to shake things up, as the stock had done almost nothing in the past couple of years.
The Motorola Mobility acquisition has greatly increased revenues, although it has cost Google a bit on the margin side. I put together a chart to show Google's quarterly revenue growth over the past two years, as well as projections for 2013 and 2014. There are a few notes I must provide on what this chart shows.
Chart shows non-GAAP growth and estimates. Google analysts use non-GAAP numbers. Google reports revenues on a GAAP basis, before subtracting traffic acquisition costs ("TAC"). Google analysts subtract out the "TACs" when calculating non-GAAP.
Q1 2013 and Q2 2013 are current estimates.
For Q3 and Q4 of this year, I have calculated an "average" growth number based on what analysts expect for the full year, minus the first half of the year.
The 2014 number is the whole year expected number, so individual quarters could see higher or lower growth.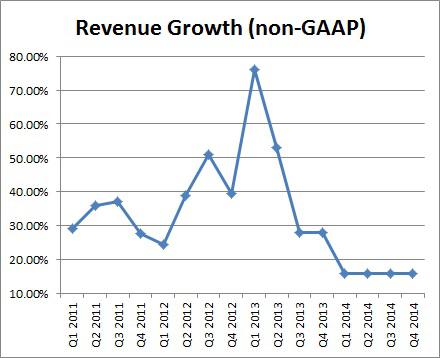 The first quarter that includes Motorola Mobility numbers was Q2 of 2012. You can see the initial spike higher that is expected to last through the first quarter of this year. However, once we start getting Motorola to Motorola comparable quarters, growth numbers are going to drop, and quickly. Analysts are currently looking for 76% growth in Q1, 53% in Q2, and 28% for the second half of the year. For 2014, analysts see full year revenue growth of less than 16%.
Google is still growing at a nice clip, and I'm not trying to downplay that at all. I just want investors to realize that we are in a period of time where numbers are inflated due to a very large acquisition. Over the next couple of quarters, those growth numbers will drop, and I don't want investors to be spooked. We've seen recently what happens when growth numbers have come down with Apple, and it was not pretty for shareholders.
An extremely rich valuation:
Google does trade at a huge premium to other names in the space. I put together a valuation table showing price to sales and price to earnings on a trailing twelve month basis. These numbers are the last four quarters for each name, regardless of fiscal year. Google and Baidu (NASDAQ:BIDU) are calendar years. Microsoft's (NASDAQ:MSFT) fiscal year ends in June, and Apple's ends in September. So for example, the Apple numbers include the $54 billion plus revenue quarter. For Microsoft and Google, I have calculated numbers based on both GAAP and non-GAAP revenues and earnings. Google provides numbers both ways. Microsoft has had some non-GAAP numbers based on the Windows 8 launch as well as a huge write off they took last year.

The key here is that you are paying a huge premium. When it comes to Microsoft, you are paying double on a non-GAAP basis. While I understand that Google is growing a lot faster than Microsoft, Microsoft also is buying back billions in stock a year and has a dividend that currently yields 3.3% on an annual basis. Is that worth paying twice as much? Even if you look at some of the forward looking numbers, the premium does not come down too much. Microsoft is currently trading at 8.93 times expected 2013 calendar earnings, while Google trades for 17.71 times.
Then there is Apple. Apple currently trades at an even lower valuation than Microsoft, and Apple uses a GAAP basis. If you were to take out stock-based compensation and compute a non-GAAP earnings number for Apple like Google does, Apple's P/E would be even lower. Apple has also started a buyback program, and with the fall in the stock, the dividend is now yielding 2.46%. I also expect Apple to raise that dividend nicely this year. Over the longer term, Google and Apple's growth rates will probably be fairly close, so is it worth paying this huge premium for Google? I agree that Apple is a bit undervalued at present, but Google could also be overvalued as well. Apple is currently trading at 9.4 times expected 2013 calendar earnings, and I mentioned above that Google is at 17.7 times. Don't forget, that's Google's non-GAAP numbers. GAAP earnings are even lower, meaning the premium would be even higher if you did a GAAP to GAAP comparison.
Baidu is the interesting one here. Baidu trades at a similar earnings valuation to Google. Baidu also trades at a premium on price to sales. That makes sense as Baidu's growth over the past couple of years has been tremendously higher. Going forward, Baidu's 5-year growth estimates are in the high 20% range, while Google's growth range is probably in the mid teens. Baidu trades at 17.1 times expected calendar 2013 expected earnings, which is a slight discount to Google. However, if we go out a year, the difference widens to nearly 10%, with Baidu at 13.7 and Google at 15.1. In 2014, Baidu's revenue growth is forecast to be 29.1%, nearly double that of Google's 15.8%. On an earnings per share front, Baidu is expected to see 25.4% growth in 2014, while Google is at just 17.3% (non-GAAP).
The main point here is that Google trades at a premium, and there is no arguing that point. Over the last couple of months, investors have been willing to pay that premium. The question is will they be going forward as we do see those growth rates come down a bit. Right now, Google appears to be a short on valuation. Now that doesn't necessarily mean I would short it here, but on valuation, Google appears to be a bit expensive. Maybe if Google starts returning some of its cash to shareholders, the premium won't seem as great.
Analyst upgrades and price target hikes:
Over the past couple of weeks, we've seen a lot of positive comments from analysts. The first was from CLSA putting a $1,000 price target on Google, which would represent almost 26% growth from the then $795 price Google as at. Bernstein then joined the party, hiking its target from $820 to $1,000. Analysts Carlos Kirjner stated, "We believe mass adoption of smart phones, tablets and the mobile Web is a large value creation opportunity for Google." Kirjner also believed in a fast growing YouTube, which he believes is a tremendous opportunity for Google and not reflected in current estimates.
Deutsche Bank also pounded the table, raising their price target from $850 to $935. They believe that Google's mobile business is becoming an increasing positive for the company, and that mobile trends are heading in the right direction. Bank of America also joined the party, upping their rating from Neutral to Buy and raising their price target from $790 to $920. Bank of America's main argument is that Google's multiple will expand, although I showed above how it is already well above some other names in the space. Interestingly enough, Google shares are up 16% since Bank of America downgraded the stock in October. Some might take the B of A upgrade as a negative sign since they were wrong before.
In the following table, I've thrown in the current ratings and price targets for each name I've discussed in this article. A rating of 1.0 means a strong buy and a 3.0 is a hold. I've also included the current upside to that target, from Friday's closing prices. I included Facebook (NASDAQ:FB) as well, just for an extra comparison, but I won't be discussing that company in depth today. I've already made a Google to Facebook comparison. Most of the analysts see these names as buys, with Baidu almost being a hold. However, Google is a lot closer to the average price target than many others. That might mean that upside could be capped. When Apple rallied above $700, the average price target was in the high $700s, and that proved to be a ceiling for the stock.

Rising skepticism?
Some people believe that analyst actions can provide a counter-trend, meaning that all these analyst upgrades are a chance to sell or get out. In fact, we are reminded that the last time we saw analysts jump on the Google bandwagon like this, it was only shortly before the stock tanked due to a Q3 miss.
Additionally, in the first two weeks of February, short interest in Google spiked 22.6% higher. Over 4 million shares are now short, the highest amount in two months. The chart below shows Google's short interest over the past 10 months. We're now roughly back to the average over that time period.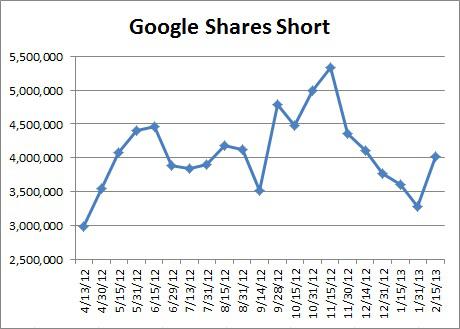 Final Thoughts:
Over the last 8 months, Google shares have risen about 45%. The rally in Google reminds us a lot of the one we saw in Apple. Google even had a revenue and earnings miss during that period, causing shares to drop before rebounding strongly. Apple had a similar miss during its historic rise. Google shares are now above $800, rapidly approaching the average price target among analysts on the street. In terms of valuation, Google has stretched a little too much, as growth numbers are inflated due to the Motorola Mobility acquisition.
I am classifying this article as a "Short Idea" because at the moment, I believe Google stock is a short on valuation. However, that doesn't necessarily mean I am recommending you short Google. That trade has not worked well. I believe that US markets will take another run at their all-time highs soon, and maybe if Google pushes up to the $825-$850 range it will become a true short recommendation then. But for those that are looking to go long Google right now, I would wait for some kind of pullback. There are just way too many other names out there that provide more value. Apple at a 52-week low is certainly one of them.
Disclosure: I have no positions in any stocks mentioned, but may initiate a long position in AAPL over the next 72 hours. I wrote this article myself, and it expresses my own opinions. I am not receiving compensation for it (other than from Seeking Alpha). I have no business relationship with any company whose stock is mentioned in this article.
Additional disclosure: Investors are always reminded that before making any investment, you should do your own proper due diligence on any name directly or indirectly mentioned in this article. Investors should also consider seeking advice from a broker or financial adviser before making any investment decisions. Any material in this article should be considered general information, and not relied on as a formal investment recommendation.