Introduction
For those of you not familiar with DineEquity (NYSE:DIN), it's a company that's made up primarily of two restaurant chains; IHOP and Applebee's. Formerly just IHOP, DineEquity acquired Applebee's in October of 2012, on the heels of one PR disaster and just months before Applebee's would find itself in another PR disaster and viral boycott campaign like none I've ever seen before.
From DineEquity's website:
In the past, the world knew us as IHOP, an American icon to our guests and a franchising company that was focused on providing strategic leadership and vision for our franchisees and on enhancing value for our shareholders. With this dedicated focus, we cultivated a core expertise in brand revitalization and franchising know-how which became the basis for the winning formula that has defined the financial success of our business in recent years. With the addition of Applebee's to the IHOP family of restaurants in November 2007, we made a bold new commitment to our brand revitalization abilities and to the power of franchising. DineEquity promises to make our two businesses more powerful and more successful than either brand could have been apart. In October of 2012, DineEquity successfully completed the transition of Applebee's to a 99% franchised restaurant system. Our goal remains to provide delicious, innovative dishes and exceptional guest experiences each and every time a guest walks through either brand's doors. With more than 3,500 restaurants combined in 18 countries, over 400 franchisees and approximately 200,000 team members (including franchisees and company-operated restaurant employees), DineEquity is one of the largest full-service restaurant companies in the world.
Have you been to Applebee's Facebook page lately? It's become the target of former employees, unsatisfied customers and what seems like every available internet troll on any given day. Past employees claim the benefits are horrendous and working conditions are poor. The page is laden with complaints (albeit amongst some praise) about food and dining conditions. Customers are organizing boycotts of the restaurant, and Applebee's PR and reps for their Facebook page can seemingly do nothing to satisfy and curb this hostility. Applebee's has gone viral on the web -- and not the good viral, either. The internet has placed a target sign on Applebee's head. Here's why:
The Chelsea Welch PR Disaster
If you're not familiar with the Chelsea Welch & Alois Bell story that has had Applebee's in the headlines for the better part of 2013, let me give you the abridged version.
In early 2013, news started making its way around the world that Applebee's had fired a waitress by the name of Chelsea Welch. The incident surrounding the firing has been the catalyst for a massive anti-Applebee's movement in the coming months.
Chelsea Welch's friend was waiting on Alois Bell and her party of six or more and, per company policy, her friend applied an 18% gratuity to their check (which was a paltry thirty-something dollars -- very small for a party of six). The policy of automatically adding a tip onto checks for large parties is to protect the waitstaff from getting undertipped from a group that's going to substantially occupy their time. The thinking is that if you're going to occupy significant real estate for a long amount of time, they shouldn't have to risk not being compensated for it. As I've found out from reading, waiters and waitresses in the US are commonly making below minimum wage for their hourly rate. Providing they are offering good service, this is a pretty standard practice, even in a lot of chain restaurants nowadays.
Customer Alois Bell opted out of the 18% gratuity, hand writing on her check "I give God 10%, Why do you get 18?", and failed to leave her waitress any tip at all.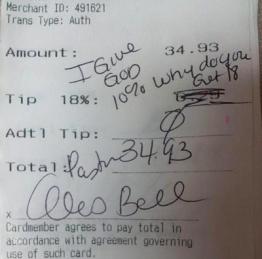 Chelsea, annoyed with such blatant stupidity on the part of the customer, took the above picture of the receipt and posted it to Reddit. Long story short, Applebee's personnel found out, and subsequently fired Chelsea Welch.
Since then, there has been an outcry from the general public (many of whom have worked in restaurants at some point in their life) to rehire Chelsea Welch. The outcry was followed by what blogger R.L. Stollar called an "Overnight Applebee's Social Media Meltdown". R.L. does a superb job of photo journaling the account and the subsequent attempted damage control from Applebee's.
From that article, documenting the night after the incident broke:
(used with permission from R.L. Stollar)
By around 2 am, there were around 17,000 comments on Applebee's original Facebook status. Then began the most bewildering move in corporate social media/public relations that I have ever witnessed. At 2:53 am, the middle of the night, whoever manages Applebee's Facebook page started making comments on their status update. In response to the over 17,000 comments, the following statement appeared - not as a new status update, but as a comment on the status update. (Had to break it into two pieces to capture it.)

I was, to put it plainly, stunned. Surely this was someone using a fake Applebee's page to make a comment. Commenting on your own status update during the biggest PR disaster in the history of your company at 2:53 am is the exact definition of social media suicide. Assuming this was a fake Applebee's account, I clicked on the name. It took me right back to the page I was on. This was an official Applebee's person. Commenting at 2:53 am.

So people are getting furious at being censored. Then Applebee's social media makes a comment on a status update at 2:53 am. Next up: Applebee's starts repeatedly tagging people in the middle of the night and repeating their same comment over and over… and over. It's now about 3 am in the morning.

This should come as no surprise, but - people don't really like this repetition. It kinda gets under their skin. And they don't hesitate to let Applebee's know.

You'd think at this point in time someone in Applebee's social media team would advise whoever is posting on behalf of Applebee's to just lay low for a while. But no - the unthinkable happens. At 3:06 am, Applebee's starts tagging people and arguing with them.
To view the full photo essay and review all of the comments, please check out R.L. Stollar's article at length, located here. It's worth a look.
In less than a month, the following social media sites have been utilized, liked by a combined total of almost 4 million people:
Four examples of what's being posted on Applebee's Facebook site, from today 3/1/13, one month from the firing:
Dude, guys, buying so many Facebook ads I can't do anything without thinking about Applebee's doesn't make what you did to Chelsea Welch okay. In fact, it makes it worse. I am still not coming back. Not to IHOP, either.

First Chelsea Welsh, now shunning breastfeeding moms? Why don't you just close your doors?

People don't forget. You are not forgiven.

Won't be going to eat here anymore after the firing of Chelsea Welch. She wasn't the one that upset the customer she didn't put the 18% gratuity into effect. She only posted online. Pretty low in my opinion.
4. Chelsea Welch Didn't Deserve to be Fired
5. Chelsea Welch Deserves Her Job Back
On the Heels of Another PR Disaster
This incident follows on the heels of an incident where an Applebee's manager called the police on a woman who was breastfeeding her child. The story was picked up by major newsmedia and was quickly ran nationwide. The Huffington Post reported on the story:
A new mother in Georgia has been shamed for breastfeeding in public, WXIA-TV reports. Dawn Holland says the manager at Applebee's called the police after she refused to nurse her 20-month-old son Connor in the bathroom.

According to WXIA-TV, Holland was breastfeeding in a booth when the manager approached and suggested she finish feeding her baby in the restroom or leave. She told the news station that she tried explaining her right to breastfeed in public -- Georgia is one of 45 states that have laws which allow mothers to nurse anywhere. And, the officer who responded to the call didn't even file an incident report.
This incident sparked outrage from mothers, including a planned nurse-in event from angry mothers. The smoke was just starting to clear from this bad press when the Chelsea Welch story hit the wires.
What This Means for Investors
If DineEquity continues to mismanage incidents like this, it could lead to huge trouble in Applebee's sales. This investor has absolutely no doubt that the recent event's consequences and bad press are going to effect sales for DineEquity's first quarter of 2013.
PR's job is to put the fire out -- away with the bad and focus on the good -- and in this case we seem to have a distaste for the company that continues to grow.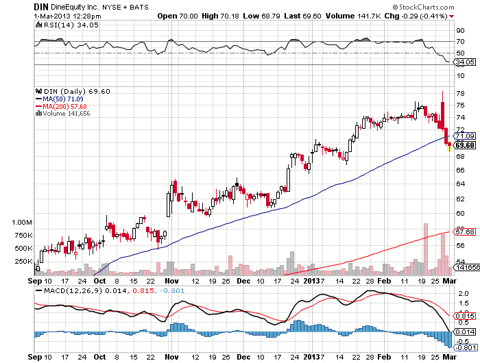 As someone looking to go short, based on this chart I'd wait for the next small move up (which looks like it's a day or two off). Then, I'd pull the trigger on the short position and ride it all the way through earnings for Q1 release (if you have the means).
DineEquity is absolutely off the table as a long position, at least until this is tidied up/forgotten about and the corresponding financials from the dates surrounding the incident are released. Remember -- the filings are three months behind the news. There is a ripple effect here that needs to take place and work its way out before anyone should consider a long position.
Again, this investor recommends a short position here, to capitalize on what is clearly a sign from the public that they have not been patronizing Applebee's (or IHOP) as much as they were before the incident. This is a sign that revenues will lag this quarter, and a short trade is the way to play it.
As always, best of luck to all investors.
Disclosure: I have no positions in any stocks mentioned, but may initiate a short position in DIN over the next 72 hours. I wrote this article myself, and it expresses my own opinions. I am not receiving compensation for it (other than from Seeking Alpha). I have no business relationship with any company whose stock is mentioned in this article.