Warren Buffett had an interesting insight in his latest (2012-pdf) letter to Berkshire Hathaway (BRK.A, BRK.B) shareholders, which will probably go un-noticed by the media. This insight took just a single paragraph in page 8 which reads as follows:
A further unpleasant reality adds to the industry's dim prospects: Insurance earnings are now benefiting from "legacy" bond portfolios that deliver much higher yields than will be available when funds are reinvested during the next few years - and perhaps for many years beyond that. Today's bond portfolios are, in effect, wasting assets. Earnings of insurers will be hurt in a significant way as bonds mature and are rolled over.
What does Warren Buffett mean, and why?
Literally, he means that insurance companies will see significant earnings pressure from rolling over bonds bought in a higher-yielding era. Everybody knows that throughout the years yields have been falling significantly, as can be seen for the 10-year bond below, but this plunge accelerated steeply in the last couple of years, with the 10-year yield going from around 4% to less than 2% (Source: Yahoo Finance).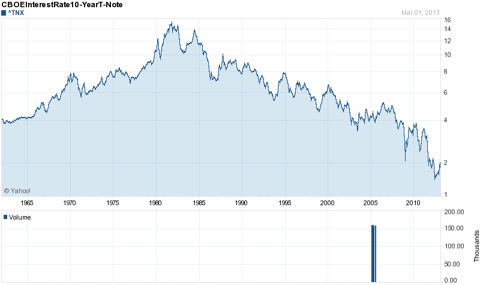 Click to enlarge
Now, we can roughly describe the insurance profits as something like return on float - float cost - operating costs. The float is the result of insurance companies charging premiums before they pay claims. Usually (for the entire industry, though many times not for Berkshire) the claims exceed the premiums paid, with the difference constituting the float cost. The insurance companies thus have to invest the float into financial products to generate returns in the meantime (before they pay the claims) - this is the return on float.
So what happens here? The float cost will vary but overall remain rather stable, same with the operating costs. Now imagine for a while that return on float is 4% due to all those higher-yielding bonds bought in the past, float cost is 1% and operating costs are 2%. This would see the industry having profits of roughly 2% on the whole float. So what happens when those bonds start maturing and they have to be rolled over into new bonds yielding just 2%? Suddenly, the return on float converges towards 2%, the float cost is 1% and the operating costs are still 1% … and ALL the profits go away! This is Warren Buffett's insight.
Conclusion
The present low-yield environment has significantly negative implications for insurance companies whose float has been invested in fixed income bonds, which now yield much lower. As the old bonds mature, the re-investment into the low yields will destroy profitability even without any catastrophes occurring.
Under this scenario, insurers trading at low earnings multiples would be priced deceptively, much like any cyclical industry whose players usually seem cheap (earnings multiple-wise) at the top.
Disclosure: I have no positions in any stocks mentioned, and no plans to initiate any positions within the next 72 hours. I wrote this article myself, and it expresses my own opinions. I am not receiving compensation for it (other than from Seeking Alpha). I have no business relationship with any company whose stock is mentioned in this article.