Few companies have captured the retail investor's attention like Sirius XM Radio Inc. (NASDAQ:SIRI) has in recent years. It often trades with very large volume, and has risen to current levels with a very volatile path, often making rather substantial swings in one direction or another intra-day. However, whatever path it may have taken to get here, the fact remains that SIRI has greatly outperformed the broader indexes for some time as demonstrated below. (Source: Yahoo! Finance basic charts)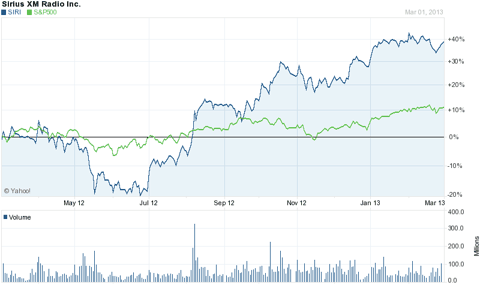 Click to enlarge
The performance has come in the midst of a whirlwind of attention regarding Liberty Media (NASDAQ:LMCA) working tirelessly to gain majority and resultant control of the company, which they have now accomplished. Without question the outperformance has also been directly related to the substantial improvements in the underlying business and financial position of SIRI. However, with the stock at current levels priced at 28x 2013 estimated earnings consensus, and a valuation of over $20 billion, the question becomes whether or not the outperformance can continue.
That is the question I set out to answer as I perused the most recent conference call and annual report for 2012.
In order to answer this question, we must first take a look at where the earnings of the business are and where they are heading in the "foreseeable" future. As anyone can read the current earnings, I will skip the monotony and outline my own estimates for future earnings, supplemented as appropriate by guidance and commentary from company management.
As this is a subscriber-based business model, certain assumptions must be made regarding future subscribers based on current subscriber numbers and anticipated growth rates. The following are the year end 2012 numbers published on the 10-K filing (linked above):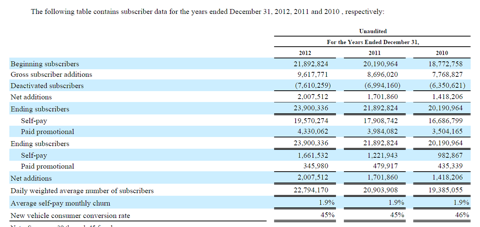 Click to enlarge
With these data points as our starting blocks, let us begin the race of making estimates going forward - Several assumptions will be made based on historical data and current guidance:
1. I will assume constant churn on self-pay subscriptions at 1.9% - I believe this to be reasonable as it has been constant over a number of years, and has done so in the face of a price increase for base package.
2. Likewise I will assume 45% conversion rate to be constant going forward as there are no reliable data points to suggest a swing in either direction.
3. I will assume vehicle sales in the U.S. of 15 million for 2013, a number a tiny tick below consensus estimates for the year for conservatism.
Extrapolating from the data above, we reach approximately 21,109,944 self-pay subscribers. Given the 67% penetration rate SIRI has in new vehicle sales in the U.S. we may also safely assume 4,500,000 paid promotional users in 2013 (a number that is likely to be too low, but usable to remain conservative), for a total of 25,609,944 total subscribers at year end 2013.
Now the reader that has been doing his homework will comment below that I have reached a number that is 309,000 subscribers above management's own guidance for 2013 and ask, with fairness, how I can call that conservative? The answer is simply that management consistently under-promises and over delivers on this guidance. For example, in 2012, management raised the year's guidance three separate times and beat the original number by 50%. For this reason I am comfortable with my subscriber estimates.
Now that we have an estimate for the number of subscribers, we can make reasonable estimates for revenues going forward.
As a foreword of explanation and caution - The subscriber number I have estimated above are year-end-2013 numbers. I will use them for simplicity's sake to create an earnings estimate as though they were the number of subscribers for the full year; however, they are not. They more likely represent an average that will be reached approximately mid 2014, i.e. when the trailing twelve month average subscribers catches up with the 2013 year end numbers. As an example, 2012 ended with fully 1.1 million more subscribers than the year's average number. I will reconcile this fact more clearly upon making my valuation assertion.
Back to the point. We must make one more assumption going forward from here to reach revenue estimates:
Average revenue per user (ARPU): Management stated in the Q&A session of the Q4 '12 call that it will continue rising from the $12 mark of 2012 throughout the first couple of quarters of 2013. I will use $12.10 per user for my estimates. I believe this number will actually turn out to be on the low side as an increase in the Music Royalty Fee shows up in 2013, and as more complete recognition of last year's price increase is trickled in, but I will stick to this number again to remain conservative.
25,609,944 subscribers, paying on average $12.10/month for 12 months, you have $3.688 billion in subscriber revenue. Adding reasonable expectations for $0.09 billion* in advertising and flat $0.35 billion in equipment and other revenue yields $4.128 billion total revenue - (again, substantially higher than the company guided $3.7 billion for 2013, but remember our numbers will actually be more pertinent to ca. mid-2014. Bear with me! I have a destination in mind I promise.)
*As a side note to the astute reader, this advertising number is 10% higher than the 2012 figure, though this is a smaller increase than the prior year's, so I feel it has a fair amount of attainability.
We must take out a number of expenses to reach earnings so here goes... The following list are all subtracted expenses from the revenue number above, adjusted with attempted rationality to represent the go-forward numbers:
$0.70 billion for revenue share and royalty requirements. This number is 16.5% of revenue, slightly up from last year to reflect the increase from 8% to 9% for royalties from 2012 to 2013.
$0.31 billion for programming and content
$0.31 billion for customer service and billing - demonstrates management stated intent to keep this number up for maintaining the great churn numbers
$0.075 billion for satellite and transmission
$0.035 billion for cost of equipment
$0.52 billion for subscriber acquisition costs (SACs). Increased to reflect trend upwards with increasing subscriptions annually.
$0.27 for sales and marketing
$0.05 for engineering, design, and development
$0.29 for general and administrative costs
$0.265 for depreciation and amortization costs
These numbers are generally speaking revised upwards from 2012 numbers, even if likely to remain flat or down, to preserve conservative erring. I encourage you to review the annual report to note the difference and make your own opinions regarding likely figures.
Subtracting all of these operating costs from our revenue number yields an operating income of $1.403 billion. From this number interest and taxes must be removed to reach true income. The following outlines interest due and debt maturities for the next several years: (source: 2012 10-K linked above)

Click to enlarge
We may then subtract the approximately $0.198 billion in interest and debt maturity expenses due for 2013 and we arrive at an income before taxes of $1.1122 billion. Remember that there is still some level of protection from taxation in the form of net operating losses - more detail is provided in the 10-K.
Disregarding the current share repurchase agreement for just one more paragraph, and estimating 7 billion diluted shares outstanding at the end of 2013 thanks to incentive plans, etc., we reach an EPS figure of $0.159. Keep in mind due to the use of year end subscriber numbers rather than the average, this figure represents more closely a trailing twelve month EPS achieved around mid-2014. With a share price currently at or near $3.15 we have a "mid-2014 forward P/E" of 19.8 with these estimates.
However, we must factor in the $2 billion share repurchase announcement that began effectively in 2013. While we cannot know with certainty ahead of time the timing of actual repurchases or the price that is paid per share, we can estimate the best case scenario and understand that a middle ground figure is most likely.
So, assume that all $2 billion is spent at the current price near $3.15/share. The share count is reduced to somewhere in the neighborhood of 6.4 billion diluted shares. With this share count the EPS figure becomes $0.174 with the accompanying "mid-2014 P/E" of 18.10.
Admittedly, these are not sky-high valuations stand-alone, but I for one find little safety in paying somewhere between 18.1 and 19.8 times conservatively estimated future trailing twelve month earnings that will not be accurate or attained for another 17 months or so in all likelihood. I do not find that to be the large margin of safety I would prefer.
Keep in mind also that my earnings estimates, though I strove to err on the cautious side, are still substantially above consensus analyst estimates of $0.13/share listed here on Yahoo! Finance page. The discrepancy is likely due to the fact that I have not fully addressed debt maturing in 2014 and results in my intended conservative estimates looking optimistic. However, this actually lends further credence to the argument that SIRI is fairly if not fully valued, as 2014 earnings estimates yield a P/E of 24.
It is for this reason that I believe SIRI to be rather fully valued at current prices. A company with the growth prospects SIRI enjoys will always command a premium. However paying that premium creates the potential that a misfire is paid for twice via multiple contraction and slowed growth, should that occur. Throw in for good measure the fact that Liberty owns more than half the company and investors may not be able to demand the premium for their shares they otherwise might should Liberty look to acquire the remaining portion and I for one cannot bring myself to pay up for SIRI.
However, lest I be labeled a short or a bear on the stock, let me also state that I believe the company is a fantastic one with rosy prospects, and should the overall markets decline and weigh on the shares I would be a happy owner at the right price.
Having said that, here is the requisite bull argument for the company if indeed the title of this article is to be an honest one.
First of all, the company has made huge strides in recent years in every aspect of its business. It has substantially paid down debt, and refinanced to some extent other debt with lower interest rate coupons, which has and will continue to lessen interest rate payments. SIRI is a cash generating machine now, generating over $700 million in 2012, and should be poised for the ability to return substantial cash to shareholder's in future days all things remaining on the current track.
The company is adding self-pay subscribers at a very attractive rate thanks in part to a rebounding automotive market. However, they are not reliant only on new car sales anymore, having increased their efforts to take advantage of previously owned cars with a satellite radio installed. SIRI currently has radio's in roughly 20% of the cars on the road. This number should continue to climb as current used cars without satellite radios installed are scrapped with age and replaced by the new fleet of new and used cars with radios in the dash, thanks to a healthy penetration rate in the U.S. new car market. Management expects to be in 40% of the cars on the road in 5 years, double current levels. Additionally, substantial gains in subscriptions in both new and used vehicles have come with steady churn and conversion rates.
SIRI is doing its best to stay fresh and remain a wanted option in new vehicles for new years to come. They have introduced a vastly more personalized platform, and also are rolling out IP access in cars to complement the satellite radio (and likely to address competition from the likes of Pandora (NYSE:P)). Their content is already top of the class with great music, sports, news, talk shows, and infotainment categories to choose from.
They have just touched the tip of the iceberg with a new product category to complement their presence in many vehicles with a telematics agreement with Nissan (OTCPK:NSANY). This service will allow for automatic crash notification, stolen vehicle tracking, roadside assistance, and other safety and convenience features. Management also suspects consumers will enjoy the convenience of a one-stop-shop ability to pay for satellite, IP, and telematics offerings. It is also my belief that this will open the doors for more bundling options for consumers which would likely improve average revenue per user.
Management looks set to absorb increasing costs of royalties paid to the music industry, as they have re-raised (i.e. back near levels of a few years ago) the music royalty fee from $1.42 to $1.81. I suspect this will not impact churn or conversion significantly.
The business model itself has very low marginal costs, meaning a large percentage of all revenue increases trickle directly down to the bottom line now. This allows for flexibility with cash for return to shareholders or maintaining and improving content to maintain market share.
In summary, after a long winding path to my conclusion, I believe SIRI has molded itself into a premier business in the media industry. However, at somewhere in the range of 18.1 - 19.8x future earnings (not to be achieved until mid-2014 based on my estimates) I feel the shares are already priced to reflect the strength of the business outlined briefly above. I would not be a seller if I were a current owner. But, alas, I missed the boat a couple years back and I would not be a buyer at current levels. Instead, I will remain content waving happily from the shore in congratulations to current longs who have enjoyed their successful choice of yachts, and hope to join again should the tide change for a while.
Disclosure: I have no positions in any stocks mentioned, and no plans to initiate any positions within the next 72 hours. I wrote this article myself, and it expresses my own opinions. I am not receiving compensation for it (other than from Seeking Alpha). I have no business relationship with any company whose stock is mentioned in this article.