Outside of the blue chip candidates for the S&P Dividend Aristocrats Index, there is a rich world of little known stocks offering fabulous dividends. I consider these stocks a treasure trove for the low-risk profile investor who wants the most value for money investment. These are stocks of solid companies that are still moderately valued, underhyped, offering rich dividends without making much of a dent in your investment capital. I refer to stocks like Garmin Ltd. (NASDAQ:GRMN), Seagate Technology PLC (NASDAQ:STX) and Leggett & Platt, Inc. (NYSE:LEG) that are low on the popularity index but are good value for money as they provide a handsome AND STEADY return on investment - more than you would get from 10-Year T Bills.
I have deliberately avoided choosing stocks from the same sector/industry so as to allow readers to build a diversified income-based portfolio. While GRMN is a scientific and technical instrument company, STX is a data storage sector company and Leggett & Platt belongs to the home furnishing and fixtures sector.
Garmin Ltd.
Garmin, a company based in Switzerland, is a provider of global positioning system (GPS) enabled products and other navigation, communication and information products across various markets including automotive/mobile, outdoor, fitness, marine, sailing and yachting, and general aviation. Garmin's products are used in a host of applications including automobiles, handheld mobile devices, dog tracking systems and by hunters, golfers, outdoors enthusiasts and cyclists. The company also provides handhelds as well as fixed-mount network products and multifunction displays, GPS/chartplotter products, instruments, fish finders, radars, autopilots, VHF radios, marine networking products, and sounder products.
The company reported a slight drop in net sales in 2012 as compared to 2011 - down from $2.76 to $2.72, representing a decline of 1.44%. However, there was a substantial reduction of almost 10% in cost of sales, which resulted in an increase of $100 million or 7.5% in gross profit. Net income of $542 million translates into an annual EPS of $2.76.
While GRMN has been beating estimates in the first three quarters of fiscal year 2012, it missed the forecast by 10.81% in the last quarter. The stock appreciated 2.36% in 2012 but fell 13.7% in 2013. Currently, the stock trades at an attractive P/E of 12.73, which is below most dividend paying stocks.
The company has taken a hit in its market share in the personal navigation device market, most of it due to growth of personal navigation applications on smartphones. With Microsoft (NASDAQ: MSFT) launching its mobile operating system and its partnership with hardware company Nokia (NYSE:NOK), the trend is likely to continue in the future. It has been the company's aviation business that was responsible for a 100-bps increase in overall gross margin, a trend that is expected to continue.
However, what makes Garmin attractive to me is its dividend payout and returning value to shareholders. At CMP, Garmin provides an attractive dividend yield, delivering 5.12% return to investors. The company also announced a $300 million share repurchase program, which in my opinion reflects that the management considers the stock undervalued by the market.
Seagate Technology PLC
Seagate is a popular manufacturer of hard disk drives and electronic storage devices for personal desktop and notebook computers as well as for enterprise servers, mainframes and workstations and client compute and non-compute applications for a wide range of end-user devices including digital video recorders (DVRs), data backup systems, portable external storage systems and digital media systems.
Unlike GRMN, Seagate stock showed a market beating performance by appreciating 85.48% in 2012, more than seven times that of the benchmark index S&P 500. It is however still trading much below its 52-week high.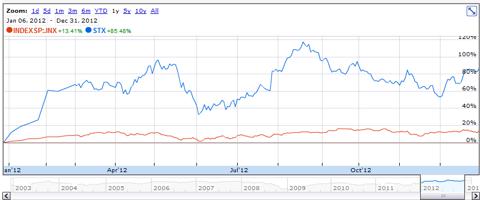 In the most recent quarter, ended December 2012, the company beat market estimates, after two quarters of missing estimates, by 8.66% by registering a quarterly EPS of $1.38. Although revenue rose as compared to the same quarter prior year, they have been falling the last two quarters. Gross profit and net operating income also failed to impress.
However, the strong point of STX is in return on equity, which is more than 100% and dividend yield, 4.70%. At current market price, the company is valued at $11.60 billion and trading at a low P/E ratio of 4.27. PEG ratio, which is more indicative of future value, is -0.78, indicating that the market is ignoring the real value of the stock.
Leggett & Platt, Inc.
Leggett & Platt, the company that invented bedsprings more than 125 years ago, is an international diversified manufacturer that innovates, designs and manufactures a range of engineered components and products for homes, offices, retail stores and automobiles. The company operates in four segments - residential furnishings, commercial fixtures and components, industrial materials and specialized products. Residential Furnishings group's products include bedding group and fabric and carpet underlay.
I have included LEG in my list because it is low in popularity lists despite the fact that it is included in Standard & Poor's Dividend Aristocrats Index, meaning that it has been paying incremental dividends for at least the last 25 years. Actually, it has been increasing dividends for the last 40 years, which is longer than corporate giants such as PepsiCo (NYSE:PEP), McDonald's (NYSE:MCD) and AT&T (NYSE:T). The company's present dividend yield at current market price of $30.67 is 3.78%.
However, LEG has appreciated 12.67% YTD following an 18.14% appreciation in 2012. Although the stock is trading at a higher P/E of 18.08 as compared to GRMN and STX, it has a lower forward P/E (December 2014) of 16.14. Analysts forecast a 10.82% growth in 2013 and an annual average growth of 15% in the long term (5 years).
Conclusion
The three stocks discussed above are among the select few small and mid-cap stocks that you can confidently buy and hold. If you are buying, ensure that you choose your entry point carefully after taking into account record dates for dividends. Also, a fair amount of research is necessary before buying to ensure against entry when the stock is experiencing a short-term upside as a reaction to unsubstantiated market news.
It should be noted that these stocks are not going to provide windfall profits as they are unlikely to appreciate in a big way over the short term. However, these are good for your mom and dad who want a steady income without putting capital at risk. These are also ideal for a retirement account as along with dividend income (for reinvesting) there is also potential for long-term appreciation.
Disclosure: I have no positions in any stocks mentioned, and no plans to initiate any positions within the next 72 hours. I wrote this article myself, and it expresses my own opinions. I am not receiving compensation for it (other than from Seeking Alpha). I have no business relationship with any company whose stock is mentioned in this article.