History shows that micro-cap stocks that announce exciting-sounding news can make huge percentage gains very quickly. Often the news is misinterpreted, and only after the stock has collapsed back to its previous levels do investors investigate further and realize that the stock never deserved to run up so much in the first place. I believe this is the case with Wireless Ronin Technologies (RNIN), a very low-float stock (with just 5 million shares outstanding) that saw some serious action on Thursday February 28, and Friday March 1, of 2013. Refer to the two-day chart of these dates below: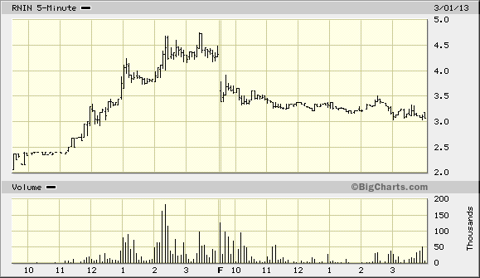 We can see that the stock first started seeing significant volume around 1pm on Thursday. At the market open of that day, this marketwire press release ("Wireless Ronin Breaks Down Barriers to Digital Signage With Samsung's New Smart Signage Displays") was released, which states the following:
Wireless Ronin Technologies has aligned with Samsung Electronics America to offer a breakthrough in digital signage solutions for retail, QSRs or any business looking to transform how they engage their customers and increase sales without the cost, complication and limitations of traditional digital signage.
This sentence (especially the phrase "aligned with Samsung") seems to suggest that RNIN has secured a business deal or partnership with Samsung. In actual fact, RNIN is merely using Samsung's open-source digital signage software for the RoninCast 4.0 software, as is stated later in the press release by RNIN CEO Scott Koller:
Samsung's open-source digital signage software ties in perfectly with the new HTML5 capabilities of RoninCast 4.0 software, providing clear advantages for the end user by lowering costs, simplifying installation, improving uptime, and ultimately increasing the ROI for our customers.
Samsung's software (which is available to any of RNIN's competitors) may assist RNIN in improving its RoninCast 4.0 software, but that is the full extent of this news. RNIN will not be generating any revenues from Samsung. And yet on the day this minor piece of news was announced, RNIN's stock price increased by over $2, representing an increased valuation (based on the 5 million outstanding shares) of over $10 million.
It does not surprise me in the least that RNIN fell over 25% on Friday as more people read deeper into the news and realized that RNIN did not have any major partnership with Samsung (this should have been clear from the beginning). Even as RNIN is trading in the $3s, this represents a very large price increase since the Samsung news was released when the stock was trading in the low $2s. Does RNIN really deserve a valuation of millions of dollars more just for using Samsung's open-source software? I think not.
Enormous risk for RNIN investors
Investors must understand that RNIN has worrying financials, as should be expected from a stock with such a low valuation. I suspect many RNIN investors are unaware of just how close this stock is to bankruptcy. In its recently released earnings press release it is reported that revenue for 2012 was $6.7 million (compared with $9.3 million in 2011), and that net loss for 2012 was $5.4 million (compared with $6.7 million net loss in 2011).
At the end of 2012, RNIN had cash and cash equivalents of $2.25 million, and unless it experiences a major revenue increase very shortly, it will not be able to last much longer before running out of money. In its recent 10K (received 1st March 2013) the following is stated:
Due to losses suffered from operations, in its report in the attached financial statements for the year ended December 31, 2012, our independent registered public accounting firm expressed substantial doubt about our ability to continue as a going concern. We do not currently have sufficient capital resources to fund our operations beyond May 2013. We continue to experience operating losses. Management continues to seek financing on favorable terms; however, there can be no assurance that any such financing can be obtained on favorable terms, if at all.
The verdict
RNIN's recent huge price increase on very minor news, coupled with the fact that it could very easily be going bankrupt later this year, mean that I am extremely short-biased on this stock.
Disclosure: I have no positions in any stocks mentioned, and no plans to initiate any positions within the next 72 hours. I wrote this article myself, and it expresses my own opinions. I am not receiving compensation for it (other than from Seeking Alpha). I have no business relationship with any company whose stock is mentioned in this article.