We cautioned about the dividend amount paid by CenturyLink (NYSE:CTL) back on November 7, 2012 when it was then yielding 7.5% and trading around $38.15. As of February 28, the stock has a dividend yield of 6.2% and trades around $34.52. That works out to a total return, including dividends, of minus 7.4% compared to the S&P 500's plus 7.4%. Our models still signal caution, even after a drop from February's high of $42.01 to a low of $32.05, and for essentially the same reasons as in our earlier piece.
The air pocket in the share price came courtesy of management cutting the dividend by 25%, from $0.725 to $0.54 and announcing weaker than expected quarterly results. That triggered a 22.6% share price decline on the day it was announced - presumably to maintain a dividend payout ratio of less than 60% of free cash flow after an expected 2015 tax rate hike when the company is projected to complete the use of its net operating losses. The company also announced a $2 billion common share buyback program that it expects to complete by February 2015.
According to the edited transcript (from Thomson Reuters StreetEvents), CFO and Assistant Secretary Stewart Ewing stated:
"… that was one of the reasons, we had decided to go ahead and take advantage of this at this point in time and be proactive and try to address the dividend and, again, try to return more cash to shareholders over the next two years before we become a full cash taxpayer to allow us to return 8% or more of our shares, which will reduce the dividend, even at the new rate, by a little over $100 million probably between now and 2015, which , again, allows us to be a lot more comfortable with the dividend that we're moving to on a going forward basis."
CEO and President Glen Post, III stated that in their finalization of 2013 budgets it became apparent that there was a tradeoff between maintaining the company's investment grade rating and growing the business and/or "reduce the dividend significantly and use 100% of the free cash flow to repay debt ..." This translates into making a difficult decision, but not one which may set the company on the road to quicker growth through directing more earnings away from dividends and toward capital investment.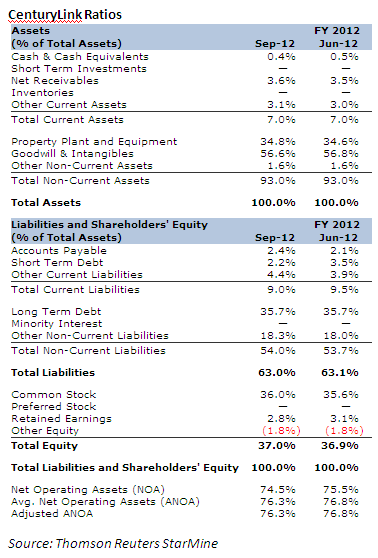 Revisiting the points of our earlier piece with the latest data points from the latest available (September 2012) 10-Q:
Credit risk remains high: CTL ranks in the bottom 10% among all U.S. companies tracked by Thomson Reuters StarMine in the SmartRatios Credit Risk model. Of the five component scores ranked from 1-100, Liquidity (2) and Leverage (4) remain the lowest. In the trailing 12-month period, the liquidity ratio of cash/total debt ratio stands at 0.01.
Debt/Equity remained at 0.97, while total non-current liabilities worsened to 54.0% from 53.7% of total assets.
Pre-tax margins jumped from 2.8% to 9.8% for the September 2012 reporting period, close to the industry average of 10.7%.
Unfunded pension liabilities of $4.672 billion are down slightly from the prior quarter's $4.72 billion, but still represent 21.5% of the company's recent market cap of $21.6 billion. This is similar to the unfunded liability-to-market cap ratios of AT&T (NYSE:T) of 21% and Verizon (NYSE:VZ) at 23%.
Finally, CenturyLink appears to be at the end of its revenue decline. Management stated that the 2012 year-over-year pro forma revenue change of -1.7% is better than the -3.8% level for 2011 and -6.0% in 2010.
Analysts have backed off their recommendations in the past 30 days. Only nine of the 21 analysts covering the stock rate it a 'buy' or 'strong buy', down from 16. There are now four 'sell' recommendations where there had previously been none (see table below).
SUMMARY
We applaud management's first attempt to lower the dividend payout rate. With an annual dividend projected at $2.16 and the Thomson Reuters I/B/E/S forecast of 2013 EPS at $2.65 - this year's payout rate of 82% remains painful for a company attempting to move it toward the historic average rate of 60%. Companies with such high payout rates are not able to grow their businesses as much as they'd like, as management seemed to imply in their latest quarterly conference call. On the flip side of dividend payout rates, certain companies with lower payout ratios have historically and over time outperformed the S&P 500.
When it comes to evaluating high yielding stocks, it makes sense to pay close attention to credit analysis within the context of the company, the industry and also how it relates to other companies. StarMine's SmartRatios credit Risk scores are one way to help accomplish such analysis.
Disclosure: I have no positions in any stocks mentioned, and no plans to initiate any positions within the next 72 hours. I wrote this article myself, and it expresses my own opinions. I am not receiving compensation for it. I have no business relationship with any company whose stock is mentioned in this article.