MLPs have had extraordinary growth, supplying increasing amounts of energy for the US. The Alerian MLP Index at 430 has more than quadrupled since its 1996 start. However, MLPs are generally thought of as high yield securities with tax advantages. The MLP index yields in the past have risen to roughly 10%. Higher values for the index cut the yield to under 6%.
One highlight for MLPs has been a low beta. In the past, a daily move of 1% (or more) for the index was unusual. In July 2007, the index reached a peak of 342. That was followed by a plunge of 60 in just 3 weeks, probably the first wave of the financial meltdown one year later. The index recovered, reaching new record highs last year. With the rise in MLP prices the beta has also increased, 1-2% daily swings have become more common.
Alerian MLP Index - 10 Years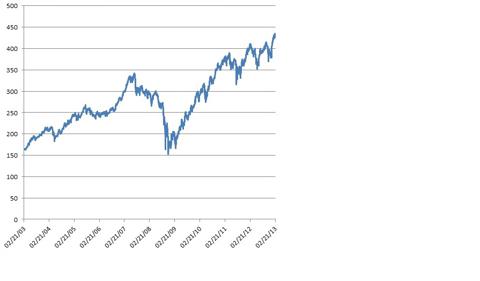 Click to enlarge
Higher volatility impacted a prominent MLP in the last few weeks. Linn Energy (LINE) has become a top 10 MLP by acquiring and growing fields to extract more energy using new technology. LINE was hit with high volatility last week. On Tuesday (February 19), the stock plunged at the opening on fears about the annual report 2 days later. I bought stock for my IRA at a low price during this chaos. Like other stocks, it is welcome in IRA accounts. Good numbers were reported for 2012 and LINE announced another major acquisition, Berry Petroleum (BRY).
In 2012, average daily production at LINE increased to 671 MMcfe/d (Millions of Cubic Feet Equivalent per day), 82% above 2011 and organic production rose 15%. EBITDA increased 40% to $1.4 billion. Acquisitions in 2012 were approximately $2.9 billion, comparable to the totals in 2010 and 2011 combined. LINE completed a $1.3 billion IPO of LinnCo (LNCO) in October, representing the largest such IPO ever. Most importantly for owners, the company raised the distribution 5% for the third consecutive year. 2012 was another good year and the company is positioned to participate in rapid growth of energy products in the US. LINE will focus its $1.1 billion 2013 capital program on oil and liquids-rich development. The properties are shown below: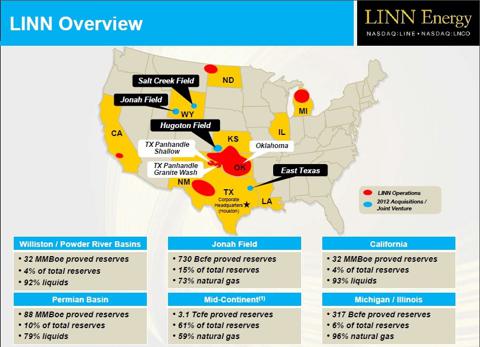 Click to enlarge
The LNCO-BRY merger will give the company increased presence in California, the Permian Basin, East Texas and the Rockies and an attractive new core area in the Uintah Basin. BRY reserves are approximately 75% oil, which results in an increase in LINE liquids exposure to 54% from 46% of proved reserves. Significant cost savings are expected.
The transaction should be highly accretive to distributable cash flow per unit (the measure from which distributions are made). In the first full year following a closing by June 30, accretion is expected to be at least 40¢ per unit. Management's guidance for distributions in 2013 is shown below: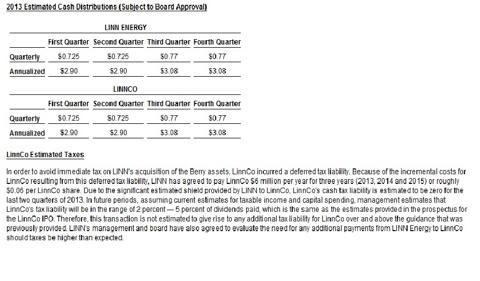 Click to enlarge
The bottom line is that LINE has increased its financial results by providing more energy products. That business experience will help make America energy independent in another decade. It uses new technology to extract additional gas and oil from marginal deposits in its fields. LINE has also aggressively purchased properties to increase growth - the BRY transaction is its largest purchase.
At $37.53 LINE yields 7.7% from the $2.90 distribution and LNCO at $38.78 yields 7.3% from its $2.84 dividend. There are 3 ways to invest in Linn Energy. LINE and LNCO have comparable quarterly payments for security holders and both provide tax advantage yields. Additionally, the company is evaluating changing distribution frequency from quarterly to monthly. LINE has typical MLP tax deferment benefits. On the LNCO dividend paid last year, the only tax was 13% as a qualified dividend. For venturesome investors, the BRY merger provides a 3rd way to invest. Four shares of BRY costing roughly $183 will be exchanged for 5 LNCO shares (worth roughly $194 today) by June. 5 LNCO shares will receive $15.40 (annualized) dividends in Q3, yielding about 8% based on today's cost.
This month has not been a quiet time for MLPs. Fears about hedging losses and other financial problems resulted in selling MLPs such as LINE and LNCO. LINE has hedged its gas production through 2017 and oil production through 2016 to protect against falling commodity prices while permitting upside benefits should prices rise. These financial products are complex. When used judiciously, they reduce risk for businesses (such as airlines). The recent successful offering of LNCO shares was managed by underwriters who were satisfied with the financial strength of LINE.
The projected distributions/dividends later in the year will provide a yield of 8%, a good start for earning a target rate of return for a portfolio. Growing earnings for owners of Linn Energy is easy to forecast with continued expansion in energy projects around the US.
bry.com
linnco.com
linnenergy.com
Disclosure: I am long LNCO. I wrote this article myself, and it expresses my own opinions. I am not receiving compensation for it (other than from Seeking Alpha). I have no business relationship with any company whose stock is mentioned in this article.