Currently I hold ConocoPhillips (NYSE:COP) under the dividend paying section of my portfolio and first got into it back in 2012 because I wanted it for the split with Phillips 66 (NYSE:PSX), as I discussed in a previous article on why I like companies with planned corporate divorces. Since the split with PSX, COP explores, produces, transports and markets crude oil, natural gas, natural gas liquids and bitumen all over the globe.
Valuation
COP is inexpensive relative to its trailing twelve month earnings with a P/E ratio of 9.86 as the stock took a 5% hit the day after it reported on 30Jan13. All things considered, when you choose to invest in a company, you choose to invest in the prospects going forward while keeping in mind how and what the company has done in the past. With that said, the price is currently undervalued relative to the 1-year forward earnings (1-yr fwd P/E of 9.45) that's projected by Wall Street. Personally I think there is at least 11% upside potential before I would re-evaluate the stock, and with summer driving season approaching fast, I think it can gain that 11% definitely by May 2013. The 5-year growth metric against the current P/E valuation (NYSE:PEG) isn't pretty though, at a value of 3.32. Beyond a one year time horizon I would begin to look at other companies, but you can always get paid to wait with the very juicy 4.5% dividend yield that COP has to offer.
Technicals
The stock sits just a little bit above its 50 and 20-day simple moving averages with resistance shown at $58.90. The first ceiling of resistance is only 1% away from the current level ($58.28) while the first floor of support sits about 2.7% below the current level. The second ceiling of resistance sits about 2.7% above the current price and with this bit of information the current risk-reward is leaning more towards risk. However, when looking at the moving average convergence-divergence graph it shows the black line is starting to peak above the red line which indicates a bullish signal.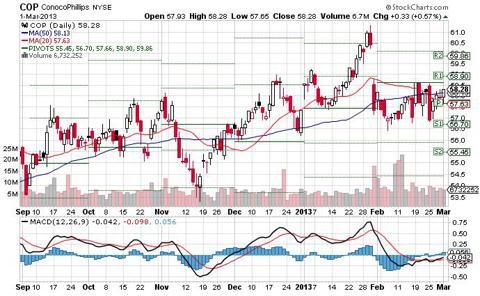 Recent News
PTR also announced it will jointly study shale gas development in China with COP.
In other joint venture news, Canacol and COP will work together for shale oil exploration in Columbia where COP will pay the cost of drilling and testing in return for 70% of the oil found.
The company plans on investing more for organic growth domestically by plowing the almost $12B in cash it received from asset sales from investments across the globe into its North American assets. CEO Ryan Lance stated at the investor meeting that COP is dedicated to improving margins over the next 5 years.
Conclusion
The company is dedicated to improving projects domestically and this bodes well for American consumers because there will be more jobs on the horizon. However, this transformation doesn't take place quickly, it takes time and why I consider it cheap at the present time. The technicals show that the immediate move to the upside is going to be a little bit more difficult to attain than the downside, I'm not advocating to wait or to buy, that's your decision to make. Personally I'm nibbling at it right now and waiting to see what the next move is. I never go all, I always like to nibble and am very confident in the homework I do such that I'd be happy to realize any immediate gains or even purchase more of a phenomenal company if the move is downward. The next dividend payment doesn't look to be until May, so there will be several opportunities between now and then to get into the company.
Disclaimer
These are only my views; do with them as you wish. I am not responsible for your actions, only you are. Please do your own homework and happy investing!
Disclosure: I am long COP, PSX. I wrote this article myself, and it expresses my own opinions. I am not receiving compensation for it (other than from Seeking Alpha). I have no business relationship with any company whose stock is mentioned in this article.