Eight days have passed since I wrote my article on why I jumped into Ford (NYSE:F) to begin with and right now I'll take the time to explain why I'm adding more to my position. As seen in the chart below, from when I wrote the last article until 01Mar13, the S&P500 is +0.5% while Ford went next to nowhere. However, I purchased my shares of Ford at the opening on 26Feb13 and have realized, what I consider to be, a nice three day gain.

Valuation
Back when I wrote the initial article there was some picking at the P/E ratio that I reported (2.94 at the time) and since then finviz.com has updated all the metrics to reflect the correct information. Danthrax had a pretty solid guess for a P/E ratio between 8 and 9 and that turned out to be pretty accurate as the current P/E ratio is 8.88, which is still really inexpensive. The PEG ratio at that time was 0.28 but due to the corrected earnings values that number has risen to 0.84, which is still also very inexpensive relative to the projected 5-year earnings growth. The 1-year forward P/E ratio sits around 7.51, once again showing that the stock is undervalued. I tend to purchase stocks on what their projected trajectory is going to be and from the looks of it I like the 1-year and 5-year outlooks for the company with EPS expected to grow 20% and 10.53% respectively.
Technicals
On a purely technical basis the stock is trading below its 20-day simple moving average and its 50-day SMA and sits squarely between its first resistance price of $13.25 and its first support price of $12.04. I'd look for the stock to test its resistance level at $13.25 first before it tests support because the Relative Strength Index and Moving Average Convergence Divergence each show that the stock is in oversold territory. This makes me want to nibble at the stock for right now and get paid to wait with that lovely 3.2% dividend yield while watching it either make a 5.1% move up by holding what I currently have or make a 4.5% move down where my bites into the stock will get to be a bit bigger because it will be even more undervalued if the story itself is still intact.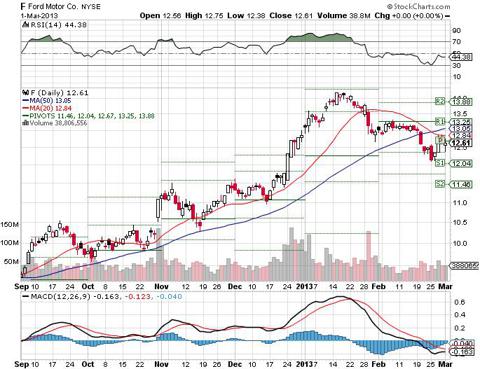 Recent News
In the month of February only one firm (TheStreet) made any kind of call on the stock, upgrading it from "hold" to "buy" citing revenue growth and a phenomenal return on equity.
Though Ford reported auto sales that missed estimates for the month of February on 01Mar13 the stock managed to close the day unchanged (9.3% actual versus 11.9% expected).
The Geneva Auto Show commences on 05March13 where Ford will display the all-new B-MAX, Kuga, Fiesta ST, Tourneo, Focus Electric, and Focus 1.0L EcoBoost.
The company announced an increase in production of smaller engines (EcoBoost engines) and hiring to meet increasing demand stateside.
Ford will fabricate 800,000 vehicles in North America during the second quarter, which jives with some of my remarks about how the auto industry will pick up in my article on Lithia Motors (NYSE:LAD).
Relating back to my previous article and what the F.O.R.D. acronym stands for, there are reports that an investigation has been launched for a potential issue with sudden loss of engine power for the Escape and Fusion models as well as Mercury models from 2009 to 2011. There is a potential of 724,000 cars being affected.
For the month, Ford lost 44% of domestic sales in India compared to a year ago, and down 1.8% for the current quarter so far.
Conclusion
Though the last two bullet points are not good news, Ford is clearly growing in 2013 and beyond, and I believe it will definitely begin to move up towards the May/June time frame after this sequestration issue gets cleaned up. In the meantime I'm going to keep nibbling on the stock and enjoying the 3.2% dividend yield, it most certainly is better than any CD that's currently offered at any of the banks.
Disclaimer
As usual, these are only my opinions and do with it what you please. You are responsible for your own actions.
Disclosure: I am long F, LAD. I wrote this article myself, and it expresses my own opinions. I am not receiving compensation for it (other than from Seeking Alpha). I have no business relationship with any company whose stock is mentioned in this article.