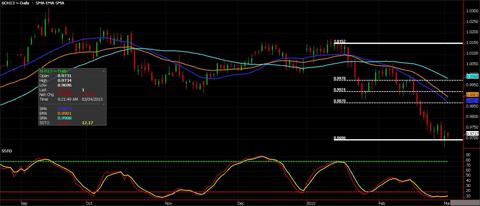 YTD, the loonie is lower by 4.3%, dragging futures to 8 month lows. It appears bulls are digging in their heels at current levels, finding support just above .9700 in the March contract. Stochastics are oversold on the daily chart, and if you notice the last time prices were this far away from their 20 day MA -- identified by the dark blue line -- prices bottomed (last May) and proceeded to rally 8%. While past performance is not indicative of future results, I do think scaling into bullish trade makes sense at current levels.
My favored play is gaining bullish exposure via long futures and using options as a hedge. Look to the June contract when pricing out the trade. As of this post, June futures are trading at a 20 tic discount to March. Expect volatility this week, as there are a number of Central Bank meetings across the globe, and also a number of economic reports on this side of the lake and the other. As for the BoC, they do meet this week, but I expect rates north of the border to remain at 1% for now.
The strong correlation the Canadian dollar has to metals and energies has pressured this currency of late, but being I expect metals and energies to track higher in the coming weeks, outside market influence should support as opposed to constrain moving forward. As for a trade, use the Fibonacci levels on the chart above to guide exits. At a minimum, I would target the 20 day MA and if lucky, we may see prices make their way to their 61.8% Fib level and 50 day MA, which both come in just under par.
Risk Disclaimer: The opinions contained herein are for general information only and not tailored to any specific investor's needs or investment goals. Any opinions expressed in this article are as of the date indicated. Trading futures, options, and Forex involves substantial risk of loss and is not suitable for all investors. Past performance is not necessarily indicative of future results.
Disclosure: I have no positions in any stocks mentioned, and no plans to initiate any positions within the next 72 hours. I wrote this article myself, and it expresses my own opinions. I am not receiving compensation for it. I have no business relationship with any company whose stock is mentioned in this article.