How will mobile wearables impact the serving of mobile ads and mobile search? Google (NASDAQ:GOOG) investors need to be aware of the potential risks involved and plan on monitoring company mobile revenue growth against (any) growth in wearables.
Mobile computing exists in another evolutionary time dimension. A company's competitive advantage might disappear seemingly overnight, and product cycles are being compressed to months. The following chart showing 2008 global market share for smartphones provides a striking example of the speed at how quickly things can change.
Click to enlarge images.

Source: Gartner.
At the time, Nokia (NYSE:NOK) and BlackBerry (NASDAQ:BBRY) accounted for 60% of the market. Apple (NASDAQ:AAPL) had finally broke double digits in market share, while Samsung (OTC:SSNLF) was an afterthought with only 4.2% of the market.
Smartphones Overtake PCs: A Shift in the World of Search
Now, let's jump ahead only 24 months to 2010: The iPhone is the best selling smartphone in the world and total smartphone shipments have passed PCs for the first time.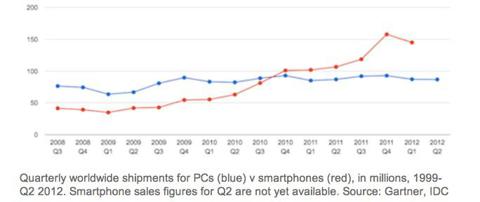 The rapid shift toward mobile computing (smartphones and tablet) hasn't been lost on Google -- the release of the Android OS in 2008 and the purchase of Motorola in 2012 was a clear message that the folks in Mountain View didn't intend on being left behind in when it came to mobile computing (and more important to Google: mobile search). The primary risk to Google is its near total dependence on search ad sales for revenue -- even with the acquisition of Motorola, ad sales accounted for 95% of company revenue in 2012.
Here's how Google expresses these risk (source: Google's 2012 10-K; emphasis mine):
The number of people who access the internet through devices other than personal computers, including mobile phones, smartphones, handheld computers such as netbooks and tablets, video game consoles, and television set-top devices, has increased dramatically in the past few years.

The lower resolution, functionality, and memory associated with some alternative devices make the use of our products and services through such devices more difficult and the versions of our products and services developed for these devices may not be compelling to users, manufacturers, or distributors of alternative devices. Each manufacturer or distributor may establish unique technical standards for its devices, and our products and services may not work or be viewable on these devices as a result.

Mobile Ad Snapshot: Big Money Growing Quickly
In December, eMarketer estimated Google global mobile ad revenue to be $5.8 - $7.8 billion for Q3 2012. Total revenue for the company was $14.1 billion.
In addition, according to eWeek, overall spending on mobile advertising in the United States (display, search, and messaging-based ads served to mobile phones and tablets) rose 180% in 2012 to top $4 billion. Estimates for mobile advertising spending are $7.19 billion in 2013, increasing to nearly $21 billion by 2016.
Google currently dominates U.S. mobile search ads. eMarketer estimates 93.3% company share of the $1.99 billion U.S. mobile search ad market. Driven mainly by direct-response ads, Google also controlled a 56.6% share of the U.S. mobile advertising market by late 2012.
The Risk: Will Wearables Change Mobile Search?
ABI Research estimates annual shipments of up to 485 million devices by 2018. ABI's estimates are driven by the additional functionality/convenience offered by wearables. Currently wearables act primarily as standalone products with functionalities like health or activity tracking.
From the ABI Research report:
'The furor about wearable technologies, particularly smart watches and smart glasses is unsurprising,' says Josh Flood, senior analyst at ABI Research. 'Both technologies are very stimulating and some of the applications for the device are rather inspiring. Apple's curved glass-based watch could prove to be a revelation in the wearable technologies market.'
Wearables, because of size/memory/functional constraints, are most likely to operate as accessories tethered to smartphones/tablets to allow for quick "remote" access to other mobile devices. A smaller screen will most likely necessitate further reliance on voice commands from the user. The risk to Google mobile search/ads is the ability to "intercept" voice queries -- i.e., users will rely more heavily on the operating system, hardware manufacturers and app developers to parse and serve requests, with each having tremendous incentive to "grab" these commands to generate their own revenue streams
An additional excerpt from Google's 10-K speaks to this risk:
If we are unable to attract and retain a substantial number of alternative device manufacturers, distributors, and users to our products and services, or if we are slow to develop products and technologies that are more compatible with alternative devices and platforms, we will fail to capture the opportunities available as consumers and advertisers transition to a dynamic, multi-screen environment.
Does Open-Source Mean Open Season for Mobile Search?
Google is proactively addressing this mobile search risk with the company's Google Glass project (augmented reality glasses that tether to a mobile device to provide functionality for search, chat, photo/video, maps, etc.). However, the risk of query "interception" still exists because of the uncertainty of the "hand off" between the wearable and the mobile device. Uncertainty is created by the ability of manufacturers to "fork" Android, or for competitors such as Microsoft (NASDAQ:MSFT) or Apple to determine search parameters.
Case in point: Google is already experiencing some mobile search revenue "leakage" via Android, due to its open-source nature. (In China, many Android devices are heavily forked, with Baidu benefiting from "intercepted" search.) Competitors can be expected to further exploit opportunities to "intercept."
Summary: Google Investors Need to Keep a Close Eye on Mobile Revenue Growth
Google has done an exceptional job of monetizing Internet search and ads. However, a rapid and widespread adoption of wearable devices could provide a window of opportunity for competitors (hardware manufacturers, app developers, and OS platforms) to make headway in capturing mobile advertising/search revenues. Google investors need to be aware of the potential risks involved and plan on monitoring company mobile revenue growth against (any) growth in wearables.
Disclosure: I am long AAPL. I wrote this article myself, and it expresses my own opinions. I am not receiving compensation for it (other than from Seeking Alpha). I have no business relationship with any company whose stock is mentioned in this article.