American International Group (NYSE:AIG), an international insurance and financial services company with operations in more than 130 countries has recently reported its earnings. The company reported a net loss of $4 billion or $2.68 per share in its fourth quarter. Compare those figures with AIG's net income of $21.5 billion or $11.31 per share in Q4FY11, and you begin to wonder if things haven't gone terribly wrong at AIG. A series of broadly negative events including a downgrade below AA ratings, a bailout by the federal government, and super storm Sandy, have ushered in a catastrophic collapse in share prices. But, with AIG slowly turning the proverbial corner, investors are now presented with an opportunity to acquire deeply discounted shares of a company on the rebound.
AIG is an iconoclast of the insurance industry and the brand name itself carries intrinsic value sufficient enough to provide leverage against competition in under saturated markets such as China. With over 90 million customers and accelerating growth in emerging markets, AIG is exactly the type of candidate we should consider when operating under the mantra "buy low sell high". Let's take a look at some of the numbers to see if data flesh out our thesis.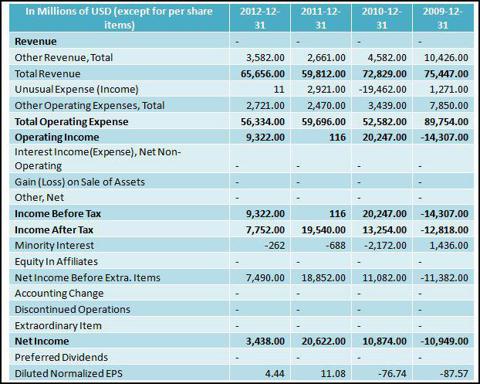 Results from FY12 show us that the company has performed better than what a majority of analysts expected. Analyst consensus was that compensation paid to super storm "Sandy" victims would crush any hopes that the company would be highly profitable for the year, yet revenues adjusted for losses in payouts to storm victims are in excess of the $20 billion net income of the prior year, and far superior to the $11 billion lost in just 3 years prior in 2009.
As revenues have increased, AIG share price has doubled from $20 in October 2011 to $40 in January 2013. My analysis of the company leads me to believe share prices are at the beginning of a long and profitable climb. With a current share price $37.77 and a book value of $68.94, investors are slowly catching on to the fact that another doubling of share prices is in the stars. Tiny blips in current share prices caused by current political dysfunction in Washington are shouting "buy now or forever hold your peace".

Future Outlook
The past was painful, but as AIG transitions into a competitive position in developing Chinese markets, the future looks optimistic. AIG has allied itself with the PICC group, one of China's fastest growing insurance companies, in order to sell life insurance products. With the largest population and one of the fastest growing economies in the world, Chinese insurance markets are a 100 billion dollar well which AIG has just begun to tap. As AIG strengthens its position in China we can expect to see accelerating growth forecasts and earnings reports in the future. The case for AIG success is highlighted by the rapidity with which the company has reduced its debt. From owing $180 billion in 2008, the company has reduced its debt by over $130 billion in just 3 short years. As a fundamental analyst, not many indicators shout "buy" as loudly as a rapid reduction in debt, and if trends continue into the future, we should see share prices reaching $60 by next year.
Disclosure: I have no positions in any stocks mentioned, and no plans to initiate any positions within the next 72 hours. I wrote this article myself, and it expresses my own opinions. I am not receiving compensation for it (other than from Seeking Alpha). I have no business relationship with any company whose stock is mentioned in this article.