Johnson & Johnson (NYSE:JNJ) has announced its fourth quarter, 2012, earnings. Remarkably, Johnson & Johnson reported sales in excess of $17.5 billion, which was an increase of 8% year over year. The question is whether Johnson & Johnson can continue to produce this kind of growth.
Johnson & Johnson posted an impressive growth rate of 9.3%, coupled with a stock performance of 17.34% for the year. As I expected, most of this growth was due in large part to its pharmaceutical industry segment. However, its consumer business remains weak in comparison to its industry peers. Despite early year setbacks and a weak consumer base, Johnson & Johnson is still set for more growth.
The news
Johnson & Johnson saw a large boost to its medical and diagnostics device sales division, due in large part to the acquisition of Synthes, a Swiss medical device maker that was proving to be a competitor. In acquiring Synthes, Johnson & Johnson effectively removed a competitor and increased its sales, a smart move on its part resulting in an increase of 3.1% to its worldwide operational sales growth. Further improving its adjusted net earnings was the cost cutting initiative implemented by the executive management team.
Pharmaceutical division performance
As was expected, the pharmaceuticals division of Johnson & Johnson continues to be the core business and revenue generator for Johnson & Johnson bringing in $6.5 billion in reported revenue and strong, high single digit, growth. Drugs Zytiga, Velcade, Remicade, Simponi and Stelara delivered much of this growth.
However, there are some key concerns. There was some unexpected growth in the sales of the drug Invega, despite the patent having expired back in the middle of 2012. Do not expect this to continue, as the competition is sure to bring some generic forms to market in the near future; much in the same way that we are seeing a decline in the drug Concerta, which also lost its patent back in 2011.
Yet, despite concerns over declining sales due to expiring patents, you can expect these losses to be replaced and surpassed with continued growth in the emerging markets; especially in China and Russia where Johnson & Johnson has already shown very strong sales and market penetration.
Medical devices & diagnostics sales
As I previously mentioned, the acquisition of Synthes was a powerful move for Johnson & Johnson. This assertion is justified based strictly on the numbers posted by this division. Revenues in North America alone jumped over 13%, while total global revenue from orthopedic sales jumped over 64% despite Johnson & Johnson having to make business concessions in order to receive regulatory approval. Expect the strong global sales to continue as more and more individuals in emerging markets gain the income needed to purchase these devises as well the fact that Johnson & Johnson has no further business concessions.
Over-the-counter businesses (the consumer healthcare division)
This is still by far the weakest area for Johnson & Johnson. This division has been and will continue to see heavy competition. Exactly who and how is discussed further below in this article. Even with discounting currency impacts to revenue, this division saw little if any improvement in its OTC products and/or nutritional products. This will continue until such time that Johnson & Johnson can recover from debilitating supply constraints of its OTC drugs.
Johnson & Johnson saw reductions or little growth in its three key market demographics:
Nutritional products division as a result of heavy competition
Skin care products as a result of heavy competition
Little increase in its oral care market
However, Johnson & Johnson has made significant strides in addressing the issues effecting supply constraints, and while we do not expect Johnson & Johnson to have a miraculous recovery in this division, we do expect strong recovering sales as supplies once again reach retail shelves.
The competition
Recently Allergan (NYSE:AGN), a California based healthcare company, announced to the public that it intended to purchase MAP Pharmaceuticals ( MAPP); the deal is currently being valued at almost $960 billion. However, what is not being made public is the rumblings that Pfizer (NYSE:PFE), or Merck (NYSE:MRK) could be making rival bids given the current value of MAP's holdings.
These rumblings should be taken seriously, as both Pfizer and Merck have the operational capital to pull off the acquisition. Case in point, according to Pfizer's fourth-quarter reporting it has $22 billion sitting in the bank while, according to Merck, it is sitting on $18 Billion. Given the rivalry between Johnson & Johnson, Pfizer and Merck, this could be a hard stroke against Johnson & Johnson. Further compounding the issue is that Pfizer is also looking at taking over Ache Laboratorios Pharmaceuticos, one of Brazil's largest drug makers.
However, the light at the end of the tunnel for Johnson & Johnson is that there are a myriad of other companies bringing promising new drugs to market and Johnson & Johnson has taken significant steps to leverage these emerging companies to its advantage; more on that below under the category, case for growth.
While the terms of the deal are still secret and were not disclosed, Pfizer and Agilent Technologies Inc., a Denmark-based company that focuses on cancer diagnostics, announced that they will be working together to develop a "companion diagnostic test" which could revolutionize the industry by allowing physicians to see which treatments patients might respond to before ever administering the treatment.
Agilent Technologies Inc. also announced a partnership with another of Johnson & Johnson competitors, Eli Lilly (NYSE:LLY), wherein the two companies were developing a test that can help identify cancer patients who might benefit from an experimental cancer drug that Eli Lilly is currently developing.
Eli Lilly has also seen a stock increase of over 32% in the last 12 months based on the wave of investor excitement over the beta amyloid treatment that targets Alzheimer's Disease. It is important to note that both Johnson & Johnson and Pfizer both discontinued their research into beta amyloid's.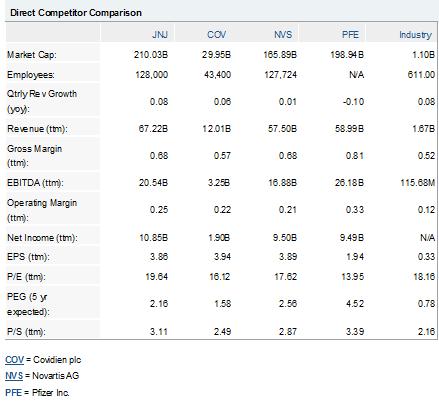 However, looking at the chart above, one can easily see that Johnson & Johnson poses higher quarterly revenue growth and higher revenue. In short, Johnson & Johnson is handily beating the competition and is showing clear signs of growth.
A case for continued growth
Earlier we discussed that many of Johnson & Johnson's competitors were actively seeking acquisitions while Johnson & Johnson was not; however, what Johnson & Johnson is doing is making moves to leverage emerging companies and related drugs. In detail;
With the fourth-quarter earnings report Johnson & Johnson disclosed that it is actively seeking a sell-off or spin-off of its diagnostic division for "blood and cholesterol testing." The reason; Johnson & Johnson is not a market leader and the market is extremely competitive. By its own admission Johnson & Johnson would rather focus on "molecular and genetic screening and innovations that will complement its current drugs and pipelines."
Johnson & Johnson's is striking back against its competitor through its pharmaceutical division, Janssen. Janssen has opened its innovation center for life science start-ups in San Diego, California.
According to MedCity News, "This incredible new "concept lab" is a shared laboratory that gives entrepreneurs access to lab space without having to commit to additional capital. Janssen Labs is part of a wider effort by J&J to enlist creative deal making strategies, to position itself to spot opportunities early. It also helps make the medical device and big pharma business appear more welcoming to innovation and early stage companies, who face the daunting challenge of convincing private investors and companies to invest in their business."
Johnson & Johnson said it will open innovation centers in Boston, China and Europe, "staffed with Johnson & Johnson science and technology experts from each community who will identify early stage innovations."
The key take away here is that these laboratories and joint ventures are specifically tasked with "establishing collaborations to invest in and speed development" of concept drugs that can solve the unmet needs of patients throughout the world.
It is a brilliant plan. Instead of wasting billions in acquiring companies, Johnson & Johnson is collaborating with start-ups and entrepreneurs saving billions while still building a pipeline of potential drugs that it can bring to market.
Further adding to the credibility of continued growth:
Despite the patent expirations, the company's pharmaceutical division will still continue to perform well, especially when you consider the current pipeline of drugs that Johnson & Johnson is developing. One such example is "Canagliflozin." This will be the company's first foray into the rapidly growing drug market for diabetic treatments. Current reports are that the drug will be approved for sale in 2013. Furthermore, Johnson & Johnson's drug "Xarelto" is also looking at approval from the FDA in 2013.
Johnson & Johnson also received early approval for its drug, Bedaquilinean, which is used for treatment of tuberculosis [TB]. Given the emerging markets overseas where TB is still problematic, this drug will help to drive revenue growth.
After the fiasco regarding its healthcare plants in the United States that resulted in quality control lapses and supply shortages, Johnson & Johnson is well on track to restore many of its core brands back to retail outlets in early 2013.
Synthes was a phenomenal acquisition on the part of Johnson & Johnson. This division will continue to lend support to the company's efforts in harnessing the growth opportunities now found in the orthopedic market. One just has to consider the baby boomer generation that is getting older and will require more and more orthopedic care to see how this division will affect revenue growth. Furthermore, this division will also bring enormous exposure to the emerging markets in China, India, and Russia.
The bottom line
Despite some early setbacks in the supply lines and increased competition, Johnson & Johnson has taken significant strides to ensure its continued growth and profitability. As a result, the smart money is long Johnson & Johnson. Of course, it does not hurt that it pays a nice 3% dividend on average, or that it has been on an upward growth trend since mid-may of last year.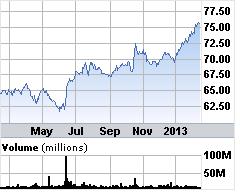 Disclosure: I have no positions in any stocks mentioned, and no plans to initiate any positions within the next 72 hours. I wrote this article myself, and it expresses my own opinions. I am not receiving compensation for it (other than from Seeking Alpha). I have no business relationship with any company whose stock is mentioned in this article.