CenturyLink's (NYSE:CTL) stockholders recently experienced a great shock when management cut the dividend by 25%, missed quarter estimates and gave light guidance for the year ahead. Here is Seeking Alpha's related market current and CTL's chart depicting the huge downward reaction to the news:
Thursday, February 14, 10:45 AM ET

CenturyLink ( -20.1%) crashes after getting hit with 6 downgrades in response to its Q4 miss, light guidance, and dividend cut, and is taking other high-yield rural telcos down with it FTR -5%, WIN -7.5%, CNSL -2%. Citi, which is cutting CTL to Neutral and FTR to Sell, argues CTL's dividend cut shows the need for telcos to maintain balance sheet flexibility during a time of slow growth, strong competition, and eroding wireline voice revenue. The firm notes CTL's guidance now implies 2015 free cash flow of $3.60-$4/share, well below Citi's prior estimates. (transcript)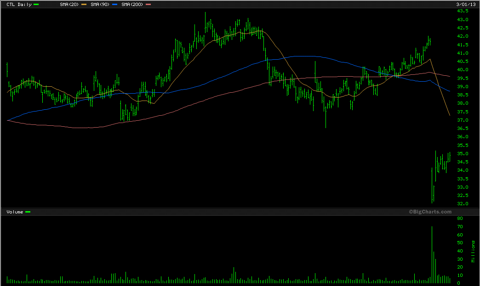 (Chart from BigCharts.com)
I won't delve into whether the dividend cut was necessary or if more are coming, you can read more about that here and here. In this article I'd like to share with you the reasons I believe CenturyLink at its current price level (around $34) may be a great opportunity.
Reason #1 - Shrinking Debt
After taking on $14 billion of debt due to the Qwest acquisition, Centurylink's management has been anything but complacent. They have quickly moved on to reduce the company's debt. And despite the fact that the company is willing to increase its short-term debt load (check reason #4 for more) in order to give back to shareholders, I believe that its financial position will continue to improve in the foreseeable future.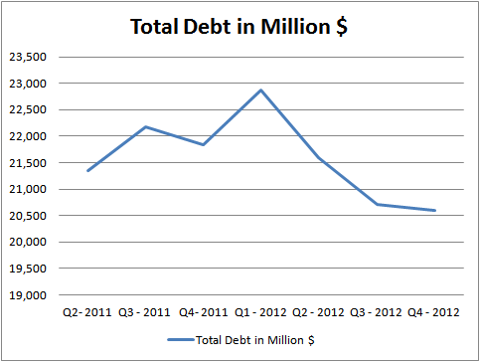 Reason #2 - The Debt Is Easily Serviceable
Despite the sheer size of its debt, CenturyLink's ability to service it is quickly improving and soon its interest expense will comprise less than 40% of its EBIT (Earnings Before Interest and Taxes).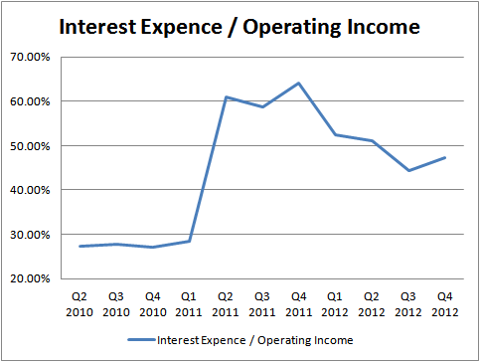 Reason #3 - Improving Margins
As you can see in the charts below, CenturyLink's operating margin has been steadily increasing after the completion of the Qwest acquisition in early 2011. Taking into account that its gross margin has stayed about the same, we can conclude that CenturyLink's management has been quick on cutting costs and taking advantage of any available synergies between the two companies. I believe there is still room for improvement with the operating margin stabilizing around 20% to 25% in the long run.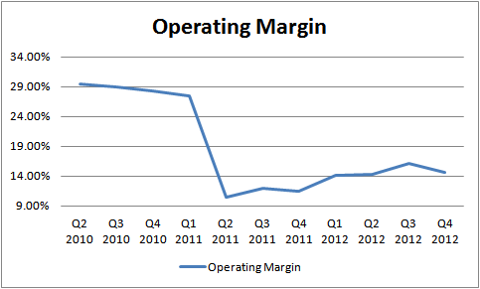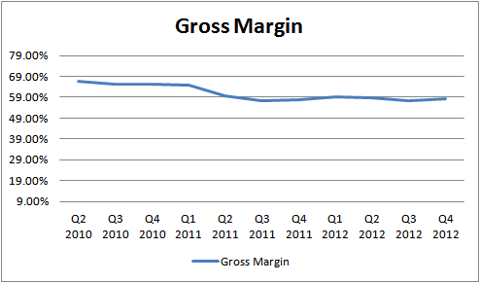 Reason #4 - Cheap Valuation
CenturyLink's stock price of $34 is 7 times its 2012 FCF ($5 per share) and 5 times its expected FCF for 2013 (about $6.8 per share according to management's guidance).
From the company's Q4 earnings call transcript:
Glen Post - President, Chief Executive Officer, Director

We do plan to buyback about 8% of our total outstanding though with the $2 billion.
CenturyLink's net income has grown 20% on average in the last 5 years and its shares outstanding are to be cut by 8% until 2015 (so no more dilution). Despite all that, the company now trades at just 13 times its 2013 EPS.
Conclusion
Taking all the above into consideration, I believe that CenturyLink deserves at least a P/E multiple of 20. For this to materialize, CenturyLink's EPS has to grow at an average five-year growth rate of 10%. And this is just half of what it has done during the past five years.
And there is some downside protection too. Even if its EPS fails to grow that much from increased sales, its margin improvement along with share buybacks will compensate for the difference.
To sum up, CenturyLink seems to worth at least $50 per share (20 times the low point of its 2013 guidance) offering to current buyers 50%+ upside potential.
Disclosure: I have no positions in any stocks mentioned, and no plans to initiate any positions within the next 72 hours. I wrote this article myself, and it expresses my own opinions. I am not receiving compensation for it (other than from Seeking Alpha). I have no business relationship with any company whose stock is mentioned in this article.