Originally, China's role in the grand scheme of All-Things-Apple (NASDAQ:AAPL) was that of a cheap labor force, and little else. There have been five different CEOs of Apple, Inc since the company opened its first office in Beijing in 1993. None have been very successful in pushing Apple's products in China, nor did they expect to be.
From a global perspective, China was one of Apple's least important markets. China was still considered a Tier III market for Apple when the iPhone 3 was released in 2008. Uruguay and Argentina were Tier II. In 2006, Apple pulled out of Beijing, and the VP of the Asia Pacific headquarters, located in Singapore, took over Apple's Chinese portfolio.
By April, 2010, Apple owned 72% of the Japanese smartphone market. China? 4.2%.
Fig. 1: Apple's Revenue in China (2009-2011)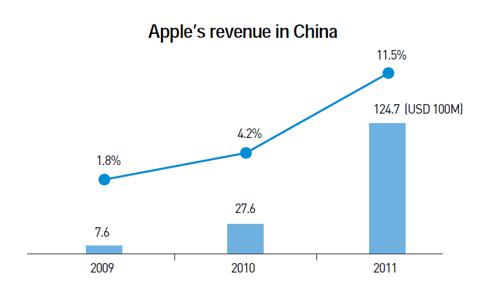 (Source: Maeil Business Newspaper)
That was then.
Fastforward
Today, Apple lives for China. In just four years, China has gone from non-entity to First Among Equals. In a testament to China's Cinderella-like transformation, IBT recently quoted Chinese news site EMSOne as saying that the iPhone 6 will be re-designed in order to be compatible with China Mobile's (NYSE:CHL) TD-LTE infrastructure.
Apple's latest iPhone will be designed to work on the TD-LTE 4G high-speed mobile network of China Mobile - China's largest carrier. In fact, the iPhone 6 - unlike the current iPhone 5 - will be compatible with all 4G networks worldwide.

Analysts have been predicting that Apple's wilting share price is unlikely to recover unless the Cupertino-based electronics giant can make inroads with consumers in China, whose market is almost twice the size of that in the United States.
According to iResearch, China has over 1 billion mobile subscribers, yet when compared with the U.S., the Asian smartphone market is still in its formative years. Only 1 out of 11 Chinese mobile subscribers owns a smartphone, which translates into an untapped market roughly twice the size of all the iOS devices currently in existence, triple Apple's 2007-2012 iPhone sales.
Unfortunately, the same conditions that made China so ideal as an assembly plant also act as an anchor on Apple's sales in the region. Historically, China's wealth has been confined to the coastal cities. The peasants and migrant workers of the interior and hinterland are marginally better off than they were ten years ago, but only just so.
The wealth distribution maps in Figures 1 and 2 below have been constructed using data from 2000 and 2012, respectively. With the exception of Sichuan, financial mobility is so geographically constrained within China that the interior/hinterland composite never changes in a meaningful way.
Fig. 2: Wealth Distribution By Province (2000)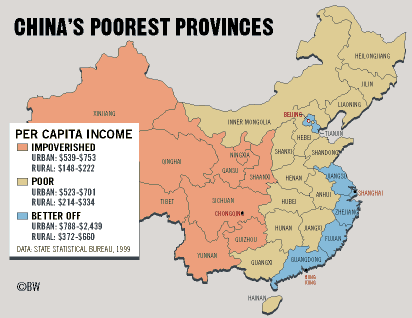 (Source: Businessweek)
Fig. 3: Wealth Distribution By Province (2012)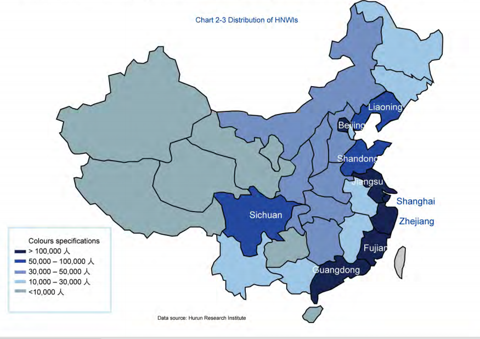 (Source: Hurun Research Institute, The Chinese Luxury Consumer White Paper)
Sharp-eyed readers will point out that China's wealth distribution is concentrated on the coastlines because that's where the major metropolitan areas are; thus, what at first blush appears to be economic maldistribution is really just a reflection of urban migration. Apologists point to YOY growth in disposable income per capita in support of this hypothesis.
Fig. 4: Chinese Disposable Income Per Capita, 2004-2012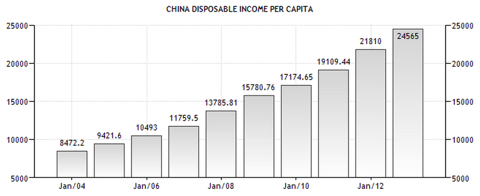 (Source: National Bureau of Statistics)
However, calculations of this sort can be deceptive. Such growth "per capita" may indicate that the CPC and its state-owned satellites are simply becoming more efficient at skinning the rural migrant population. One manifestation of such economic domination is the repressive hukou system, which relegates rural migrants to the status of a permanent underclass in the cities where they reside. In fact, out of 31 provinces, only Chinese urbanites in Shanghai, Beijing, Zhejiang and Tianjin earn enough to qualify as "average" Chinese consumers.
Fig. 5: Disposable Income by Province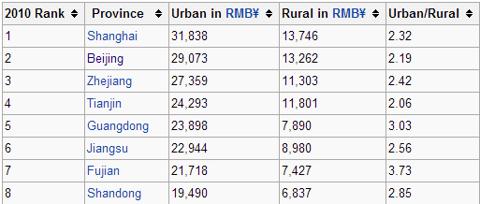 (Source: National Bureau of Statistics)
Re-enforcing this interpretation is a recent online poll conducted by China Youth Daily [CYD], in which 75% of respondents said the wealth gap was the biggest problem for China's economy long term, followed by the abuse of power (59.4 percent), entrenched interest groups (52.8 percent), ecological and environmental degradation (52.6 percent) and infringements on the rights of disadvantaged groups (50.3 percent).
This siphoning of China's wealth to the major cities on the coast is reflected in Chinese consumer preferences. In Q1 2012, the share of cell phones sold in the 1,500-to-2,000-yuan ($240-$320) price range amounted to 7.3%. The other 92.7% of mobile phones went to cheaper models.
While Apple's footprint in China is likely to accelerate in the future, investors and analysts alike should also recognize the limitations of the average Chinese consumer. Absent an earthshaking paradigm shift involving the largest wealth redistribution since the Mongol invasion, the bulk of Chinese cell phone subscribers won't be able to afford Apple's new wonder gadget.
The combination of an iPhone Mini and an installment payment model similar to the one Apple is currently deploying in India would go a long way towards ameliorating such concerns. Kleptocracy or not, China's middle class is still about as large as that of the U.S. - if not proportionately so - and consumer spending is projected to rise to 43 percent of GDP by 2015.
However, investors should keep in mind that even at a significantly reduced price, the iPhone Mini would represent a more significant investment in emerging Asia than it does in the U.S. or Europe, and that Chinese consumers are likely to stick with their existing iPhone rather than upgrade every two years.
Disclosure: I have no positions in any stocks mentioned, and no plans to initiate any positions within the next 72 hours. I wrote this article myself, and it expresses my own opinions. I am not receiving compensation for it (other than from Seeking Alpha). I have no business relationship with any company whose stock is mentioned in this article.