AECOM Technology Corporation (NYSE:ACM) saw its shares drop significantly early this week after the company announced a public stock offering. Morgan Stanley was retained to manage the books on this deal and appears to have done a stellar job.
The original announcement was for a sale of 3.5 million shares. The current market environment has made it difficult for any company to raise funds - even a strong cash-flow positive business like ACM. However, Morgan Stanley was able to get the deal done on a larger scale than originally announced. At the end of the day, a full 4 million shares had been sold at $20.20 netting AECOM $80.8 million (less fees and expenses).
According to the press release, the company intends to use the proceeds for general corporate purposes and to fund future strategic acquisitions. I expect that management has its eye on a few specific acquisitions and is preparing its balance sheet to be able to make the transaction. After all, the current environment has many companies trading at historically low multiples. Private acquisitions are also a strong possibility with many small businesses finding it difficult to get adequate funding for their day-to-day business.
ACM already boasts a strong balance sheet and a healthy business model. Earnings are expected to grow 19% in the current fiscal year (ending September 30) and an additional 20% in fiscal 2010. These earnings figures are relatively conservative as the company enjoys a healthy backlog of business. Large projects managed by AECOM are not totally immune to the current economic decline, but are usually a bit more resistant. After all, if you are managing a several hundred million dollar project, you will likely find a way to finish once you have spent the first hundred million. And since ACM can work on projects for multiple quarters if not years, the cash flow is more predictable than many other construction businesses.
Currently, the stock is trading at a PE of 12.4 considering this year's earnings, and 10.3 compared to 2010 expectations. The stock is also trading solidly above the deal price of $20.20 which likely indicates healthy demand. We are certainly seeing volatility with the equity markets in flux, but it appears ACM is positioning itself to be a strong contender in the months to come. The ZachStocks Growth Model currently holds the stock and I expect to see a sharp rebound in conjunction with any market strength.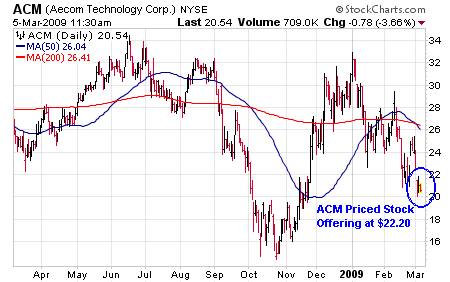 Disclosure: Author does not have a position in ACM.