Over the past 5 years, we have witnessed the emergence of the cloud, mobility and social media. The growth has been explosive in each one of those sectors, to say the least. Facebook (NASDAQ:FB) went public for $88 billion, cloud software companies were acquired for 10-15 times revenues, and mobility made Apple (NASDAQ:AAPL) a cash generating machine.
The world is getting connected in all places at all times thanks to the internet. However, the internet is facing a very challenging hurdle in getting the massive amounts of video, voice and data to the estimated 2.5 billion users over legacy architecture equipment. The networks that run the internet are not efficiently set up to handle the exponential flow of internet traffic set to come. Think about how many people will be going to the cloud to retrieve their computer programs and working from mobile devices instead of office desktops; think of all the social media plays that are being founded each year. It's great that all these things are in place, but the internet itself, the networks they run on, the bandwidth, if you will, needs to be expanded, fail proof, and faster than ever before.
I believe MoSys (NASDAQ:MOSY) is set to make the internet run a lot faster as its Bandwidth Engine chips get designed into the next generation of routers and switches by tier one OEMs around the globe. MoSys is a highly innovative and highly patented System on Chip company and I believe that MoSys has the potential to be 10 times your money on the upside ($35 per share) with only $1-1.50 on the downside. Here's why MOSY is set to revolutionize internet networking equipment.
First of all, MoSys is run by a Wall Street and Silicon Valley legend, Mr. Len Perham. Here's a look at his background: in 1992, he was Chairman and CEO of Integrated Device Technology (NASDAQ:IDTI) and he took its shares from $3 to $100 before leaving in 2000 to become Chairman of NetLogic, one of four companies he spun off while at IDTI. These four spin-offs were Quantum Effective Devices (acquired by PMC Sierra (NASDAQ:PMCS) for $2.3 billion), Galileo Technology (acquired by Marvel Technologies (NASDAQ:MRVL) for $2.7 billion), MoSys Inc, where Len Perham is now CEO (after selling NetLogic), and NetLogic (acquired by Broadcom (BRCM) for $3.7 billion). NetLogic was sold at all time highs and as a result there is a slew of institutions, analysts and investors that made money with Len and are ready to step in and follow him again once they see the first production orders come in to MoSys.
To give you an idea of how focused and determined Mr. Perham is, here's a couple of his quotes:
"If you want to compete with us, you better get up early and stay up late because we're serious people tackling a serious problem."
"I don't believe a business makes much sense until it makes money."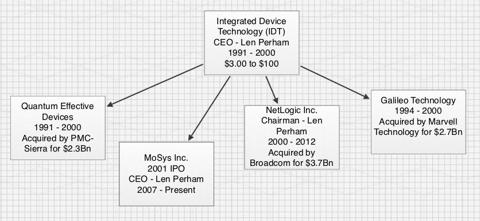 When Len Perham took the helm at MoSys, one of his first decisions was to focus on solving a networking problem that he could see out on there on the horizon. The problem as stated by Michael Sporer (MoSys) in an EE Times article is this, "Networking line rates have traditionally increased by more than 2x every 18 months, outstripping Moore's Law in an attempt to keep pace with the ever increasing demand for high bandwidth content delivery and fast, reliable connectivity. This creates significant challenges to memory throughput and access rate." In other words as networks have got faster and faster over the years, we have seen bottlenecks develop as access to the memory is being constrained by a lack of bandwidth and the lack of speed in the chips accessing this memory. As Mr. Sporer correctly states, "The days of 'best-effort' services are over; dropping a legitimate packet due to congestion leads to a degradation of customer service, while indiscriminate buffering can be even worse." MoSys attacked the problems on two fronts.
Giga Chip Interface (NYSE:GCI):
MoSys did not develop the chip in isolation. Over the past five years, it has been working on a serial interface protocol designed for chip to chip communication. The result is the Giga Chip Interface (GCI) protocol, which uses an 80-bit packet rate and is optimized for high access rate devices. The really great thing about GCI is that it locks in efficiency at 90% and enables high-bandwidth, high-efficiency chip to chip communications. In effect, it opens up the bandwidth. A sign of how important a breakthrough it is, is the fact that this GCI protocol has become an industry standard and is supported, promoted and adopted by networking industry giants Altera (NASDAQ:ALTR), Xilinx (NASDAQ:XLNX), Avago (NASDAQ:AVGO), LSI Corp. (NYSE:LSI) and most recently Renesas Electronics. The GCI was adopted early on by Altera and Xilinx as it expanded their opportunity to play a role as a packet processing engine. These five companies have a combined market cap of $34 billion. This type of backing and support only validates the quality of the chips coming out of MoSys and it is only a matter of time before it sees an increase in design wins and customer orders.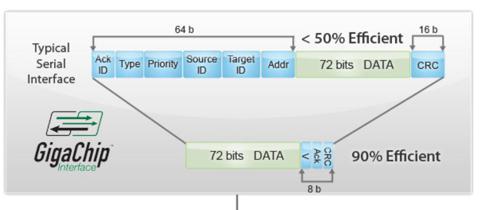 Bandwidth Engine:
With the problem of expanding the bandwidth solved through the use of the GCI protocol, the next problem MoSys had to solve was how to design a chip able to access memory fast enough to keep up with ever increasing networking speeds. MoSys took a novel approach and designed a chip "with the emphasis on fast, intelligent access which works well in the packet classification applications." The result was Bandwidth Engine. The first generation of Bandwidth Engine was a real breakthrough with speeds up to 2.75 gigabit accesses per second. It has since developed the 2nd generation Bandwidth Engine chip and it increases the speed to 4.5 to 5 gigabit accesses per second making it the fastest serial memory available on the market. At Design Con two weeks ago MoSys demonstrated its most advanced chip, as it ran four 25G chips across the back plane and was able to operate at speeds of 100 Gigabits (NYSE:G) per second.

These speeds are revolutionary and are coming at a crucial time as we are about to see a major push by network equipment makers to introduce 200G and 400G networks driven by the exponential increase in Internet traffic, video streaming, social networking and the movement to the cloud. The current 100G systems are already experiencing bottlenecks and current memory solutions such as SRAM, RLDRAM 2 and RLDRAM 3 have maximum speeds of less than 2 G per second and will just create further bottlenecks in these even faster devices. As such, I believe that MoSys' Bandwidth Engine chipset is exactly what the network equipment makers want and need at this time as they prepare to design and build prototypes of the next generation of network equipment that will run at speeds of 200G, 400G and beyond. In the last conference call, MoSys CEO Len Perham said "We already have multiple customers and prospects putting pressure on us for 2nd generation Bandwidth Engine samples and I am confident we will see a good deal of traction from this new Bandwidth Engine family in the quarters ahead."
The 3rd generation of Bandwidth Engine is in early development and by leveraging existing knowledge and technology will operate at speeds up to 7.4G. This will be revolutionary.
Design Wins:
MoSys currently has 10 design wins in progress, including multiple design wins with two OEMS.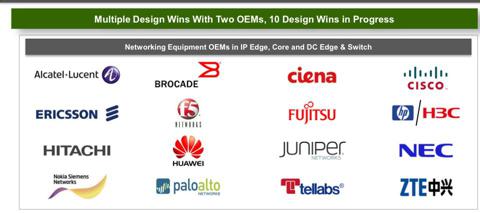 On the Q3 conference call, in response to a question, Len indicated that he expected 60-70% of the design wins out there to make it to the prototype phase and become orders; he further expanded that when the networking OEMs design their 200G and 400G systems, he expects that percentage to increase dramatically as he sees no alternative out there. Throughout the year, we expect to hear announcements of further design wins and by the second half of this year, we should expect to hear announcements of confirmed orders with OEMs. The only issue that seems to be holding back some of the OEMs is that they are waiting on MoSys securing a second source supplier (the company has already locked in Taiwan Semiconductor (TMC) as its preferred manufacturer). This is something that MoSys is negotiating at the moment. On the last conference call, Len addressed this in the question and answer as he said "I personally believe that we're in the negotiating details of getting this [second source supplier] put together and announced. There are no real serious hurdles in my opinion… there are issues that we are going to push back and forth on, but I didn't see any stumbling blocks and nor did he." I believe that any announcement of a second source supplier will be closely followed by announcements of confirmed orders.
I am not the only one to believe that an order is on the way, as (reported by Barrons), Benchmark Company's Gary Mobley recently wrote in his latest research report, "We expect a tier-one design win with Cisco Systems (NASDAQ:CSCO), Juniper Networks (NYSE:JNPR), or Alcatel-Lucent (ALU) is imminent." Analysts do not usually paint themselves into a corner with the use of words like imminent. No one in the investment world likes to oversell or be overzealous in their conviction especially a seasoned veteran like Mr. Mobley. I believe the company's message has been clear the past two conference calls - sales activity is much stronger than ever before, and the pipeline is building primarily with customers approaching them. To give you an idea of why MOSY may move like a biotech company on the news of a confirmed design win, and to provide a sense of how big Bandwidth Engine revenue could become, Mr Mobley continued, "One of MoSys' customer engagements may need 40,000 system boards per year with each board containing 11-16 Bandwidth Engine ICs. With an ASP of ~$90, this one customer could generate $40-$50 million per year." This would make MoSys profitable in 12 months off one customer and would push the other 12-24 players in the space to either buy from MOSY or have underperforming networking systems running slower chips. Benchmark has a $7.50 price target on MoSys.
Partnerships:
MoSys management believes that it could enter into partnerships with FPGA and ASIC makers.

Altera, Avago, LSI and Xilinx are backers of MoSys' Giga Chip Interface, so know the company well. In response to a question from Roth Capital's Krishna Shankar, about strategic alliances with Broadcom, Cavium (NASDAQ:CAVM) or Freescale (NYSE:FSL) here's what Mr. Perham replied, "We aren't in a position to identify customers, but we've been talking with some of the people you mentioned for some length of time." He continued, "I would say we're probably tracking 3 to 4 of those guys now and conversations have been going on now for, in excess of a quarter that's for sure." Based on these comments I think we could expect to hear an announcement of a partnership in the next 3 to 6 months.
Investors:
I bring MoSys to you with the understanding that we're buying the company before a monumental event. I believe that the following institutional investors have already been dipping their toes into the stock or have done extensive due diligence on the name. They are as follows:
Institutional investors that know the CEO, Len Perham professionally and have profited from being invested in his prior successful companies.
Institutional investors that know Mr. Perham's reputation.
Institutional investors that have channel checks in place and know through top tier OEMs that MoSys' chip is ready to go to commercialization.

I believe that institutional investors are all awaiting the first customer win before putting on full positions. Once this happens, the stock will move upwards fast. I believe that the time to get long is now, ahead of the institutions and just prior to any design win announcements. The first leg up should take the stock to the $6 - $7 range.
Intangibles:
Insider Buying - Len personally owns roughly two million shares (options and stock). He has made 3 insider purchases on the open market totaling 668,000 shares: May, 2012 he bought 146,000 shares at $3 per share. May, 2011 he bought 272,000 shares at $4.38 per share. In 2009, he purchased 250,000 shares at $2.50 per share when the overall market was blanketed in crisis mode. Len is putting his money where his mouth is and this more often than not delivers gains.
Management - John Monson left Mellanox (NASDAQ:MLNX) to join the team at MoSys as Vice President of marketing. Mr. Monson was very successful at Mellanox, and before that very successful at PMC-Sierra (PMCS). He left Mellanox a few months prior to Mellanox topping out on sales and revenues and I believe his decision to join the MoSys is an indication of his belief that MoSys is on the cusp of making it. MoSys Chief Operating Officer (and probable successor to Mr. Perham once revenues kick in) is on the Board at Mellanox and I believe he was able to show Mr. Monson what MoSys was up to. His decision to join MoSys can be taken as another indication that he believes in the technology.
Ingalls & Snyder - The portfolio manager (NYSE:PM) of MoSys' largest institutional holder, Ingalls & Snyder personally acquired a passive 5.2% stake in the company by buying shares in the open market. I do not think I have ever witnessed such an action by a PM, owning the shares in the fund and taking a position for his personal account. This is a very bullish indicator.
High Barriers to Entry - MoSys has filed patents on Bandwidth Engine chips and as such there will be high barriers of entry for competitors. This could lead to MoSys striking partnership deals with companies that need specific memory chip designs. It could also follow the small cap biotech structure and license its technology and receive milestone payments. This would be very beneficial to MoSys shareholders as the company would bring in cash up front and have future royalty streams that would bolster profitability in quarters ahead.
Scalable - The design of Bandwidth Engine is such that it is should be scalable. This is something that the designers and engineers have to test and confirm, but if it is achieved then it would result in the chips being designed into devices much lower down the food chain. This would be a massive homerun and would mark MoSys as a clear takeover candidate by the likes of Broadcom, Freescale and Cavium Networks in what I would estimate to be a deal worth billions (not hundreds of millions) of dollars when the initial design wins become orders.
Stock Options Exercising - On the Q3 conference call, CFO, James Sullivan announced that options exercising from employees at the company had been "pretty high". I believe that employees came up with cash in order to exercise their stock options as they believe the stock price is near the bottom and that they believe in the technology. This is a very bullish signal for the stock.

Chart: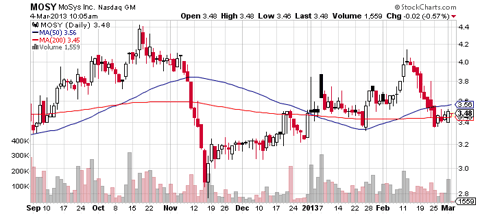 In looking at the daily chart, we can see that MoSys is in the process of making a double bottom with the previous bottom at $3.35 coming at the end of January. Now is a good time to step in as it should make a quick move to its previous short time high of $4.14. After consolidating around $4.00 the next upward swing should take it to $8.00.
Forced Selling:
The shares of MoSys have suffered from what I believe is known as forced selling. Forced selling is when an investor has to sell an equity or equities in order to cover other damages in his portfolio. Cramer has a great piece on it. MOSY had a large hedge fund holding approximately 6 million shares (~15%) that decided to sell back in early 2012. From my due diligence, I do not think it was company specific, but rather it was due to reallocation or change of view by this hedge fund. What followed was a domino effect as other holders sold as well. This is a situation any small cap name or perhaps any name could fall victim to. To the best of my knowledge, the seller is very likely exhausted as it only had 300,000 shares left as of December 31th, 2012. This has created the opportunity to make a value play on a growth stock. I believe investors that step in now will be rewarded with a double in the next 4 to 6 months.
Valuation:
Shares Outstanding: 40 million
Float: 33.50 million
Float (my estimate): 20 million
Market cap: $140 million
Cash: $41 million
Debt: $0
Short Position: 1.4 million
Days to cover: 13 days
Avg. Daily volume: 86,000
MoSys has the feel of a venture capital startup as it designs and develops revolutionary integrated chips, but it is a publicly traded company. In my opinion, if MoSys was private today, then it would garner major interest from the top Venture players in the industry and it would be at much higher valuations than the shares trade at today. However, I believe that once MoSys lands a tier one OEM and/or signs a partnership with one of the major players in the space, then the shares will more than double to above 2 year highs of $8 per share. MoSys has a superior technology and management team, and will demand as high a multiple as the likes of Cavium or EZ Chip (EZCH). The company is expected to see its initial ramp in less than 6 months, and I believe that there are too many eyeballs on Len Perham and MOSY for the shares to only hit $8 per share on winning the inevitable new business. First call has MoSys 2014 revenue estimate at $50 million and I believe the company will hit a 10x revenue multiple once 2 design wins hit production or a $10-12 target by this time 2014.
Catalysts:
Upcoming Conferences - MoSys will be attending two conferences in the next two weeks and it could be at either of these events that the company could either announce design wins or partnerships, or give an update on its 2nd or 3rd generation Bandwidth Engines.
Partnerships - Announcement of a partnership with any of the companies mentioned above.
Production Orders - Bandwidth Engine 1. There are 10 design wins out there, there could be an announcement that one or more has become a production order.
Design Wins - Bandwidth Engine 2. Samples of BE 2 are being shipped to prospective customers mid year and design wins could be announced shortly thereafter.
Second Sourcing - Naming of a second source could be followed by production orders, as OEMs seem to be holding back their orders until this issue has been resolved.
Conclusion:
Markets usually anticipate the direction of the market 6 months in advance. Stocks awaiting directional news, such as biotechs with pre phase III data, or more specifically, MOSY waiting for an imminent production order, tend to build up into that news 3-6 months ahead of time. Len Perham, the man I liken to Steve Jobs, spoke very confidently on Febuary 1st at 5am Pacific time during the MoSys earnings call. He said "2013 will be a pivotal year for MOSY" and that his "customer(s) are very committed to the new platforms" using Bandwidth Engine chips. That was one month ago, we're in month 3 of 2013 and the company has been too quiet. I believe my followers and new followers should see this opportunity as the calm before the big move upwards. The company has two investor conferences this month with Piper and Roth which I see as two good forums to show strong body language on the acceptance of Bandwidth Engine I, II and the scalable direction of III.
As Mr. Perham said a few years back at the Semico Summit in May,2011 "If you take a look at Bandwidth Engine 1, it's a very conservative design, 65 nanometers, runs the core memory at only 250 MegaHertz, 2.5G accesses. We've already committed to designing Bandwidth Engine 2, it's 40 nanometers, 3.7G accesses… if you look out to 2013-2014 we have no problem seeing that at 28 nanometers, we're going to run at 7.4G accesses. It's a game changer. In tennis that's called Game, Set, Match. Game Over."
Disclosure: I am long MOSY. I wrote this article myself, and it expresses my own opinions. I am not receiving compensation for it. I have no business relationship with any company whose stock is mentioned in this article.