Apple's 52Wk High of $192.24 had an implied sales growth of over 22% over five years.
click to enlarge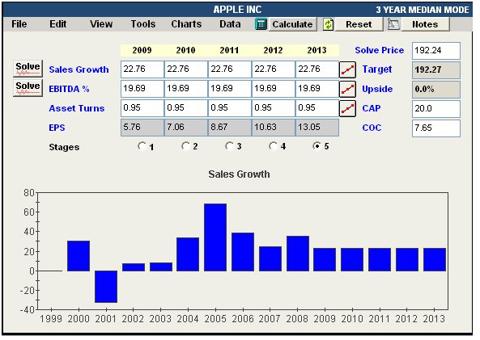 Wednesday's close of $91.17 has an implied sales growth of 5.69% over the next five years.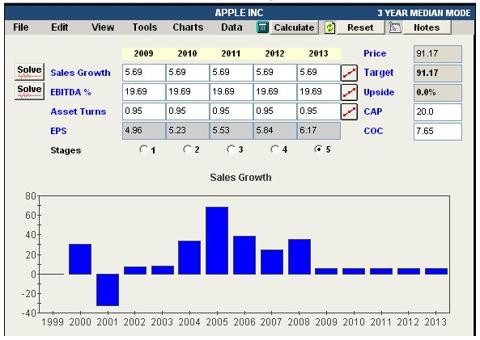 If Apple can at least maintain Sales Growth of 8% over the next five years, this translates to an intrinsic value of %101.02 or 10.8% upside.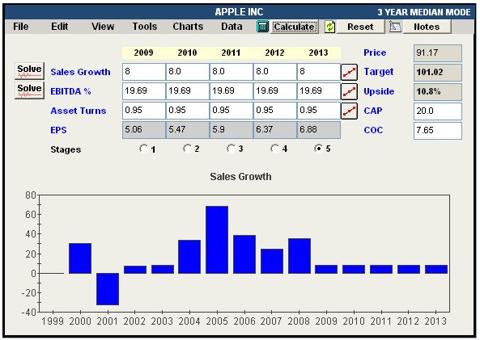 Even though Apple's implied sales growth is low relative to its historical performance, keep in mind that the average company in the S&P has -9% implied sales growth over the next five years which indicates that there could be some better opportunities in the tech sector.
*AFG's Value Expectation interface allows us to understand the imbedded Sales Growth, EBITDA Margins, and Asset Turnovers a company has to deliver in the future to justify its current trading price. In theory and in normal circumstances, if the imbedded future performance is very conservative relative to the company's historical performance, the stock is regarded as undervalued. The above table displays the implied future sales growth for Apple assuming a historical three year median EBITDA margins and Asset turnovers.