Major integrated energy companies prodded by activist fund managers have done a great job unlocking shareholder value recently. First Marathon Oil (NYSE:MRO) spun out its refining assets in Marathon Petroleum (NYSE:MPC) in 2011. Then in May 2012, ConocoPhillips followed suit with its spin-off of Phillips 66 (NYSE:PSX). Today Hess (NYSE:HES) announced several shareholder friendly moves that has its stock soaring today, including the sale or disposal of its retail operations. As you can see from the chart below, almost all entities involved have vastly outperformed the S&P over the last six months. So which major integrated energy concern looks likely to be the next company to unlock significant shareholder value? For my money, Occidental Petroleum (NYSE:OXY) seems like a good bet. The company does not have refinery assets like Marathon Oil or ConocoPhillips before the spin-off of their refinery businesses. However, similar to Hess, it does have assets that are non-core to its exploration and Production businesses. Its chemicals and midstream marketing operations account for about a quarter of its revenues and probably would provide better shareholder value if they were divested. It also could and probably should divest its riskier assets in places like Yemen and Libya.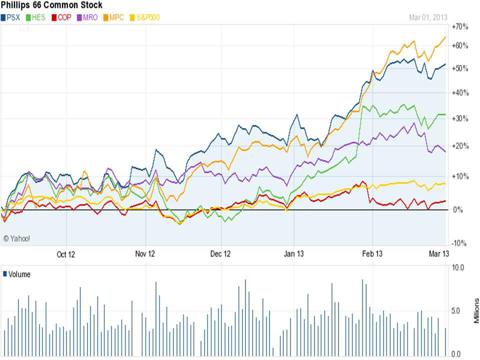 Bloomberg today highlighted an analysis by Oppenheimer that stated the shares could be worth as much as $120 a share if broken up, some 50% above its current price level.
They are myriad reasons OXY is worth more than the current share price of around $80 a share:
Over 60% of production is in geopolitically stable North America and its production is also over 70% oils and liquids.
Its P/E ratio is less than 80% of oil companies with a market value of over $5B.
The company has an A rated balance sheet and the shares yield over 3% after a recently announced 18% dividend hike.
OXY sells in the bottom third of its five year valuation based on P/E, P/CF, P/S and P/B.
The company has roughly doubled operating cash flow over the last three years and the median price target by the 21 analysts that cover the shares is $98 a share. Credit Suisse has a $110 price target and an "outperform" rating on the stock. S&P has a "Buy" rating and a $100 price target on the shares.
Disclosure: I am long COP, HES, OXY, PSX. I wrote this article myself, and it expresses my own opinions. I am not receiving compensation for it (other than from Seeking Alpha). I have no business relationship with any company whose stock is mentioned in this article.