By Sumit Roy
Investors continue to liquidate their gold positions in ETFs.
Gold ETF Holdings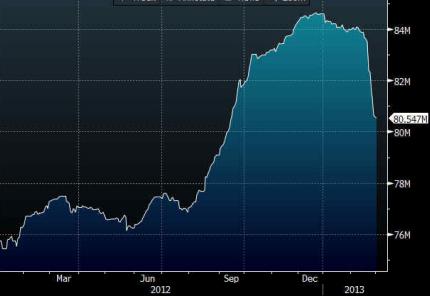 Gold exchange-traded fund holdings plummeted 2 million ounces over the past week, bringing the decline since the start of the year to nearly 4 million (125 metric tons). As we wrote last week, it's hard to tell if the decline in ETF holdings is pressuring gold prices or vice versa.
In either case, it's a good idea to be mindful of the movements in gold ETFs, as they are a large segment of the market. Even after recent declines, in aggregate, ETFs hold the fourth-largest reserves of gold after the United States, Germany, and the International Monetary Fund.

Gold ETF flows are likely to have significant implications for gold prices this year, and thus bear close watching going forward.