The ETF research team at S&P Capital IQ is profiling the Market Vectors Bank & Brokerage ETF (NYSEARCA:RKH), which carries a "MarketWeight" rating. The ETF holds valued financial services companies, with strong balance sheets, around the globe.
"S&P Capital IQ's fundamental outlook for the U.S. Diversified Banks sub-industry for the next 12 months is positive, despite the upcoming economic challenges and regulatory hurdles we see. Fourth-quarter results for the three banks which comprise this sub-industry reflected higher-than-expected mortgage banking revenues and significant loan credit quality improvements. In our view, results over the next 12 months for these banks will depend on the resolution of the debt ceiling, growth of the U.S. economy, housing prices and regulatory costs," Todd Rosenbluth wrote for S&P Capital IQ.
RKH holds banking stocks that have strong levels of capital with solid fundamentals.
Some of the larger holdings include Citigroup Inc. (NYSE:C), JPMorgan Chase & Co. (NYSE:JPM) and Toronto-Dominion Bank (NYSE:TD). S&P Capital has buy recommendations on several Canadian banks due to the projected outlook for capital markets and wealth management in 2013.
Diversified banks make up the bulk of the portfolio, followed by other diversified financial services and diversified capital markets. Major countries that are represented are the United States (38%), Canada (17%), U.K.(13%) and Spain (9%).
The banking and financial service sector does exhibit greater volatility than the S&P 500 in general. Another risk to this fund is the exposure to Spanish banks. Until the eurozone debt drama is settled, exposure to the region's financial institutions entaisl some risk.
Market Vectors Bank & Brokerage ETF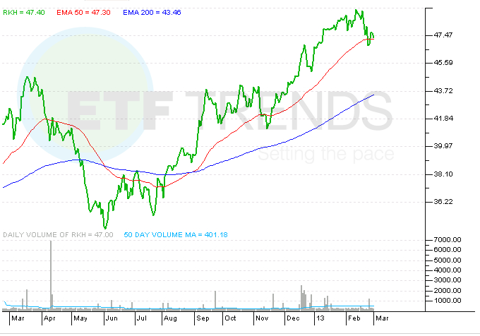 Tisha Guerrero contributed to this article.
Disclosure: I have no positions in any stocks mentioned, and no plans to initiate any positions within the next 72 hours. I wrote this article myself, and it expresses my own opinions. I am not receiving compensation for it. I have no business relationship with any company whose stock is mentioned in this article.