Apple's (NASDAQ:AAPL) continued trek lower has pushed the stock down 20%-plus year to date. As the biggest stock in the Nasdaq 100, Apple's struggles have really hurt the index over the last few months. Year to date, the Nasdaq 100 is up just 2.9%, which is much lower than the 7.1% gain for the Dow 30 and the 6% gain for the S&P 500. You can really see how much Apple has impacted the Nasdaq 100 when looking at the index on an equal-weighted basis. As mentioned, the Nasdaq 100 (cap-weighted) is up just 2.9% year to date, but the Nasdaq 100 equalweighted index is up 7.6%, which is stronger than both the Dow and the S&P 500. The Nasdaq 100 ex-Apple is actually doing quite well. Too bad there's not an ETF for that!
Below is a chart showing the performance of the Nasdaq 100 and the Nasdaq 100 equal-weight index since the bull market began on March 9, 2009. As shown, the cap-weighted index was really outperforming the equalweight index in late 2012 when Apple was above $700/share, but the equalweight index is now outperforming the cap-weighted index by eight percentage points (171% vs. 163%).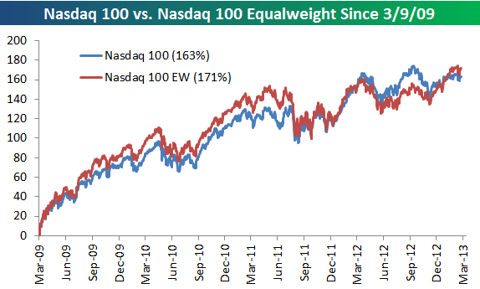 As Apple rots, Google (NASDAQ:GOOG) continues to hit new all-time highs. Pretty soon, Google's stock price will be double that of Apple's. You can see the extreme divergence in the chart below: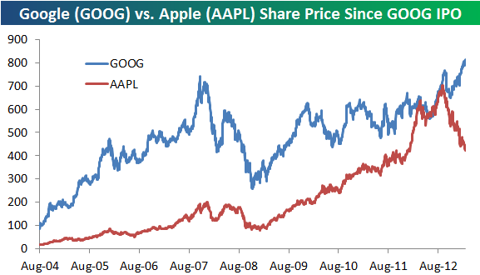 While Exxon Mobil (NYSE:XOM) and Apple have been duking it out recently for the title of world's largest company, Google has decided to throw its hat in the ring as well. Back in 2008, Google and Apple had the exact same market cap in the mid-$150 billions, but by 2012, Apple was nearly three times as big as Google. Since its peak at $658 billion last September, however, Apple has lost $261 billion in market cap, and it's now just $127 billion larger than Google. Obviously, Google still has a lot of work to do, but it's a lot closer than it was just a few months ago. With Google Glass on the horizon and, well, nothing on the horizon for Apple, who knows what this chart will look like by the end of 2013.