EMC Corporation (EMC) has been lagging the market for some time now. It has underperformed the indexes for two years now and has shown poor relative strength. And there have been new downside catalysts recently that pressured the stock price. The company is showing deceleration of growth, which started before the underperformance of the stock relative to the market.
The company reported earnings in late January, which were slightly ahead of analyst estimates, but warned of economic headwinds EMC is facing in 2013. The storage industry and the economy experienced a slowdown in 2012, and management issued a cautious guidance for this year. The slowdown was caused by tighter customer budgets, with emphasis on keeping their storage systems in service longer than they normally would.
The Data Storage Devices industry group as a whole has been one of the worst performing groups going back one year. The group's one-year performance was in the bottom 25 of the 210 industry groups tracked by Finviz.
Even though the price performance was weak relative to the movement of the market, it seems to be lagging the growth deceleration, as shown in the chart below. Earnings and revenue upward momentum peaked in the first half of 2010, but the price continued to move higher and the stock peaked in April 2012. The stock price is now 22% down from that peak.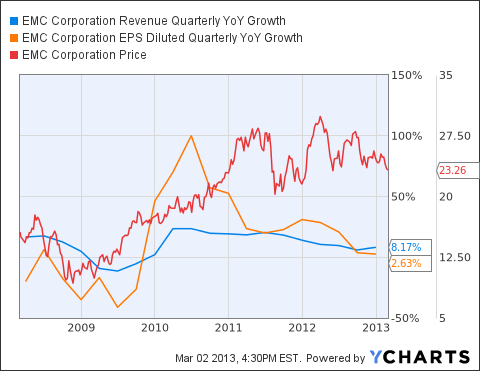 On the plus side, valuations are getting cheaper. But that is often the case with stocks that have decelerating earnings and revenue momentum. The PE ratio has reached its lowest level since 2009, and could go down further, to address the weakening of growth. In support of that argument, analyst estimates are going down recently, from $1.92 to $1.86 EPS for this year, and from $2.23 to $2.07 for 2014.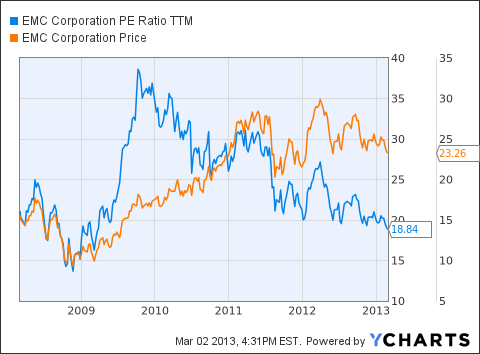 EMC PE Ratio TTM data by YCharts
VMware Inc. (NYSE:VMW) is another drag on EMC recently. EMC has a 80% stake in VMware. VMware reported earnings above estimates, but provided lower revenue guidance, which sent both stocks down sharply in late January. VMware's growth has also decelerated significantly.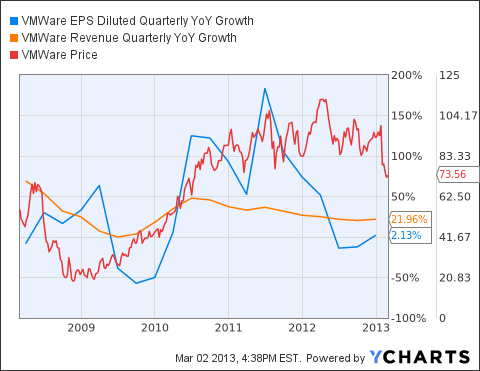 VMW EPS Diluted Quarterly YoY Growth data by YCharts
VMware's price is in high correlation with share price of EMC, and it broke the long-term support line two weeks ago.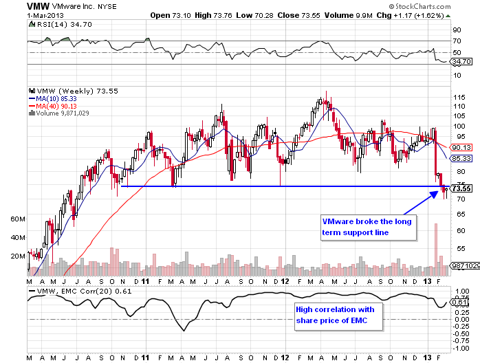 Click to enlarge
Source: Stockcharts
The stock price of EMC has been in a downtrend since the April 2012 peak, and has underperformed the broad market. It found support recently around $23, which has been a support level since June 2012. A break of that level would provide a technical catalyst, and we could see an accelerating downtrend in the stock if that happens. Another support level in that case would be the $20 level. A decisive break of this support could provide a short sale opportunity.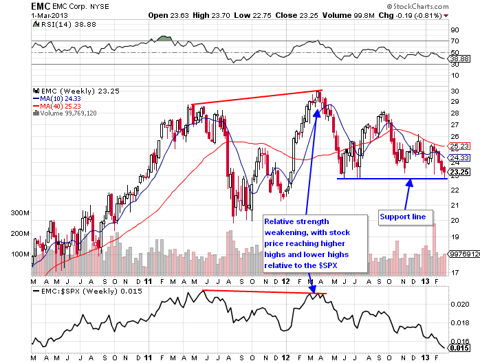 Click to enlarge
Source: Stockcharts
Conclusion
EMC Corporation should be avoided by investors for the time being. Negative trends in the industry group and underperformance relative to the market should not be ignored. EPS trends are heading down, and VMware's weakness is another drag on the stock price, and a further decline of its share price could put more pressure on EMC, as they correlate quite well. A break of the support level around $23 could provide a short sale opportunity.
Disclosure: I have no positions in any stocks mentioned, and no plans to initiate any positions within the next 72 hours. I wrote this article myself, and it expresses my own opinions. I am not receiving compensation for it (other than from Seeking Alpha). I have no business relationship with any company whose stock is mentioned in this article.
Additional disclosure: This writing represents my personal opinion, and is for informational purposes only.