Consumers are looking to cut costs wherever they can. Looking at MSSI statistics of five major wireless carriers reveals that the cell phone industry is no different. Spending levels at Sprint Nextel (NYSE: S), Verizon (NYSE: VZ), AT&T (NYSE: T) and T-Mobile (NYSE: DT) have all seen changes since October of last year.
This month's MSSI data shows that monthly average spending at Verizon and Sprint increased by 3% and 1% respectively, whereas T-Mobile and AT&T observed declines of slightly more than 1% each. But how are these firms fairing in a longer time frame?
click to enlarge image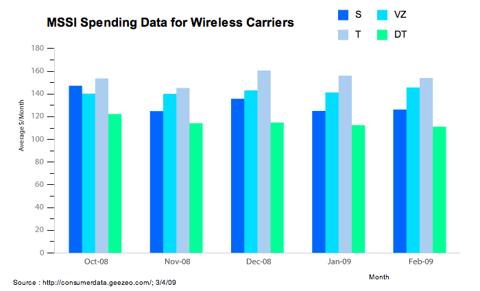 As the chart shows, since October the results for these four firms are more noteworthy. Both Verizon and AT&T have seen relatively stable revenues, with the average Geezeo customer spending 4% more and AT&T customer 1% over this period.
The numbers are not as encouraging at competitors Sprint and T-Mobile. The two firms have both seen average spending by Geezeo users fall overall since October. T-Mobile's customers spending dropped by 9.36% and Sprint's customers by an even larger 13.36%.
Since all these firms operate on contractually set rates, such declines indicate that Sprint and T-Mobile are seeing less new or continued contract agreements than their larger competitors, which can lead to lower revenues from both subscription fees and other earnings from extra features. It important to note, however, that all four of these firms have seen positive spending figures from this time last year, in both overall and year on year statistics.
This being the case, Verizon and AT&T seem to be large enough to handle this economic environment better than Sprint and T-Mobile.
This data was compiled by the Geezeo Main Street Spending Index (MSSI).
Disclosure: no positions