Lately, there is has been a lot of news about multi-drug-resistant organisms (MDROs), such as methicillin-resistant Staphylococcus aureus (MRSA), vancomycin-resistant enterococci (VRE), and Carbapenem-resistant enterobacteriaceae (CRC).
NBC did a story last week about a sharp jump in the number of rare but potentially deadly types of a superbug resistant to nearly all last-resort antibiotics. A doctor friend of mine has been put on alert by his hospital to take extra precautionary measures concerning this new superbug.
In the article, the Center for Disease Control (NASDAQ:CDC) remarked that;
This increase (in CRE) highlights the need for U.S. health care providers to act aggressively to prevent the emergence and spread of these unusual CRE organisms.
MRSA is also on the rise, with infections doubling in the just the last 5 years. Chicago scientists say the new estimate might even be low-balling the disease's pervasiveness because the database they use tends to under-report instances of MRSA if patients were hospitalized for some other ailment. When the researchers went back to correct for the statistical inaccuracy, they discovered that the insurance claims had missed between one-third to one-half of actual MRSA cases as recorded by the hospitals' own records.
Considering the above factors, I consider Trius Therapeutics (TSRX) to be a very strong speculative investment. The company is expecting topline data at the end of this quarter for Tedizolid phosphate (TR-701), an IV and orally administered second generation oxazolidinone for the treatment of serious gram-positive infections, including MRSA.
The company has designed TR-701 to be superior to first generation clinically developed oxazolidinones. Pfizer's (PFE) marketed drug linezolid is currently the only FDA approved oxazolidinone, which in 2010 had $1.2B in sales.
TR-701 may offer several advantages over linezolid which include greater potency, once daily dosing, predictable drug exposure, a shorter course of therapy, in vivo bactericidal (i.e., bacterial killing) activity, lower frequency of resistance, activity against linezolid-resistant bacterial strains and an improved safety profile.
On February 12th, the company announced that the results from ESTABLISH 1, a Phase III study of tedizolid phosphate (TR-701) versus linezolid (Zyvox(NYSE:R)) completed in 2011, were published in The Journal of the American Medical Association (JAMA). According to the release:
As detailed in the JAMA article, tedizolid achieved the primary and all secondary endpoints in the ESTABLISH 1 trial. Approximately 42 percent of pathogens isolated at baseline in the study were methicillin resistant Staphylococcus aureus (MRSA). For both tedizolid and linezolid there was good concordance (>80%) between the early primary endpoint and late investigator assessed secondary endpoints suggesting that the early response is a good indicator of a sustained clinical response to therapy. In addition, the trial showed that tedizolid had a statistically lower impact on platelets and was associated with a statistically significant lower rate of gastrointestinal (NYSE:GI) adverse events than linezolid.

The ESTABLISH 1 trial examined the efficacy and safety of a 200 mg tablet of tedizolid given once per day for six days versus a 600 mg tablet of linezolid given twice per day for 10 days in 667 patients in North America, Latin America and Europe. The trial was the first pivotal study conducted to prospectively measure the new FDA "early response" primary endpoint of cessation of lesion spread and absence of fever 48-72 hours after the first dose. The trial also measured as secondary endpoints this "early response" sustained to the end of therapy (EOT; day 11) as well as captured the EMA endpoint of clinical investigator's assessment at the post-treatment evaluation visit (7-14 days after EOT).
If ultimately approved by the FDA, and with the data looking good, Pfizer's linezolid could end up being a second fiddle to TR-701.
Another strong factor Trius has going for it is that the October 2012 GAIN Act legislation (Generating Antibiotics Incentives Now Act) was passed to encourage companies like Trius to develop new antibiotics, allowing them to streamline certain regulatory processes for commercialization. Perhaps the most important aspect of the GAIN act for Trius is that it offers companies 5 years of market exclusively, which would give Trius a ton of leverage if they choose to partner TR-101 and/or sell the company to a larger pharma. The GAIN act's 5 years of market exclusivity is similar to a company gaining New Chemical Entity (NCE) status, which is what Amarin (AMRN) has been trying for with its drug Vascepa. Many believe Amarin's stock price has suffered because the company has to date failed to gain NCE status, which would also provide the company with 5 years of market exclusivity.
On January 18th, Trius engaged in a public offering at the market (ATM) price of $4.75 a share. Often times, when small cap biotechs "dilute" the share price heads down. This was not the case with Trius, as the stock rallied on the offering to near $5 in a couple of trading sessions. Many times, both investors and traders do not understand how offerings work, and automatically assume the stock price will go down.
In May of 2012, Arena Pharma (ARNA) did an ATM at $5.50, following FDA approval of its weight loss drug, Belviq. Many institutions and retail investors have been and are still bullish over Arena's long term prospects. So, they grabbed up the offering. Since that time, the stock has been as high as $11 a share before falling back a bit to the level where it trades today, in the lower $8 range. Belviq is one of two new weight loss drugs approved since 1999, the other being Vivus' (NASDAQ:VVUS) Qsymia.
Synta Pharmaceuticals (SNTA) engaged in an ATM offering at $8.80 a share back in December 2012. Since then, the stock hit a high of over $12 a share before falling back to where it trades today, around $8.80 a share. I wrote about Synta a few days before the offering when the stock price was around $7.80, giving an opinion that I believed the company made for a good catalyst trade at the time with four upcoming data releases.
The above are two cases of small tech biopharmas engaging in direct ATM offerings that had very positive results.
In just about every case of a direct ATM offering, the stock normally rises quite a bit. The kind of financing that can be negative on a stock is when a company engages in a private placement, with tons of warrants issued to "private investors." Often times these offerings tend to be toxic, so investors need to keep a close eye when and if companies they hold positions in engage in private placements.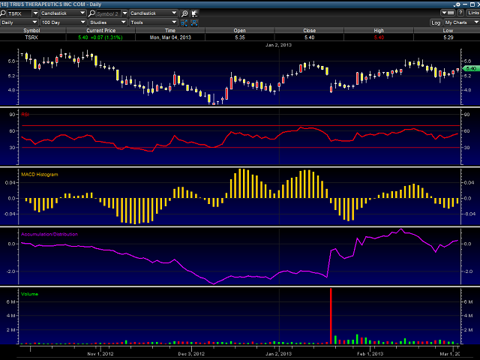 Click to enlarge
An upwards continuation pattern is clearly showing up in the above chart with an up-trending accumulation and RSI. It looks to me like $6 is coming very soon.
With the company having an abundant supply of cash on hand and with the current issues in health care regarding MRSA's, I feel Trius has a good chance to see a double digit stock price this year.
Disclosure: I am long TSRX. I wrote this article myself, and it expresses my own opinions. I am not receiving compensation for it. I have no business relationship with any company whose stock is mentioned in this article.
Additional disclosure: Disclaimer: This article is intended for informational and entertainment use only, and should not be construed as professional investment advice. They are my opinions only. Trading stocks is risky -- always be sure to know and understand your risk tolerance. You can incur substantial financial losses in any trade or investment. Always do your own due diligence before buying and selling any stock, and/or consult with a licensed financial adviser.