XPO Logistics (NYSEMKT:XPO) just reported 4Q12 and FY12 financial results on February 27th. 4Q12 revenue increased 146.1% to $108.5 million. FY12 revenue increased 57.3% to $278.6 million.
What drove the growth was mainly the freight brokerage segment, largely attributable to the four acquisitions made in FY12. Freight brokerage revenue grew 760.3% to $71.1 million in 4Q12, and 328.7% to $125.1 million in FY12.
Revenue Growth Trajectory
The following chart plots the company's quarterly revenue by business segments since 1Q11. The short-hand notation in the legend represents its three segments: freight brokerage, freight forwarding, and expedited transportation. 3Q11 was the quarter when CEO and Chairman Bradley Jacobs first made his equity investment in the company.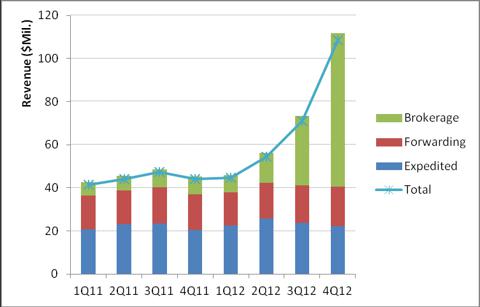 Annual Revenue Run Rate
The 4Q12 revenue of $108.5 million translated to an annual revenue run rate of $434 million as of the end of FY12. When you factor in that Turbo Logistics contributed $27.2 million and it was only acquired on October 24, the ending annual revenue run rate would likely be somewhere around or north of the $470 million level (had Turbo been able to contribute a whole quarter). This was slightly short of the company's target run rate of $500 million.
Although it is something interesting to keep track of, I advise investors not to overly focus on run rate. Ending run rate is prone to the timing and size of acquisitions. For example, had the company completed just another small acquisition before year-end, the run rate would have well exceeded the $500 million target. The same can be said had any of the four acquisitions completed last year sized up a little bit.
We are ignoring seasonality when using the 4Q12 number as basis of the annual run rate. So when calculating Turbo's run rate, I was simply assuming its $27.2 million performance, from late October through year-end, can be extrapolated into a whole year. But seasonality should not be a major issue for a fast-growing company like XPO.
With 1Q13 now about two-thirds over, XPO has completed two additional acquisitions (ECAC and Covered Logistics). With these two more acquisitions, the run rate likely has reached $540 million.
Cold Starts
The company has well exceeded its original cold start target. Now they have a total of 17 cold starts, comprising 1 expedited, 8 freight forwarding, and 8 in freight brokerage. The 8 freight brokerage cold starts now have a combined annual revenue run rate of $60-65 million, including about a $10 million contribution from BirdDog and Turbo offices that are merged with the cold starts.
Acquisitions
XPO made four acquisitions in FY12, in May (Continental Freight), August (Kelron), and October (BirdDog and Turbo). The combined acquired historical annual revenue was $253 million, and the combined purchase price was about $62 million.
In terms of gross revenue, Turbo ($124 million) and Kelron ($100 million) were the largest by far. In terms of profitability, Turbo led the pack with 2011 operating income of $4.8 million and EBITDA of $6.9 million on $126 million gross revenue. But at a purchase price of $50 million, it was also the most expensive of the acquisitions.
Kelron was not profitable when acquired. It was running an operating loss of ($1.3 million) for the year ending March 31, 2012. Gross margin was only 11.8% (for the year ended 3/31/2012) compared to Turbo's 17.4% (FY11 ended 12/31/2011). However, it cost much less to acquire, at $8.0 million.
Since being acquired, XPO has tried hard to turn Kelron around. It has so far downsized the unit by culling about 20-25% of the total revenue. The areas that were eliminated were those that the management does not see a prospect of turning a profit for the company. With this restructuring and growth initiative, management now expects Kelron to contribute a couple million dollars of EBITDA in FY13.
As for Turbo, management was pleasantly surprised that, after acquisition, it has added a couple of key accounts that translated into $10-15 million of annual revenue. And that was the key reason why, within only slightly more than two-thirds of a quarter, the unit was able to contribute $27.2 million to 4Q12 revenue. Management figured that Turbo's run rate at the end of 2012 was about $135-140 million.
Gross Margin
Gross profit in 4Q12 increased 118.4% YoY to $15.7 million. Gross profit for FY12 increased 37.1% to $40.8 million.
Again, the freight brokerage was the main driver of growth. Gross profit from the freight brokerage segment grew 585.5% to $9.5 million in 4Q12, and 243.3% to $16.1 million in FY12.
The following chart plots the company's quarterly gross profit by business segments since 1Q11.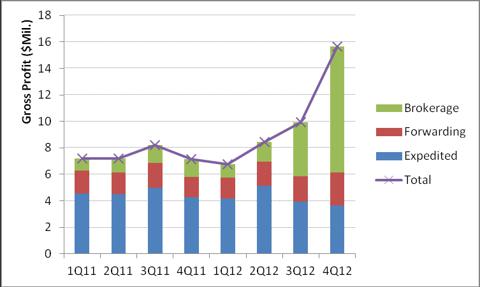 The following chart plots the company's quarterly gross margin by business segments. Note that the gross margin for freight forwarding has trended up for four consecutive quarters since 1Q12, after bottoming at 9.2% in 4Q11. Gross margin for freight forwarding came in at 13.5% in 4Q12. Freight brokerage gross margin has also improved for two quarters in a row, since bottoming at 11.0% in 2Q12. Freight brokerage gross margin was 13.4% in 4Q12.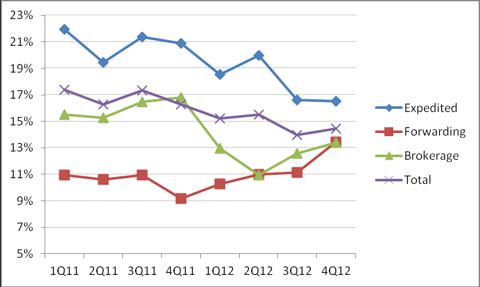 However, gross margin in expedited transportation has not begun to improve yet. The main cause for the gross margin downtrend in the expedited segment was because of an increased rate paid to fleet owners and owner-operators starting from 1Q11. However, management is working with fleet owners and operators to lower the rate and increase load volume. And they are expecting gross margin and load count to both start improving in 2Q13.
Operating Income And EBITDA
The following chart plots the company's quarterly operating income by business segments. Total quarterly EBITDA is also included. Anything other than the orange line marked EBITDA was operating income, either for a segment or total.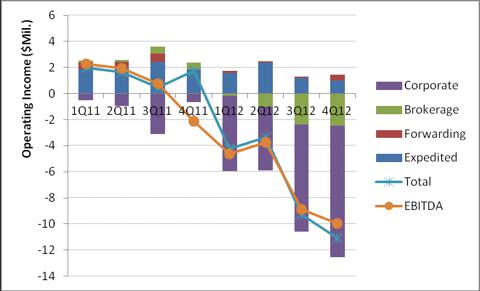 Both freight brokerage and corporate segments were deep in the red throughout the year, obviously due to the investment and growth initiatives in place. EBITDA has largely tracked operating income. For 4Q12, total operating loss was ($11.1) million and EBITDA was ($9.9) million. For FY12, total operating loss was ($28.0) million and EBITDA ($27.2) million.
Investors should continue to expect heavy operating loss through much of FY13. The good news is, however, that the company is targeting for a positive EBITDA in 4Q13.
The following chart plots operating margin for each business segment. Except for the light blue line denoted EBITDA% (which stands for total EBITDA margin), the rest are all operating margins, either for a specific business segment or total.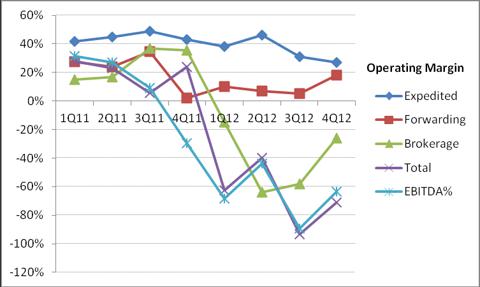 Operating margin here is defined as operating profit as a percentage of gross profit (instead of gross revenue). Likewise, EBITDA margin is defined as EBITDA as a percentage of gross profit. For 4Q12, operating margin came in at -70.8% (of gross profit) while EBITDA margin at -63.4%. For FY12, operating margin was -68.5% while EBITDA was -66.5%.
Instead of getting scared by the ugly negative profit margins, XPO investors should see through the numbers and look at the room that's left for the margins to move upward. To do this, look no further than the chart above. EBITDA margin for 1Q11 was 31.7%, while operating margin for that same quarter was 27.8%.
Since XPO is transforming into a truck-brokerage-centered company, it makes sense to mainly use that segment as a reference. As you can see from the chart above, when freight brokerage was really performing in 3Q11 and 4Q11, operating margin was 36.7% and 35.7% for those two quarters, respectively. For FY11, the operating margin for this segment was 27.8%.
For additional reference points, let's pull in a couple of competitors. Echo Global Logistics (NASDAQ:ECHO) achieved an operating margin of 14.3% in FY12, while its gross margin for FY11 and FY10 were both 16+%. It has a longer-term operating margin target of 30-35% (by FY15). Landstar System (NASDAQ:LSTR) achieved an operating margin of 45% in FY12. However, it aims to bring the operating margin up to 50% in the next three to five years.
By this comparison, it does appear realistic to expect XPO's operating margin to get back up to its historical 30% level realized in its freight brokerage segment in the long run. CEO Bradley Jacobs certainly agrees with this assessment. On 4Q12 conference call, he said the following:
"In terms of the lower-level margins, we're going to be of a size that we're going to approximate what's going on in the industry as a whole. So if you look at the larger competitors and see what their margins are, we'd probably end up like theirs."
All that means is that margins from XPO's the-now-larger competitors do serve as good harbinger for XPO in the years ahead. That sounds encouraging and signals to you, my dear reader, that the ugly charts above are bound to pretty up in the long run. But at the same time it is prudent for me to caution that there is still a long way to go, and thus, it will take a lot of patience to get there.
Cash Flows And Liquidity Position
The following chart plots XPO's quarterly cash flows since 1Q11. On the legend area, OCF stands for Operating Cash Flow; FCF stands for Free Cash Flow; and Acq. Net denotes net cash outflow (including earn-out payments) due to acquisitions.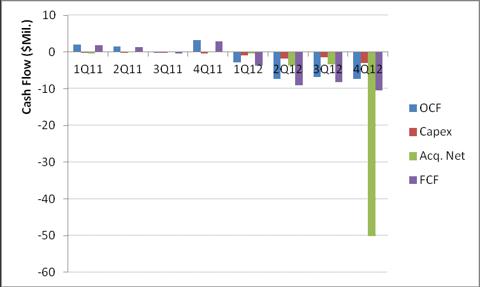 The standout in the chart above is obviously the $50 million paid out for the acquisition of Turbo Logistics in 4Q12. But of course, free cash flow also still remained hugely negative throughout FY12, owing to the investment in cold starts, sales force expansion, IT buildout, training, key hires, and other corporate initiatives. Free cash outflow was ($10.4) million in 4Q12, and ($31.3) million for FY12.
To support the company's immense liquidity requirement, XPO has made three major equity and offerings, starting with Mr. Jacobs' investment.
In September 2011, XPO offered Mr. Jacobs 75k shares of preferred stock (convertible into 10.7 million shares of common stock), plus warrants to purchase 10.7 million shares of common stock, for $75 million. That offering brought in net proceeds of $71.6 million. In March 2012, XPO issued a total of 9.2 million shares of common stock to the public at $15.75 per share. The net proceeds from that public offering totaled about $137 million. And then in September and October 2012, XPO issued $143.8 million worth of convertible notes and brought in net proceeds of $138.5 million.
These three offerings combined added a total of $347 million cash to the company's war chest. As a result, the company still ended 4Q12 with $252.3 million cash.
Cash Requirement In FY13
For 2013, management is targeting Capex to be in the $7-10 million range. Working capital requirement is roughly estimated to be 8% of revenue. (As a reference, the operating cash outflow was about 8.7% of revenue in FY12.) One top of these, interest payment on the convertible notes will be roughly $6.5 million and dividend payment for the preferred shares will be $3 million.
As of this writing, the consensus estimate of FY13 revenue from 11 analysts stands at $796 million (which looks reasonable given management's target revenue run rate is now above $1 billion at the end of 2013). Using this revenue estimate and adding all the cash items together, you will have a total cash outflow, excluding acquisitions, of $83.1 million (at the Capex upper bound of $10 million).
In FY12, the aggregate purchase price of the four acquisitions was about 25% of the aggregate acquired revenue. Management is targeting at least $300 million of acquired revenue in 2013. At $300 million acquired revenue and 25% P/S ratio, the acquisitions would cost $75 million. So a rough estimate of total cash requirement (including acquisitions) would be about $158 million.
Recalling that the company ended 4Q12 with $252.3 million cash, this would enable it to exit FY13 with cash and cash equivalents of roughly $94 million.
This means that XPO would not need to raise additional capital throughout 2013 under normal circumstances. And indeed, management confirmed this on the 4Q12 earnings conference call -- that they do not currently foresee a need to raise additional capital in 2013 unless supersized acquisition opportunities strike suddenly.
This largely removes an uncertainty that can potentially punish the stock performance in 2013. However, given the rough estimate of $94 million cash exiting 2013 and the company's acquisition pace, it looks almost a certainty that some kind of debt or equity offerings will be required in 2014. In fact, to boost the company's cash position in preparation of acquisitions in 2014, I would not even be surprised if the company initiated a debt/equity offering toward the very end of the year (like 4Q13).
Customer Base
XPO is now targeting more than 1000 large corporations and about 3 million small and mid-sized businesses. The Turbo and Kelron acquisitions have helped expand the company's footprint in large corporate accounts.
For the freight brokerage industry, investors remain cautious about the growth potential in the large corporation market segment based on the belief that more than 80% of Fortune 500 companies have already embraced 3PL. But XPO is currently mostly serving small and mid-sized businesses. And management feels confident in growing both large corporate accounts and the smaller and more local accounts.
2013 And Beyond
For FY13, the company is targeting the following:
An annual revenue run rate of more than $1 billion at the end of year,
At least $300 million of acquired historical annual revenue,
Positive EBITDA for the fourth quarter, and
At least three new freight brokerage cold-starts.
Looking further out, management is aiming to achieve a revenue run rate of $4 to $6 billion by 2016. That's about five years after Mr. Jacobs has taken control of the company.
Perfect Storm
In his latest annual letter to shareholders, Mr. Warren Buffett teased his fellow CEOs nationwide for stopping investing in the face of political and economic uncertainties. This is what he said to them:
"If you are a CEO who has some large, profitable project you are shelving because of short-term worries, call Berkshire. Let us unburden you."
XPO's projects are apparently too small to get Mr. Buffett interested. But even if they are large enough, Mr. Jacobs will not be a CEO to offload his projects to Berkshire, or anyone else, for that matter.
To the contrary, Mr. Jacobs is loading up hugely in the sea of uncertainties that is today. He is investing for what he often touts as a "perfect storm," in which there will be a lot of freights competing for a tight supply of carrier capacities.
Mr. Jacobs is not sure when his "perfect storm" will strike. But he is certain it will someday, when the country's GDP grows again. When that happens, he sees companies with capacity and scale benefiting hugely, at the expense of smaller freight brokers.
If you are skeptical that the economy can ever pick up steam again, you probably want to ask Mr. Buffett. Luckily, you don't even need to ask. Mr. Buffett has already provided the answer in his shareholder letter:
"On an inflation-adjusted basis, GDP per capita more than quadrupled between 1941 and 2012. Throughout that period, every tomorrow has been uncertain. America's destiny, however, has always been clear: ever-increasing abundance."
Closer to home, Mr. Jacobs' opponents and fellow CEOs are also investing for the future. ECHO is targeting to grow top line by 24-29% (to $940-980 million) in FY13, and aims to grow annual revenue further to $1.3-1.5 billion by 2015. Even the biggest fish in the pond, C.H. Robinson (NASDAQ:CHRW), is growing top line at a low double-digit clip and is busy expanding its scale, all while the analyst community is freaking out about an eroding gross margin.
That sounds like fierce competition, and indeed it is. But the 3PL companies do not have to play a zero-sum game. Given the present 15% or so penetration in the trucking industry, Mr. Jacobs believes there is a lot of further room for truck brokerage firms to grow together.
Mr. John Wiehoff, CHRW's CEO and Chairman, apparently agrees. Here is what he had to say about competition and the truck brokerage industry on CHRW's 4Q12 earnings conference call:
"So when we think about taking share, it's both about outperforming our direct competitors, as well as us all collectively, hopefully continuing to be a better service and value and price proposition for the shippers, so that we collectively can penetrate the truckload market."
XPO's Mr. Jacobs believes the truck brokerage penetration can one day reach 40-50% of the truckload market.
On top of that, let's not forget that XPO is leading a nascent consolidation wave in the highly fragmented truck brokerage industry.
Valuation Basis
It is probably a good idea to monitor a stock's valuation on a regular basis. So let's take a look at XPO's valuation as compared to its key competitors. Since XPO has a far more complicated capital structure than its competitors, it is a great idea to examine enterprise value (EV) instead of market cap.
The table below compares XPO's EV/ Revenue and EV/Gross Profit to the same ratios for CHRW, LSTR, and ECHO. EV, revenue, and gross profit are all in $thousands. The EV was calculated for each company's stock price at the close of March 1, 2013.
| | | | | |
| --- | --- | --- | --- | --- |
| Company | CHRW | LSTR | ECHO | XPO |
| 3/1/2013 Close | $57.06 | $55.99 | $18.98 | $17.27 |
| Enterprise Value | $9,413,106 | $2,619,638 | $407,596 | $515,904 |
| | | | | |
| Revenue FY12 | $11,359,113 | $2,793,420 | $757,688 | $278,591 |
| Revenue FY13E | $12,980,000 | $2,940,000 | $963,590 | $795,680 |
| Revenue FY14E | $14,110,000 | $3,150,000 | $1,150,000 | $1,470,000 |
| | | | | |
| Gross Profit FY12 | $1,717,571 | $445,712 | $143,125 | $40,826 |
| Gross Profit FY13E | $1,959,980 | $476,280 | $185,009 | $116,965 |
| Gross Profit FY14E | $2,130,610 | $510,300 | $220,800 | $220,500 |
| GM% FY12 | 15.1% | 16.0% | 18.9% | 14.7% |
| GM% FY13E | 15.1% | 16.2% | 19.2% | 14.7% |
| GM% FY14E | 15.1% | 16.2% | 19.2% | 15.0% |
| | | | | |
| EV/Revenue FY12 | 0.83 | 0.94 | 0.54 | 1.85 |
| EV/Revenue FY13E | 0.73 | 0.89 | 0.42 | 0.65 |
| EV/Revenue FY14E | 0.67 | 0.83 | 0.35 | 0.35 |
| | | | | |
| EV/Gross Profit FY12 | 5.48 | 5.88 | 2.85 | 12.64 |
| EV/ Gross Profit FY13E | 4.80 | 5.50 | 2.20 | 4.41 |
| EV/ Gross Profit FY14E | 4.42 | 5.13 | 1.85 | 2.34 |
| | | | | |
| CAGR Revenue FY12-14 | 11.5% | 6.2% | 23.2% | 129.7% |
| CAGR Gross Profit FY12-14 | 11.4% | 7.0% | 24.2% | 132.4% |
The EV calculation has taken into account the diluting effect from stock options, RSUs, preferred shares, convertibles, and warrants. XPO is the only company that has the latter three items. The convertible feature on XPO's perpetual preferred stock has been taken into account. The proceeds from share issuance for the exercisable options and warrants were also accounted for, thus conforming to the so-called "treasury method." For ECHO and XPO, the diluting effect of stock options was only an estimate, since information regarding the exercisable options along with their strike price ranges was not available as of this writing.
In the table above, the ending letter "E" in "FY13E" and "FY14E" denotes estimated figures. Revenue for FY13 and FY14 was taken from consensus estimate as of 3/1/2013. Gross profit for FY13 and FY14 was calculated using the assumed profit margin percentages (GM%) listed above.
As can be seen, XPO is trading at the highest multiple of historical FY12 revenue and gross profit. However, it is also trading at the same lowest EV/Revenue multiple (0.35x) against FY14 projected revenue as ECHO. EV is also the second lowest multiple (2.34x) of FY14 gross profit, only higher than ECHO's 1.85x and significantly lower than CHRW's 4.42x and LSTR's 5.13x.
Pay attention to the bottom of the table where CAGR for revenue and gross profit, from FY12 through FY14, is compared. XPO's three-digit CAGR for the next two years simply stands out from the pack.
This is not to say that ECHO, CHRW, and LSTR are overvalued. All these three companies are highly profitable and growing. But XPO does appear to be the best value among the four, given management's aggressive growth plan for the next few years.
Investment Implication
Investing in truck brokerage firms is investing in a combination of the following:
The housing-led economic recovery,
America's ongoing energy boom,
The American manufacturing renaissance,
The 2x or 3x GDP growth rate of the truck brokerage industry, and
The huge upside for brokerage penetration to grow in the trucking market.
Investing in all the leading truck brokerage firms mentioned above makes sense. But XPO has the highest growth potential in the group, and is also trading at more attractive valuation relative to its pace of growth.
Disclosure: I am long XPO, ECHO. I wrote this article myself, and it expresses my own opinions. I am not receiving compensation for it (other than from Seeking Alpha). I have no business relationship with any company whose stock is mentioned in this article.