Frontier Communications (NYSE:FTR) currently offers a 9.6% yield while the high yield index (below investment grade bonds) offer 5.93%. Institutional investors are desperately searching for high yield opportunities and Frontier's current yield is highly compelling both compared to the risks facing the company and on a relative value basis. Centurylink (CTL) carries a lower yield at 6.2% following its decision to reduce its dividend while Winstream (WIN) offers a higher yield at 11.5%, but maintains a dividend payout ratio well above Frontier's, while facing similar long-term challenges.
As a rural communications company that tripled its size through the acquisition of properties from Verizon in July 2010, Frontier increased its leverage while combating the secular shift away from landline communications to mobile devices. As a result, Frontier made the necessary cut to its dividend by 47% in February 2012 in order to delever and reduce cash interest expenses. This decision signaled to debt investors that the company is committed to reducing debt which prompted its debt prices to rise, effectively lowering Frontier's future interest costs. Such actions will lower Frontier's cash interest costs creating a virtuous cycle where additional free cash flow will reduce debt, lowering cash interest costs further and boosting free cash flow over time. At the current stock price of $4.15, Frontier offers an attractive and secure yield with upside potential as investors grow confidence that the current dividend rate is stable and its operations continue to improve through cost reductions, improved attrition rates and growth through broadband and video customers.
Our long thesis can be summarized as follows:
Improved Customer Metrics:
On a sequential basis over the course of 2012, Frontier was able to improve its residential access line losses as depicted in the table below:
| | | | | |
| --- | --- | --- | --- | --- |
| | 1Q 2012 | 2Q 2012 | 3Q 2012 | 4Q2012 |
| Quarterly Decline | (2.1%) | (2.0%) | (1.6%) | (1.5%) |
| Y/Y Decline | (9.0%) | (8.4%) | (7.6%) | (7.0%) |
Despite incurring residential customer losses, the rate of decline has improved every quarter. Although we believe that access line losses will continue indefinitely, we believe churn will become more manageable with each passing year as a core base of customers will continue to maintain hardline communications. Moreover, residential average revenue per customer (OTCPK:ARPC) has steadily increased due to improved pricing and increased penetration of products per customer. ARPC was up 1.8% year over year (Y/Y) in 2012, slightly offsetting the 7.0% decline in residential customers for a 6.7% decline in residential revenues.
Frontier's business customers represent a stronger contingency going forward as this segment is unlikely to churn off as aggressively as the residential side of the company. Despite sustaining business customer losses throughout 2012, similar to the residential side, the rate of decline improved each quarter. Offsetting the 7.7% Y/Y decline in business customers in 2012 was a 5.7% Y/Y increase in business ARPC. Business pricing benefited from a mix shift toward higher ARPC enterprise customers as well as increased product penetration. As such, overall business revenue declined only 1.5% in 2012.
In an effort to boost broadband net additions, Frontier recently launched Simply Broadband, which does not require wireline product. Broadband subscribers grew 1.3% in 2012 and will likely grow in 2013 at the expense of other Frontier access lines as the company continues to expand broadband availability and speed. Video subscribers excluding DirecTV, which was unbundled in 3Q'12, grew by 14.4% in 2012. Although video subscribers will moderate in future quarters, it should remain a source of growth in 2013.
Strong Cost Controls:
Despite headwinds from customer attrition and lower overall revenues, Frontier has been able to tightly control its operating expenses through synergistic opportunities from its Verizon acquisition and internal cost reduction programs. These programs included cancellation or reduction of vendor services, network cost savings, contractor reductions, benefit changes and real estate savings. As depicted in its 4Q'12 investor update, Frontier exceeded its original $500mm synergy target and even slightly outperformed its upwardly revised $650mm target.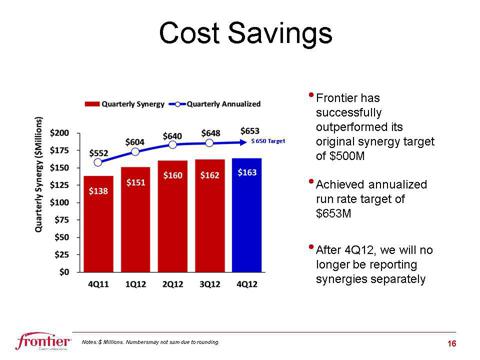 Click to enlarge
In 2013, Frontier has identified another $140mm in gross savings ($100mm net) from ongoing operational streamlining such as lower headcount through attrition, continued reduction of vendor services and improved productivity. These cost savings allow the company to mitigate the impact of lower revenues and buttress cash flow generation. As a result, Frontier implicitly guided (based on backtracking from its free cash flow guidance) 2013 EBITDA of $2,225mm to $2,400mm compared to $2,395mm of EBITDA in 2012.
Manageable Debt Profile:
Frontier's average interest cost on its $8,943mm of outstanding debt as of 4Q'12 amounted to 7.85%. Its net debt leverage ratio equaled 3.17x at the end of the year and remains above the company's long-term targeted level of 2.5x. After reducing its dividend last year, debt investors became more receptive toward Frontier as it demonstrated its commitment to reducing debt more rapidly. As such, Frontier was able to issue a $600mm bond offering in August '12 at 7.125%. Less than two months later, Frontier completed a tack-on offering for $250mm at a price of $104.25 for an effective yield of 6.55%. These proceeds were used to repurchase higher cost debt in the open market (7.875% notes due Apr '15 and 8.25% notes due Apr '17) and retire its $503mm Jan '13 maturity subsequent to year end. Frontier's debt profile as of 4Q'12 is illustrated below: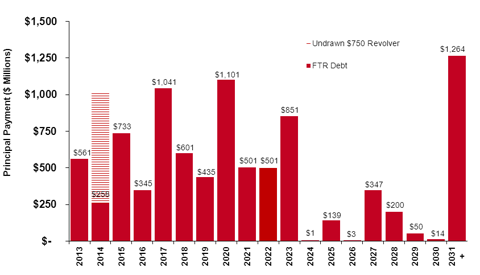 Click to enlarge
We believe Frontier will proactively refinance additional debt in the coming quarters given the favorable debt environment. To repeat, such actions will lower Frontier's cash interest costs creating a virtuous cycle where additional free cash flow will reduce debt, lowering cash interest costs further and boosting free cash flow over time. Based on the midpoint of the company's guidance, its net leverage ratio should fall to 3.05x by the end of 2013 despite the 2.9% decline in EBITDA. Moreover, Frontier maintains ample liquidity with an untapped $750mm revolver and $867mm of cash on hand, pro-forma for retiring the $503mm maturity in January '13. As such, liquidity is ample to address upcoming maturities and steadily reduce debt.
Stable Free Cash Flow / Secure Dividend:
Given the company's ability to actively align its cost structure with its growth opportunities and lower cash interest costs through proactive initiatives, Frontier has been to generate consistent free cash flow. After producing $975mm in free cash flow in 2012 (guided to $900-1,000mm), the company is guiding to $825-925 of free cash flow in 2013, allowing the company to comfortably pay its $400mm dividend and delever simultaneously. Frontier's payout ratio will remain well below 50% in 2013. This compares to a 77% ratio at Windstream in 2012 and a projected 65% ratio in 2013.
In 2014, Frontier should benefit by $80mm from reduced cash taxes as a result of the 50% bonus depreciation awarded in 2013. In addition, capex will likely decline from the $625-675 range guided to in 2013 as the company completes its broadband geographic expansion and speed enhancement. As Frontier uses its free cash flow to repay debt, we estimate cash interest expense will fall by $35mm in 2014. Based on our projections, free cash flow in 2014 will range from $800-900mm, once again providing sufficient coverage for the $400mm dividend and another year of meaningful deleveraging.
Modest Valuation:
Given the various threats and challenges to Frontier's long-term earnings power, it is clear investors will never pay a lofty multiple for FTR. However, as the company proactively delevers, value will transfer from debt holders to equity owners. FTR currently trades at 4.9x trailing EBITDA. We believe investors are under-estimating the free cash flow potential FTR will generate over the coming years, allowing the company to exploit the virtuous cycle we described earlier. Given our view of this impending benefit, we believe a 5.4x multiple on forward EBITDA would be more appropriate or a 16.5% free cash flow yield, equating to $5.50 per share.
We estimate the catalyst for investors re-rating FTR will occur when management provides clarity around its capital budgeting as well as cash taxes for 2014, typically after its 2nd quarter earnings report. Furthermore, continued progress on improving its access line losses will also encourage investors that the company's free cash flow will remain healthy. Regardless, we are confident that the downside at these levels is protected given the robust and highly sustainable 9.6% yield, creating an asymmetric return profile.
Disclaimer: This is not a recommendation to buy or sell any investment.
Disclosure: I am long FTR. I wrote this article myself, and it expresses my own opinions. I am not receiving compensation for it (other than from Seeking Alpha). I have no business relationship with any company whose stock is mentioned in this article.
Disclosure: The author is long FTR.
The author wrote this article themselves, and it expresses their own opinions. The author is not receiving compensation for it (other than from Seeking Alpha). The author has no business relationship with any company whose stock is mentioned in this article.