Warren Buffett spent several hours on CNBC Monday Morning. The Oracle of Omaha offered myriad opinions of the stocks he holds, the performance of Berkshire Hathaway in 2012, his recent acquisition of Heinz (HNZ) and even the recent sequester cuts. One of his best takes in my opinion was his commentary on his significant stake in Bank of America (NYSE:BAC). The king of long-term investors was blunt in his assessment that he does not know where the shares will trade at next week, next month or even next year. However, he was extremely confident that this bank stock will be trading at much higher levels years from now. Buffett has warrants to buy up 700mm shares until 2021 at just over $7 a share.
I agree with the famed investor that Bank of America is unlikely to repeat its strong performance over the last six months in 2013 (see chart).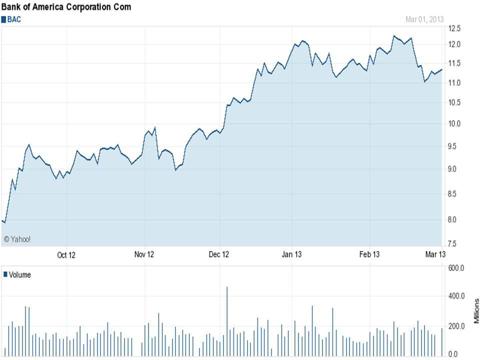 However, the stock should do well over time for a few core reasons.
The housing market is starting to recover. Given the depth of the housing depression and the low rate of home building over the last few years, this recovery is in the early innings. Obviously a recovery in real estate values should bolster the bank's housing loan portfolio.
The company has a huge base of low-cost deposits which will become a more valuable asset as the economy recovers and loan demand increases.
Eventually interest rates will need to rise off these historical lows. Margins should improve as interest rate spreads increase.
It is working its way through the various lawsuits in the aftermath of the financial crisis. Two years from now, litigation should be a non-factor.
As it puts this behind it, the bank should be able to significantly increase its dividend over the coming years.
In addition, BAC is still cheap on a variety of metrics at just over $11 a share.
The stock is selling at under 60% of book value.
Revenues are projected to grow 5% this year. This will be the first growth in sales in three years.
The company has beat earnings estimates three quarters in a row, and consensus earnings estimates for both FY2013 and FY2014 have edged up over the past two months.
BAC is selling for less than 9x this year's projected earnings and under 8x 2014's projected earnings.
Disclosure: I am long BAC. I wrote this article myself, and it expresses my own opinions. I am not receiving compensation for it (other than from Seeking Alpha). I have no business relationship with any company whose stock is mentioned in this article.