Market Recap:
The market battled back from early losses to finish in the green on Monday. Early losses were prevalent after China had its worst day in the stock market in 19 months. That hit came after the Chinese government put in measures to cool off rising property values. These measures were on second homes and included higher down payments and mortgage rates. Some speculated that the move was a sign of weakness, but we see it as China, once again, trying to ensure it does not create significant bubbles. After the morning, the market ignored this data and focused more on the continued push higher from Fed Chairman Ben Bernanke's QE push as well as continuing to ignore sequester cuts. The market is less than 40 points shy of an all-time record for the Dow now. Overall, though, it was a quiet day. Most of the important market action occurs Wednesday - Friday with jobs information, Eurozone GDP, and more.
The Dow (NYSEARCA:DIA) finished up 38 points while the S&P (NYSEARCA:SPY) finished up seven points.
Stocks To Trade:
Today, we are looking at bullish positions in PepsiCo (NYSE:PEP), IBM (NYSE:IBM), Wal-Mart (WMT) and Crocs (NASDAQ:CROX).
The first stock we are looking at today is PepsiCo. We believe this stock could make a strong move to the upside this week after putting together a fairly solid earnings performance in the latest quarter and looking strong moving forward. PEP reported earnings on Feb 14, and the stock has looked great since. The company reported EPS at 1.09 versus the 1.05 expectations along with a 5% climb in revenue. The company benefited from strong demand for products in nearly every market. They saw 9% growth in emerging markets and over 3% growth in Europe. What we like most about PEP is that its not a soda company anymore. The combination of Lays, Gatorade, and PepsiCo makes the product lineup very diversified and can play off different trends and different sectors of the economy. Here is Hugh Johnston, CFO, talking about that development:
"We feel like what we've done in terms of both the geographic transformation, as well as the change in the product portfolio to broaden ourselves, has put us in a spot where we can post these types of results consistently. And that's why we're talking about 2013 guidance with mid-single digit revenue, as well."
The company is expected to see 4-5% revenue growth this year and next year, and we believe that while PEP is not a growth stock that its shares are not properly pricing in the strength the company has in its product portfolio. Price/sales sit below 2, showing solid value. Future PE is just under 16. Under 15 is usually strong value, but we still like 16-18 for value in strong names. Further, PEP offers nearly 3% yield. Can the company keep it going? The company increased their dividend after the latest quarter, and we believe that the company's best offering will be increasing margins over the next several quarters. That will come from their ability to continue to increase pricing in developed markets as well as emerging markets. That formula was strong for the company in the latest quarter, and we see no reason why it will not continue.
Trade: PEP, Long
Buy Point: Over $76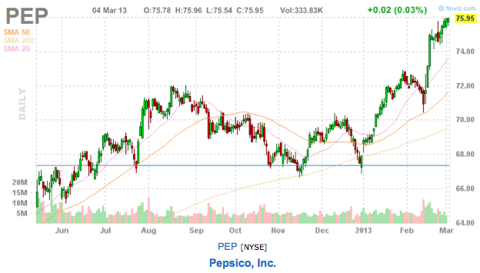 Another stock we believe is looking solid is IBM. IBM was one of our Top Ten picks for 2013. Let's highlight why we believed 2013 would be a great year for IBM:
The company should see cyclical strength with the upgrade of Power 7+ processors. Additionally, the flat growth in 2012 should allow for some very solid comparative rates. Additionally, the recent missteps of Dell (NASDAQ:DELL) and Hewlett-Packard (NYSE:HPQ) compared to the continued success of IBM show a strong, unique business model that can continue to thrive in changing market environments and spending trends. The company's last major cycle of server shipments was in early 2010 with the Power 7 servers. The upgrade to the 7+ will increase a new spending cycle that we do not believe is appropriately priced into the stock. The company's current PE sits at 13.5, which shows very strong value. We believe that IBM is ready for a strong year and is heavily undervalued. The company should see at least 15% growth in earnings in 2013, and it could be even higher based on the general market trends. With over 75% returns in the past five years, we believe IBM continues its strength in the new year.
So far, so good. Our 2013 price target was $285, and the stock has moved higher for 6%+ growth so far this year. After a very strong quarterly report in January, the stock, though, has been very flat. It has not continued higher, but we believe after a break of key resistance at $204 today, the stock looks ready to charge up again. The reason that IBM looks great is that it's really executing well in big data analytics. We believe that the company's move to cloud services complemented with phenomenal hardware is a winning combination. What's the catalyst for this drive?
The company, last week, commented that they would want to see operating EPS at $20 by 2015. Operating EPS is currently just over 14, so we are looking at around 40% growth in earnings in the next three years. That growth will be a combination of margin expansion (switching from hardware to subscription-based software increases margins), share buybacks, and organic growth. We believe that IBM is a tremendous opportunity right now and look for them to power higher.
Trade: IBM, Long
Buy Point: Over $205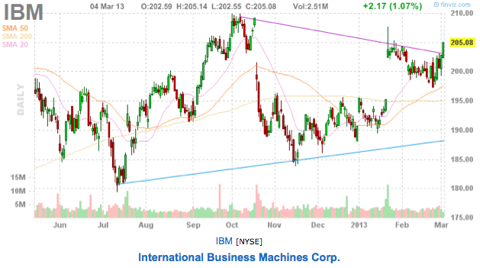 Another attractive stock right now is Wal-Mart Stores. WMT was also on our Top Ten list for 2013 (along with IBM above). The company looks like it's starting to get going now after a mixed start to begin the year. WMT noted in February that the company was off to a rough start for the year since the payroll tax increase hurt WMT shoppers and caused them to shop less. The company, though, is taking off on the back of some solid news that WMT is heavily concerned with Amazon.com (NASDAQ:AMZN) Marketplace and the threat of online retail. The benefits that AMZN can have is that they have lower costs of doing business, can push shipping costs to the retailers, and are accessible 24/7 are intriguing for WMT. What does the retailer want to do? They want to create their own Marketplace. While the move is just starting to gain traction, we believe that WMT's move away from brick and mortar in any way possible is a good thing. Further, notes from the CEO of WMT last week showed that the company is very focused on fixing issues of restocking that have plagued WMT's sales. We believe at this point a lot of the bad news for WMT is priced into the stock, and that its future in online retail, appeals to new customers that will move down to WMT from other stores from tax increases, and value all make it very attractive.
Right now, shares are trading 12.2 future PE and just 0.5 price/sales. The stock is dirt-cheap. Even if the company flat lines this year, shares have a 2.6% yield and have limited downside with such low valuations. We like WMT to make a nice comeback this year that started last year as the company rededicated itself to getting back its customers. That move should continue this year and recent snags are an opportunity. $74 is a gap resistance so wait for a break of that.
Trade: WMT, Long
Sell Point: Break of $74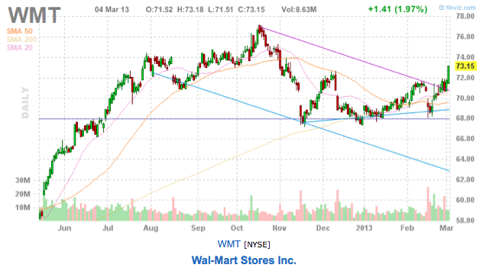 Another stock that we recently recommended as a Buy was Crocs. We believe that CROX has significant upside in the future, and it is vastly undervalued. While we do believe CROX lacks a major economic moat, we believe it can outperform GDP growth as it has done a great job of diversifying its shoe lineup to many different styles that are attracting children, adults, men, and women. Here was our main argument for why we like CROX:
In the company's Q4 results, John McCarvel, President and CEO, explained that in 2013, CROX would be focusing on expanding consumer awareness through a 33% or 15 million dollar increase in marketing. The company anticipates a 13-15% increase in revenue in the first quarter due to increased marketing and return from 107 new stores created in 2012. Since the company has seen lower numbers during off-season quarters, alongside Q3 results, CROX also announced plans to focus on the continual evolution of the company to a four-season brand, especially during the fall and winter seasons. CROX plans to market their products during the "back-to-school" season, which is a great opportunity for revenue during one of their traditionally slower quarters.
On top of this, let's take a look at value. CROX trades at an 8.8 future PE and 1.2 price/sales. Both figures show that it's discounted based on revenue and earnings. Sometimes we will see a discrepancy here for a company that lacks margins or lacks strength in sales growth, but CROX is discounted on both sides. The problem was that the company still has not shaken its recession image. During that time, CROX struggled and shares plummeted to as low as $1. Yet, at that time, CROX was still developing much of its image, diversifying its lineup, and its problems were more a "wrong place, wrong time" rather than actual image of the current company. Since then, CROX has spent a lot of resources diversifying its lineup significantly and offers many styles outside of the original clog. We believe that now is a great time to look at CROX as a value play for your portfolio.
Trade: CROX, Long
Buy Point: Break of $16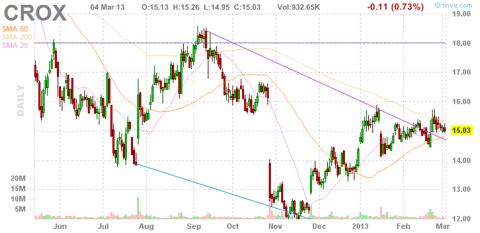 Tomorrow's Outlook:
Tomorrow, we should see the market reacting most specifically to ISM Services data, sequester developments, and overseas news. ISM Services is a key data point since a lot of the US economy is now service-based. On the sequester front, it looks fairly obvious now that the cuts are going to stick. So far, the market has been okay with that. Sequester cuts some money, but Bernanke has guaranteed to put it right back into the market. However ridiculous that may be, that is the truth of the matter. If we saw any progress in some resolution, it could provide a bump up. Overall, though, we do not expect a significant move from the cuts at this point. Finally, we get some interesting data overseas. HSBC Service PMI for China will come out tomorrow morning. A reversal of sentiment there would help the market. Additionally, we will get Eurozone Retail Sales tomorrow. Any signs of more bottoming there would be helpful.
Chart courtesy of finviz.com.
Disclosure: I have no positions in any stocks mentioned, and no plans to initiate any positions within the next 72 hours.
Business relationship disclosure: The Oxen Group is a team of analysts. This article was written by David Ristau, one of our writers. We did not receive compensation for this article (other than from Seeking Alpha), and we have no business relationship with any company whose stock is mentioned in this article.