At first it could seem just a minor experiment, with Electronic Arts (NASDAQ:EA) launching the iOS and Android title "Real Racing 3" on the freemium model. The freemium model consists in giving out games for free, but then charging for in-game content through microtransactions.
Perhaps knowing from Zynga (NASDAQ:ZNGA) experience that only a very small minority of the game user base tends to invest money in it, one could be tempted to write off this move. After all, "Real Racing 2" was a success, and that particular game cost $9.99 … no freebies there.
So why is it a revolution?
Indeed, why did I call it a revolution if success seems so elusive? Well, there are two reasons:
One is that Electronic Arts is ready to expand the experience of microtransactions to all its games, so this is clearly a significant development;
And the other, obviously, is that Electronic Arts has a reason for doing so. EA would not go off the deep end and risk every franchise without a motive.
The motive
The motive is quite simple to explain. Electronic Arts already said it: they're doing it because the public is embracing the model. But how far is the public really embracing the freemium model? The next table might explain it better than words (Source: "Top 200 Grossing Apps for iPhone", Appshopper.com - top 20 reproduced here)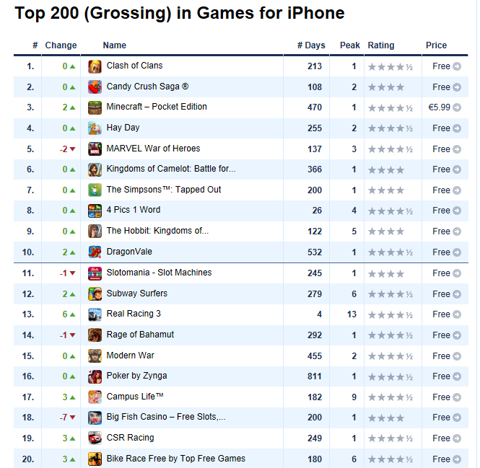 That's quite incredible, 19 of the top 20 grossing apps on the iPhone are under the freemium model. It's not just that the public embraced this path. It's as if the public has made this the only path. "Real Racing 3" already shows up at position 16th, up 6, as well - giving further credence to this bet.
It seems likely that this revolution might increase Electronic Arts' chances of making more money in the mobile market. However, at this point Electronic Arts still faces significant headwinds from having been mostly a PC/console game maker dealing with a hard transition towards mobile gaming. It also doesn't help that the revenue per game sold is certainly much lower in the mobile segment than what EA was used to in the PC/console markets.
On the plus side, the new console cycle, starting now with the Wii U to be followed by Sony's PS4 and Microsoft's future xBox, might give EA a new lease on life in its more traditional markets. This might explain the stock's better performance as of late, even in the face of still deteriorating fundamentals.
Conclusion
The adoption of the freemium model seems a net positive for EA in the mobile segment; however, EA's traditional market still faces significant headwinds, leading me to remain neutral. However, there might be a speculative long angle for EA both from the adoption of the freemium model, and from the console cycle with the introduction of 3 new consoles this year.
Disclosure: I have no positions in any stocks mentioned, and no plans to initiate any positions within the next 72 hours. I wrote this article myself, and it expresses my own opinions. I am not receiving compensation for it (other than from Seeking Alpha). I have no business relationship with any company whose stock is mentioned in this article.