Noble Corporation (NYSE:NE) was founded in 1921 and it has grown to be one of the world's largest offshore drilling contractors. This company provides drillships, jackups, and semi-submersibles to many major oil companies around the world.
Oil prices have seen a pullback in the past couple of weeks, and that has put pressure on many stocks in this sector. Noble shares have declined as well, and this appears to be a solid buying opportunity. As the chart below shows, Noble shares have been in an uptrend since last June. However, the stock is now trading around the lower end of the recent trading range, which is indicated by the blue trend line in the chart. (The purple line represents the upper end of the trading range.) With Noble shares trading right around the low end of the recent trading range, it still appears to be in a longer-term uptrend, and that is one reason why this looks like a solid buying opportunity. Investors who have been buying the pullbacks at the low end of the trading range during this uptrend have been doing well, and that's why I consider this stock to be in the "buy zone".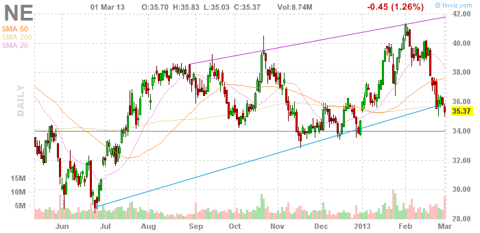 Noble shares traded for about $41 in February, but after a recent pullback, this stock now appears undervalued and it could be poised to rebound soon from oversold levels. Noble shares trade for just a slight premium to book value, which is $30.56. Analysts expect earnings and revenues to grow significantly in the coming years. Estimates are for revenues of $4.42 billion and earnings of about $3.20 in 2013. Revenues are expected to jump to $5.38 billion, with earnings estimates of $4.79 in 2014. Earnings of nearly $5 per share in 2014 would put the price to earnings ratio at just 7 times, and that appears cheap, considering that the average stock in the S&P 500 Index (NYSEARCA:SPY) trades for about 14 times earnings.
Noble has a fleet renewal strategy which will keep competitive and allow it to charge premium rates. It is building 11 highly advanced drilling units, which include 5 ultra-deepwater drillships and jackups, which will begin entering service in 2013. This is one factor that will help to grow earnings in 2014.
Some "smart money" investors seem to be finding value in this stock. Billionaire and hedge fund manager David Tepper has recently been buying shares of Noble Corp. Mr. Tepper is the founder of Appaloosa Management, which has billions of dollars under management. He has made a fortune for himself and for investors by focusing on undervalued stocks such as Noble.
Another recession or a major drop in the price of oil could cause Noble shares to drop further. Also, there are always operational and other risks in offshore drilling and project delays or a major accident could also cause investor concern. However, investors should balance this risk with the rewards that are possible from the long-term growth potential that the offshore drilling industry offers.
Here are some key points for NE:
Current share price: $35.37
The 52 week range is $28.73 to $41.71
Earnings estimates for 2013: $3.20 per share
Earnings estimates for 2014: $4.79 per share
Annual dividend: 52 cents per share which yields 1.5%
Data is sourced from Yahoo Finance. No guarantees or representations are made. Hawkinvest is not a registered investment advisor and does not provide specific investment advice. The information is for informational purposes only. You should always consult a financial advisor.
Disclosure: I have no positions in any stocks mentioned, and no plans to initiate any positions within the next 72 hours. I wrote this article myself, and it expresses my own opinions. I am not receiving compensation for it (other than from Seeking Alpha). I have no business relationship with any company whose stock is mentioned in this article.