Arena (NASDAQ:ARNA) held its Q4 and 2012 results conference call prior to the market opening on March 4, 2013. The company, perhaps, softened some reaction by releasing its financials on Friday, March 1 after the close. Arena gapped down to open on Monday and never reached a full recovery, though it did manage to get back above $8.00 per share.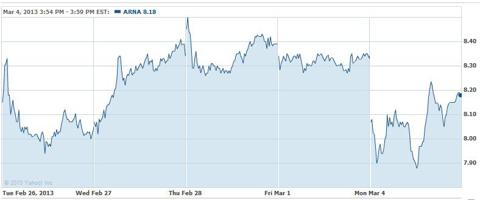 Let's deal with the elephants in the room first.
Arena did not offer much in the way of news regarding the launch of its anti-obesity drug Belviq. This was likely a disappointment to the Street and continues to be a pressure on the stock.
Arena did not meet the expectations of the Street, missing on EPS expectations for the year as well as the quarter.
European Approval is still an issue
I am sure there are some investors out there that are frustrated with even me reporting this news, and these facts. I certainly get my share of emails commenting on articles I write. The vast majority are positive, but there seem to be some out there that will hate any article or writer that is not waving pom-poms in each and every piece. Analysis should be about the facts, the numbers, the possible rewards and possible exposures. No equity is a one way street.
Lack of News On Belviq
The lack of anything concrete on Belviq is likely most of the driving force behind the inability of this equity to climb. The excitement is done. The speculation about the size of the anti-obesity market is no longer a fuel for the equity. The Street wants to see numbers, sales, and prescriptions.
Yes, the company has mitigated a lot of its own risk by partnering with Eisai, but in doing so has given up some of its potential. Essentially Eisai pays Arena about 1/3 of the wholesale cost for each pill. What the Street wants to see is the actual numbers. One driving force behind this is the number that competitor Vivus has posted in its first 5 months. Vivus has its own drug Qsymia on the market, and through 5 months, a total of 57,000 monthly scripts have been written and the total patient load for Vivus (NASDAQ:VVUS) and Qsymia now stands at just over 17,000. That is far from the "Blockbuster" status that some had assigned Vivus, Arena, or the prescription anti-obesity sector as a whole.
For quite some time, I have suggested that Arena investors need to watch Vivus closely and use it as a measuring stick to gauge the expectations on Belviq. This thought process is oft misunderstood. I have not been saying that Arena is limited to the same numbers as Vivus has experienced, nor have I been saying that the chemistry and mechanisms of Belviq and Qsymia are the same. What they do have in common, and perhaps this is the most important thing, is that they are essentially after the same audience. If Vivus is challenged with garnering an audience it could well stand to reason that Arena will see some of the same challenges.
Blockbuster
Both of these terms have been assigned to Arena by some very staunch Arena retail investors. This group tends to be quite vocal. Some of the braver people post on articles and interact, while others leave themselves relegated to message boards trying to convince anyone that will listen that Arena and Belviq are the best thing since sliced bread and that anyone thinking otherwise carries an agenda, is in concert with hedge funds, and is trying to manipulate the market.
Blockbuster in pharma is typically defined as a product that sells $1 billion in 1 year. That is already a lofty goal, and the number of drugs that garner that status is a selective list. The thought of investing in a blockbuster drug even before it gets onto the market is a compelling one. It would be a great story.
The first thing to understand is that the story of Qsymia thus far has dampened the hopes that Arena and Belviq can obtain this status in the timeframe many had hoped for. At a retail price of $250 it would take 333,333 patients on the drug for a full 12 months. That equates to 4 million 30 day scripts. Not an easy number to reach considering churn (patients that drop off).
Belviq has the potential to be a blockbuster, but if you are thinking that it is a 2013 event, you are likely being a lot more aggressive than the Street, and it is these types of high expectations that can be your worst enemy. The Street is currently looking for 2013 revenue to be in the neighborhood of about $100 million, with the high estimate at about $175 million. Even the $100 million number is impressive and something that should help the equity rise. However, blockbuster status is still a ways off.
Arena Did Not Meet Street Expectations
Let's face it. Arena missed for 2012 and missed for Q4 of 2012. Is it a big deal? No. A lot of the expectations on Arena were established assuming that certain events (i.e. the launch of Belviq and European approval and partnerships) would transpire. The story of this equity still hinges on the launch of Belviq, but it is simply delayed. Did the equity deserve to get hit on the head with the conference call? Only in the sense that it was finally the point in time where the reality of the current situation has been realized. The good news for longs is that the bottom appears to have been at about $8, and that should remain the case unless there are more delays or more negative news.
Europe
Another factor has been brewing over the past couple of weeks. A pair of analysts are now doubtful that Arena's Belviq will win European approval. Further, if the drug does gain approval the coverage of the drug by insurers is expected to be substantially less than we are seeing in the U.S. markets.
While this type of information is disappointing to investors and some will lash out, it is the type of information that you need to consider, grasp, and understand. The reason is that it is always good to know what the Street is and is not expecting.
One thing to consider is that Europe is not yet a factor in the price of Belviq. Before slamming the analysts for their opinion, consider that Oppenheimer's Boris Peaker maintains a "perform" rating on the equity even with the opinion that Europe will reject Belviq. This leaves room for Arena's price to appreciate if Europe does give Belviq a green light.
Summary
Arena is all about the U.S. launch now. It should be able to happen any day and when that happens there will be the obligatory initial pop on the news. The key at that point is awaiting the initial channel checks on sales. These could come as early as a week or two after the launch. It is these reports, and nothing else, that will determine the momentum (up, down, or neutral) of the stock until official results are released by the company. Pay close attention and plan accordingly. The potential for Belviq exists, but let's reserve judgment on blockbuster status until we see some data.
Disclosure: I am long ARNA. I wrote this article myself, and it expresses my own opinions. I am not receiving compensation for it (other than from Seeking Alpha). I have no business relationship with any company whose stock is mentioned in this article.
Additional disclosure: I have no position in Vivus.