Business development companies (BDCs), which help small companies in early stages of development (similar to venture capital firms), have been around in the US since 1980 when Congress amended the Investment Company Act of 1940. The amendment essentially gave individual investors the opportunity to invest in a publicly-traded private-equity firm. Though many are not as prominent as firms such as KKR, Bain Capital, or TPG Capital, there are a number of prominent business development companies that are publicly traded, including Apollo Investment Corp (NASDAQ:AINV), American Capital Strategies (NASDAQ:ACAS), and Ares Capital (NASDAQ:ARCC).
Since these investment vehicles have become increasingly popular with income-seeking investors, we've decided to take a deep look at the sector, and Main Street Capital (NYSE:MAIN) in particular. Main Street has a wonderfully compelling market position, as the company focuses on a segment too big for local bank loans and too small for the big-time private equity players. BDCs don't require personal guarantees and often provide loans against the cash flow and assets of the business. This gives companies in early stages of development an advantage over using traditional banks that often require business owners to put their homes, cars, and personal finances at risk.
Because the perceived risk of small businesses looking to expand is considerably higher than large publicly-traded institutions, the cost of debt is higher and market multiples for businesses tend to be much smaller. Therefore, Main Street is able to make a very nice spread on its investments over government-backed debt. During the company's most recent quarter, the firm earned a spread of 900 basis points and an absolute yield (risk free rate plus risk-adjusted spread) of 14.7% on its lower middle market (LMM) debt investment portfolio! This is significantly larger than the compressed net interest margins (NIM) we see at large financial institutions, which continue to be squeezed by lower interest rates. Main Street is able to achieve such large yields as pricing inefficiencies typically exist in this LMM sub-segment, as most firms garner below-average enterprise values of 4-5.5x EBITDA and hold modest leverage ratios of 2-3x EBITDA (see image below). We believe the LMM is a huge and profitable opportunity for BDCs (in general), at least for as long as the cost of funds remains cheap (Image Source: MAIN).
Unlike "hot" social media and "revenue-less" firms that venture capital typically chases, Main Street provides capital to companies with annual revenue of $10 million to $100 million. As investors, we're more than fine with providing capital to firms that make money (generate revenue) rather than early-stage tech firms that can either be the next Facebook (NASDAQ:FB) or the next eToys. Further, since so much capital is chasing the high-profile deals, risk-adjusted returns aren't nearly as attractive, so Main Street doesn't run the risk of providing capital for a company that may never earn a penny. The company pursues a less-risky investment strategy, in our view (Image Source: MAIN).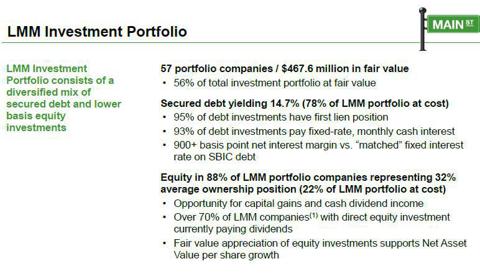 Main Street's LMM investment portfolio is exceptionally diverse, a quality we view as a double-edged sword. Though there isn't much risk of one bad investment hurting the company's financial performance, it also means that significant capital appreciation from any one particular entity will have less of an impact on overall performance. Further, since Main Street likes to act as capital partners rather than just investors, the larger breadth of firms creates additional overhead costs to run the firm. This can come in the form of actual cost spent working with a company in the portfolio (or it can come via the opportunity cost of a lost potential investment opportunity as an employee works with one of the current portfolio companies). Still, given the small size of individual investments, Main Street needs to have a large number of investments to best maximize operating leverage.
Main Street invests in controlling interests as well as passive interests, and occasionally it partners with the management of invested companies to acquire the business. This is essentially what Michael Dell is doing with equity partners in his buyout of Dell (NASDAQ:DELL), but Main Street does this on a much, much smaller scale. Though being small has a few disadvantages, we are fans of the firm's operating structure, especially compared to peers. SG&A as a percentage of assets is only 1.85% compared to an industry average of 3.2% for internally-managed BDCs and 3.6% for externally-managed BDCs. The firm's executive suite is full of shareholders, so it is in their best interest to keep costs low to drive strong returns (Image Source: MAIN).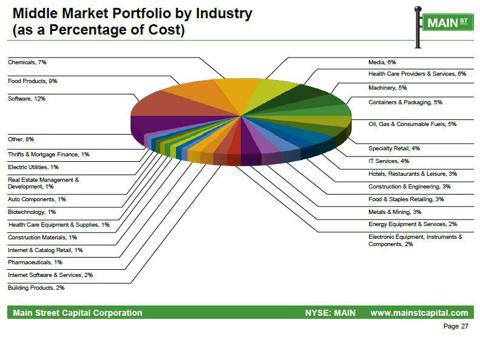 The company also maintains a middle market investment portfolio that carries a similarly-diverse profile. It contains 79 different investments with an average size of $4.4 million, totaling $350.7 million (as of the end of the third quarter). This is full of private debt placements with an average yield of 8.6%, representing a net interest margin of 550 basis points over the firm's revolving credit facility. Again, this is a NIM any of the large financial firms would be jealous of!
We like founder and CEO Vincent Foster's thoughts on putting capital to work, and from some comments on the firm's most recent earnings conference call, we gather that there will continue to be a very steady pipeline of deals going forward. Foster said:
"…we have a high fatality rate in diligence. So what drives our lower middle market activity is what we find in diligence. And we have not found a good way to predict that in advance. If we did, it would be great because it we'd save a lot of time and misery. But the good news is we're -- hold your estimate with what you're seeing, you're make it through, cradle to grave to close in terms of what you kill for diligence and when you're -- I'd say from cradle to grave, about 1/4 of stuff that we actually would want to transact on. But interestingly, that the -- what the input of transaction is about all these -- all the teams can handle at any one time. There's a continuous supply demand imbalance of the amount of businesses that need capital, that need to exit, aging on or partners that don't get along, you name it. There's no shortage of it. And we just -- we try to pick the ones that are most likely to make it through."
Not only does this reveal the firm's relatively conservative nature, but we also think it aptly describes the unique nature of financing in the small business realm relative to the large-enterprise and public-equity markets. We don't think fighting between Peter Oppenheimer and Tim Cook at Apple (NASDAQ:AAPL) would prompt one to "buy-out" the other. The small business realm is simply different and creates a market filled with opportunities.
Most of the downside risk for Main Street is macro related: any large scale, negative events, including a deep recession could severely cripple earnings (though the company didn't struggle much during the Great Recession of a few years ago). Main Street is structured similar to a REIT in that it must pay out most of its income to shareholders, and the firm works to provide its investors with a steady monthly dividend paid in the most tax favorable way. Main Street yields nearly 5.8% annually at current levels.
However, at current levels, the firm trades at 1.78 net asset value (NYSE:NAV), which is a bit hefty considering that peers like American Capital trade below NAV. However, management has displayed prudent capital management thus far, and we're big fans of the current dynamics of the industry. Because credit is abundant, we wouldn't be surprised to see private competition enter the space to purchase companies at such attractive levels. Still, we like Main Street, and we believe it could continue to increase its dividend going forward. The firm remains on our watch list, and we'd be looking for a more attractive NAV (closer to 1) before pulling the trigger on shares in our Dividend Growth portfolio.
Disclosure: I have no positions in any stocks mentioned, and no plans to initiate any positions within the next 72 hours. I wrote this article myself, and it expresses my own opinions. I am not receiving compensation for it (other than from Seeking Alpha). I have no business relationship with any company whose stock is mentioned in this article.
Additional disclosure: Some of the firms in this article may be included in our actively-managed portfolios.