On March 1, 2013, Pengrowth Energy (NYSE:PGH) reported its Q4 and full-year results. During the quarter, Pengrowth reported funds flow from operations ("FFO") of $190M, or about $0.37 per share, up 35% from the $141M, $0.28 per share, in Q3 2012 and up 11% percent from $171M, $0.50 per share, reported in Q4 2011. For FY 2012, Pengrowth reported $539M, $1.20 per share, of FFO, down 13% compared with 2011. Since I last wrote about Pengrowth, the stock has gained more than 17%. Pengrowth offers a monthly dividend of $0.04 per share. At current prices, the stock yields about 10%.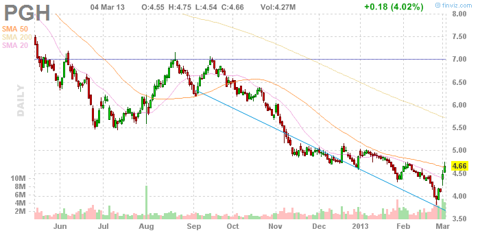 During 2012, Pengrowth increased its proved and probable (2P) reserves by about 55% or 213M barrels of oil equivalent ("MMboe") and achieved a reserve replacement rate of 672% of 2012 production. Pengrowth ended 2012 with a 2P reserves at 512.0 MMboe. During 2012, the 2P reserve life index ("RLI") increased to 14.7 years at year-end 2012, a 23% increase from the 2011 figure of 12.0 years.
Pengrowth continues to trade at a deep discount to its net asset value ("NAV"). As of year-end, 2012, Pengrowth's NAV stood at $8.61 per share based on its reserves value, discounted at 10%. When discounted at 5%, the NAV rises to $13.57. With its current share price of $4.66, Pengrowth trades at a 46% discount to NAV when discounting at 10%, and at a 65% discount to NAV when discounting at 5%.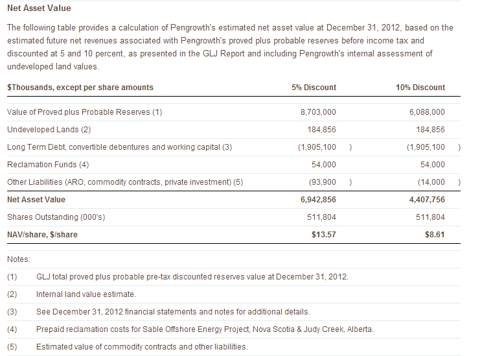 During the quarter, the Lindbergh thermal bitumen project pilot results continue to outperform expectations, producing more than 1,600 barrels per day of thermal oil. To date, the Lindbergh pilot has produced more than 425,000 barrels of thermal oil from two well pairs. During its January 2013 Investor Day, Pengrowth announced that it was sanctioning and accelerating the first commercial phase of the Lindbergh project, which is expected to produce 12,500 barrels per day of thermal oil when it becomes fully operational. I have previously written about why Pengrowth is going "all-in" on Lindbergh, below is a quick summary:
Pengrowth plans to diversify away from Western Canadian light oil & natural gas markets and shift to thermal oil (also known as heavy oil), which has much lower decline rates and lower maintenance costs.

Pengrowth plans to sell this thermal oil to U.S. Gulf Coast refiners, who are currently being supplied this heavier oil by Venezuela and Mexico at Brent crude prices.

Pengrowth plans to fund Lindbergh with asset sales and does not plan to issue debt or equity.

Before reducing the dividend, Pengrowth would sell assets and or reduce capital spending.
During the Q4 2012 conference call, Pengrowth reiterated its commitment to the Lindbergh project via the following quote:
Today, Pengrowth production is just over half oil and liquids with the balance being natural gas. We continue to emphasize our conventional oil and liquids drilling opportunities, particularly in the Cardium at Lochend and at Swan Hills, while we bring the Lindbergh project closer to commercial production. We think that the thermal bitumen business makes great sense for Pengrowth because it offers a sustainable business model with long life reserves, low declines and better capital efficiencies than alternatives like natural gas or light oil. In our view, this makes it ideal for supporting a dividend. We have a very strong thermal bitumen asset at Lindbergh, whose pilot result suggested is one of the better thermal assets in Alberta. As well, we have an experienced and talented team to develop that resource.
Later in the conference call, Pengrowth explained how it was planning to fund Lindbergh:
Our 2013 capital program is fully funded and will not result in incremental debt in 2013. The 2013 CapEx program of $770 million and our 2013 annual dividend of $250 million are fully funded by expected cash flow of $680 million, Weyburn proceeds of $315 million and DRIP proceeds of $50 million. We will not be taking on additional debt in 2013. As we noted in our January 11 Investor Day, we are not interested in issuing equity or additional debt to fund our Conventional capital and Lindbergh project in 2013 or 2014. To that end, we announced our intention to divest of up to $700 million of assets in 2013, which will fund our capital commitment in 2014 and beyond.
As for which additional assets Pengrowth was planning to sell to fund Lindbergh, the company stated:
We are in the market now with our non-core eastern heavy oil package, our non-operated southeast Saskatchewan assets are expected to be in the market by the end of March. Our eastern heavy asset is operated and produces approximately 2,850 BOEs a day, and has significant remaining EOR potential. The southeast Saskatchewan package comprises operated and non-operated assets producing about 6,000 BOEs a day, mostly medium and light oil, with a relatively shallow decline and high operating netback. These are high quality, oily assets that we expect to generate significant interest.
During the conference call Q&A, Pengrowth touched on some of the price differential and bottleneck issues it is experiencing. The company also provided some commentary as to the number of pipelines that are run directly by Lindbergh: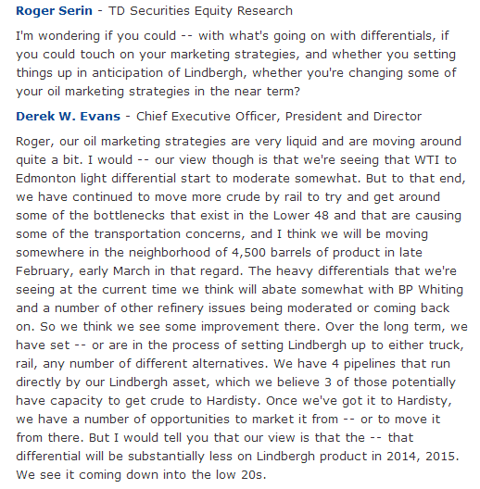 Pengrowth also provided an estimate on the cost differential between moving crude by rail and by pipeline: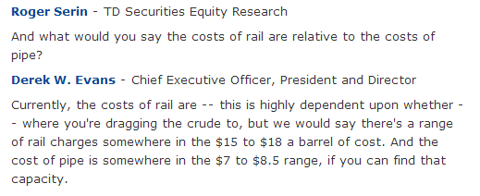 A positive development for Pengrowth is recent news that the long-delayed Keystone pipeline was "unlikely to have a substantial impact" according to a released State Department draft review.
Also on the conference call, Pengrowth once again committed itself to maintain its current monthly dividend of $0.04 per share:
We have said it at our Investor Day in January, and I will say it again; Pengrowth is committed to maintaining its dividend at the current levels of $0.04 per share per month.
Even though Pengrowth is trading at a deep discount to its NAV, the company does not plan to buy back any shares. When Pengrowth was asked during the Q&A about buying back shares, Pengrowth CEO Derek W. Evans responded with the following:
Pengrowth is in the midst of a rotation of assets, away from light oil and natural gas and towards heavy thermal oil. The unexpected success of the Lindbergh pilot has prompted Pengrowth to invest heavily in the project. Pengrowth is moving to be a sustainable dividend paying energy producer, and Lindbergh provides Pengrowth an opportunity to get exactly what it needs: a low cost, low decline source of energy with high operating netbacks and stable cash flows. Pengrowth knows that its shares are currently undervalued and therefore it is unfortunate that the company does not plan to buy back stock. However, due to the current high yield, shareholders are being paid to wait for Lindbergh to come online.
Disclosure: I am long PGH. I wrote this article myself, and it expresses my own opinions. I am not receiving compensation for it (other than from Seeking Alpha). I have no business relationship with any company whose stock is mentioned in this article.