Chesapeake Energy (NYSE:CHK) is the second largest producer of natural gas and the most active driller of wells in the United States. The company owns interests in approximately 45,400 producing natural gas and oil wells. At the end of 2012, CHK had 15.690 tcfe in proved reserves, which was a 17% decline from the end of 2011 due to a 33% reduction in natural gas prices.
The company has core operations in the Haynesville/Bossier Shales, the Marcellus Shale, and the Barnett Shale. Chesapeake also has operations in the Eagle Ford Shale, the Utica Shale, the Anadarko Basin, and the Niobrara Shale.
The company is working to increase its liquids production. CHK is projecting that 85% of its drilling and completion expenditures will be allocated to liquids development in 2013. The company expects to increase liquids production by 27% in 2013 over 2012. Liquids are projected to comprise 25% of its production in 2013, which should account for 60% of natural gas, oil, and NGL revenue, after differentials and realized hedging.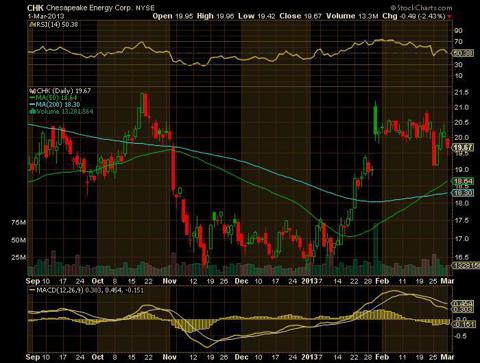 Click to enlarge
SEC Investigation
The SEC recently stepped up its investigation of Chesapeake's CEO, Aubrey McClendon. The issue being investigated has to do with the Founder Well Participation Program (FWPP) that gives McClendon up to a 2.5% interest in every well that Chesapeake drills. McClendon has previously announced in January that he will retire on April 1, 2013. However, company officials denied that his retirement has anything to do with his financial dealings.
I think that CHK is likely to see favorable results from the SEC investigation. The SEC actually began its probe into this matter last May and CHK has fully cooperated since then. I doubt that anything new will arise from the recent 'stepping-up' of the investigation. Even if wrongdoing is found, the company would be faced with a fine. However, any fines are not likely to be a show-stopper for the company.
Debt Reductions
The company has a large amount of total debt, which needs to be reduced. The total debt for the most recent quarter was $12.16 billion. CHK has $287 million in total cash. Chesapeake also has more current liabilities than current assets as shown in its current ratio of 0.47. Total debt to equity is 67.93.
The company plans to improve its balance sheet by reducing its debt. CHK plans on using proceeds from sales of assets to accomplish this reduction. By lowering its debt, Chesapeake will be able to benefit from lower borrowing costs and obtain improved debt ratings by the major rating agencies over the long term.
Valuation
Valuation is currently a bright spot for Chesapeake. The company sports a forward P/E ratio of 10.63, and a PEG of 0.33. The stock price of $19.67 is trading below its book value per share of $24.17. CHK currently looks undervalued as a result of a few uncertainties. The company doesn't know who its next CEO will be. The uncertainty of the SEC investigation has also been weighing on the stock. This is likely a good buying point for CHK as these concerns will eventually pass.
Future Growth
The EIA projects that U.S. natural gas consumption will average 70.3 billion cubic feet per day in 2013 and 70 billion cubic feet per day in 2014. The U.S. consumed about 70 billion cubic feet in 2012. The price of natural gas is expected to average $3.53 per MMBtu in 2013.
Chesapeake is expected to grow earnings annually at 47% for the next five years. The company's earnings growth actually decreased at an average annual rate of 28.71% for the past five years. CHK is currently expected to achieve earnings per share of $1.24 for 2013 and an EPS of $1.85 for 2014. When the company secures a good CEO and gets the SEC investigations behind them, a promising future is likely in store for Chesapeake.
Disclosure: I have no positions in any stocks mentioned, and no plans to initiate any positions within the next 72 hours. I wrote this article myself, and it expresses my own opinions. I am not receiving compensation for it (other than from Seeking Alpha). I have no business relationship with any company whose stock is mentioned in this article.