Last December I wrote an article about PepsiCo (NYSE:PEP), concerned with flat to shrinking earnings led by the decline of its flagship Pepsi brand. In 2012, the dividend was raised by only a meager four percent, the lowest increase in a long time.
Much of the reason for that softness, however, was due to commodity inflation and foreign exchange headwinds. And because management provided a plan to return to growth, I decided to hold on to PepsiCo and see what would happen.
Full-year 2012 results announced two weeks ago showed the following:
Net income dropped slightly, as expected
Revenue flat
Organic revenue growth of 5%
Best of all, guidance for 2013 is more optimistic:
Continued mid-single digit organic revenue growth
Dividend to go up 5.6%
Earnings Per Share to increase by 7% over the long term
Above information from 4Q 2012 Earnings Presentation
It's fair to say that PepsiCo will be better off this year than it was in the last.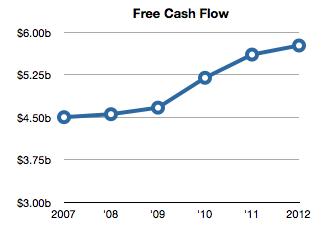 Management have improved PepsiCo's fortunes by doing three important things: returning to more traditional advertising methods, product innovation and saving through productivity gains. In this article, we will take a look at all three of those factors as well as some other themes, trends and metrics which I think are relevant to how this company is doing.
Advertising Increase
In 2012, PepsiCo increased "brand investment" from 5.2% of sales to 5.7%. The spending was focused on the company's 12 biggest brands, thus increasing their advertisement outreach as these bigger brands tend to be worldwide. Also, management has switched its Advertisement and Marketing (A&M) from "non-working" to "working," meaning they took the more traditional approach by creating and delivering their own content directly to consumers, as opposed to simply creating the means to deliver content.
By doing these things, PepsiCo has "made (their) investment dollars work harder," with a higher percentage of A&M money going to consumer-facing activities. Management seems to be happy with the early results, citing higher "brand equity" scores and improvement in market share.
Productivity Adds To The Bottom Line
Productivity gains resulted in savings of $1 billion in 2012. This was achieved by reducing headcount and delayering the organization. Second, efficiency was improved by rationalizing the supply chain (removing more marginal products and focusing on growing ones, an academic example shown here) which reduced cost investments in fixed assets. Management has automated processes across the value chain. Through IT investments over the years, they've also gained greater visibility in performance metrics across the globe.
The company has a three year goal to save $3 billion in productivity initiatives by 2014. Improvements achieved in 2012 have certainly helped them to reach this.
Product Innovation
PepsiCo has worked to innovate its products in a couple of ways. The first is "line extensions" which bring additional purchases to existing products and meet previously unmet needs under the single brand name. Second has been to create whole new product platforms with years of potential growth ahead.
The best example of these innovations would be Doritos Locos Tacos: a Taco Bell taco with a shell made from Doritos.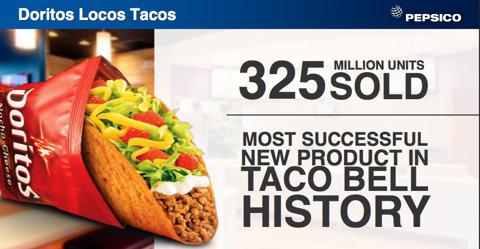 This has been the most successful product launch in Taco Bell's history. Some more examples are Quaker Real Medleys, a convenient oatmeal snack with real fruit and nuts, Starbucks Refreshers, a carbonated beverage made from green coffee extract and fruit juice, and Pepsi Next, cola with 60% less sugar. Tropicana launched Trop50, a line of fruit juices with 50% less calories. And finally, PepsiCo introduced Gatorade Chews, a quick form of carbohydrate energy for athletes prior to competition.
Growth Coming From Snacks, Emerging & Developing Markets

Graphic from Consumer Analyst Group of New York Conference Presentation
Of the expected mid-single digit revenue growth, emerging and developing markets dominate geographically while snacks dominate categorically. Looking categorically first, the story should be a familiar one to many: the Frito-Lay business has a very strong leadership position in the savory snack category and is delivering steady, predictable top-line growth. This comes during a developed-world consumer shift away from colas. Despite the Beverage division's diversification, growth there has been muted by cola's decline.
PepsiCo's classification between "emerging" and "developing" is an important one. When GDP per head surpasses $10,000, demand for PepsiCo products really picks up until the figure reaches $20,000.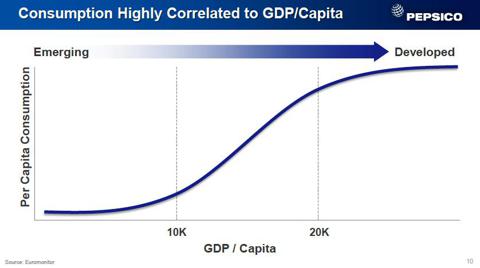 This is what PepsiCo classifies as a "Developing" market. The most profitable growth is coming from developing markets such as Russia, Mexico and Brazil. "Emerging" markets are those where GDP per capita has not yet reached $10,000. These are usually more rurally-dominated countries where demand for convenient, packaged products have not yet taken off. So while product adoption in Emerging markets will be low, they present a huge future opportunity as GDP per capita increases.
The most important takeaway to the company's growth prospects is that PepsiCo will become increasingly a snack company with an "Emerging" and "Developing" markets focus. This is a process that has already been going on for years.
Synergies From Staying Together
Lately there has been a lot of pressure on PepsiCo management to break off Frito-Lay and possibly Quaker from the rest of the company. The idea is that both companies would benefit from increased focus on core competencies. Many believe that the company is not appropriately valued with Snacks and Beverages operating together, and that splitting them off would "unlock" inherent value. PepsiCo would be following the lead of Abbott Labs (NYSE:ABT), ConocoPhillips (NYSE:COP) and number of others who have done so recently.
Management, however, sees things differently. They believe that the synergies from a combined, single distribution channel, along with shared research talent and capabilities, outweigh the positives of a breakup. CFO Hugh Johnston recently cited an $800 million to $1 billion benefit in having both companies together. Like it or not, PepsiCo is not considering a split off.
Metrics of Concern
PepsiCo's Return On Invested Capital [ROIC] has been declining over the years.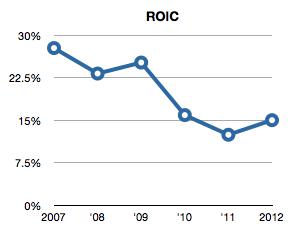 Like many companies, the "Great Recession" has hit this metric hard and PepsiCo had not recovered despite this year's latest uptick to 15%. This may also be due to the company purchasing its capital-intensive bottling partners in 2010. On an encouraging note, CFO Hugh Johnston mentioned that he expects this important metric to improve in 2013.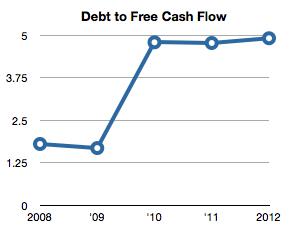 Another concern is the company's debt levels. Like many other big players in corporate America, PepsiCo has taken advantage of extremely low interest rates by issuing lots of cheap debt. This has sent the Debt/Free Cash Flow ratio, as well as many other debt metrics, to all new highs. It went from a pristine 1.68 times in 2009 to an eye-opening 4.79 times in 2010 and has not come down since then.
What has PepsiCo done with all this debt? Initially, much of the proceeds were used to acquire its two largest bottlers along with Russian beverage and snack company Wimm-Bill-Dann Foods.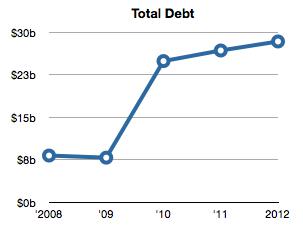 All of these were prudent moves, especially the Wimm-Bill-Dann acquisition. As acquisitions have stopped, however, PepsiCo has unfortunately continued issuing debt, thus keeping the Debt to Free Cash Flow ratio uncomfortably high. A look at the company's cash flow statement will reveal that instead of using its substantial Free Cash Flow to pay down its debt, the company has opted to buy back stock and to a lesser extent build its short-term cash position. This is the wrong move. I'd like to see PepsiCo stop the $3 billion buyback program, which represents over half of its Free Cash Flow, and use that money to pay down debt.
Strategy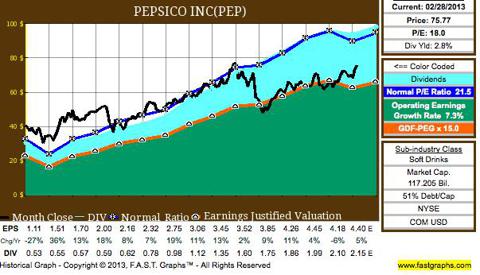 Chart by FAST Graphs
With a dividend yield of only 2.8% and trading well above its Graham-Dodd and PEG ratio "Fair Value" line, there isn't much compelling reason to load up on PepsiCo right now. Though this may be cliche to say, it's best to wait for a pullback. Looking the stock's history, however, we can see that there have been quite a few opportunities. If that is any guide, there will be more chances to come. At this point I see no reason to irrationally chase the stock.
Summary
PepsiCo's recent results have proven that it is once again a high-quality growth company. Secular trends in "developing" and "emerging" markets will provide a long-term tailwind that will help the company grow earnings for many years, maybe decades. Its leading snacks business is in a fantastic position to grow predictably in both developing and developed markets. Although they could be making better decisions on spending their Free Cash Flow, management has done a great job in improving productivity, innovating and returning to their more traditional and successful advertising model. Finally, their commitment to a growing dividend should make PepsiCo a consideration for many investors.
Stay Tuned
PepsiCo is a company that I follow and will periodically write update articles on when relevant and material.
Additional Sources:
Free Cash Flow chart by author, data by Morningstar and Final Q4 2012 Full Press Release
Advertising and Productivity information can be seen at Consumer Analyst Group of New York Conference Transcript
Doritos Locos Tacos Graphic and Consumption vs GDP per capita graphic from Consumer Analyst Group of New York Conference Presentation
Total Debt and Debt to Free Cash Flow Graphic by author, data by Morningstar
Return on Invested Capital Graphic by author, data by Morningstar and Consumer Analyst Group of New York Conference Presentation
Disclosure: I am long PEP. I wrote this article myself, and it expresses my own opinions. I am not receiving compensation for it (other than from Seeking Alpha). I have no business relationship with any company whose stock is mentioned in this article.