On Monday, March 4th Biogen Idec Inc. (NASDAQ:BIIB) announced that "the FDA has accepted its application for the approval of its Recombinant FIXFc clotting drug to treat hemophilia B and grants a standard review timeline. Biogen says Recombinant FIXFc will allow less frequent injections for patients and cut bleeding rates". If the bleeding rates in patients diagnosed with hemophilia can be substantially reduced, this could end up being a very significant break-though and as a result help improve the company's bottom line over the next few years. In this article I wanted to examine several of the catalysts (along with Monday's announcement) behind my decision to establish a long position in Biogen Idec.
Based in Weston, Massachusetts, Biogen Idec, develops and markets various therapies for the treatment of neurodegenerative diseases, hemophilia, and autoimmune disorders. Shares closed at $169.96/share on volume of 1.230 million shares at the end of Monday's trading session. One of the things I should point out for growth investors is the fact that shares of BIIB are 13.31% higher since January 1st of this year.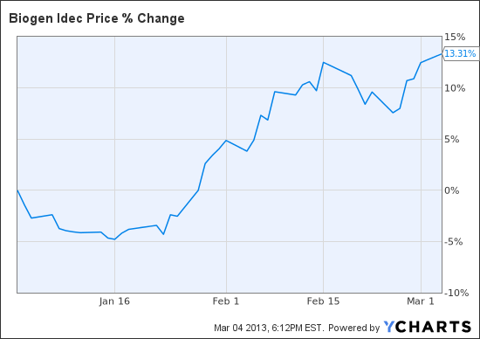 BIIB data by YCharts
There are three things to consider when it comes to Biogen Idec and they are the company's recent uptrend which could signal a positive near-term upswing, Canaccord Genuity's recent upgrade of the company, and its plans to take full control of the sales and marketing of the MS-drug Tysabri, which was jointly developed by both Biogen Idec and Elan Corp. (NYSE:ELN).
Uptrend Status: Based on Monday's closing price, shares of BIIB are trading 4.02% above its 20-day simple moving average, 10.49% above its 50-day simple moving average, and 15.80% above its 200-day simple moving average. That indicates a short-term, mid-term and long-term uptrend for the stock which generally translates into a buying mode for traders.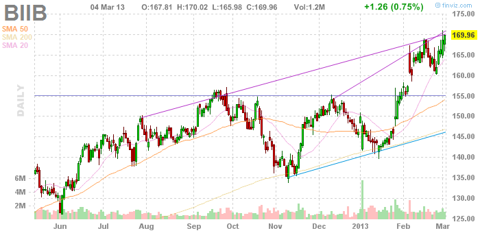 Canaccord's Upgrade: On March 1st, Canaccord Genuity upgraded shares of Biogen Idec to a 'Buy' rating from a previous 'Hold' rating based on its increased confidence in the company's early Tecfidera launch. According to one of Canaccord's analysts, "BIIB guidance implies now stronger confidence in the TEC launch. After new chats with KOLs and, importantly, community MDs, we have more confidence in the initial phase of launch due to growing levels of patient warehousing. We still see long-term value/blockbuster potential in TEC, Tysabri and the hemophilia franchise. We are raising our company-DCF based target to $187 based on higher 2013 estimates and lower discount rate". Given the fact the company's hemophilia franchise should be able to live up to its potential, and make significant progress as was the case earlier Monday, the long-term prospects of a position being established at current levels could be quite compelling.
What Tysabri Means for Biogen Idec: On February 6th it was announced that Biogen Idec who purchase all of Elan's rights to Tysabri. Under the terms of their agreement, Biogen will pay Elan a total of $3.25 billion upfront, which would virtually zero-out Biogen's net cash and create a subsequent debt position of just over $898 million. Elan is also entitled to a percentage of royalties on Biogen's sales of Tysabri. The royalty schedule is as follows: Elan is entitled to 12% of sales for the first 12 months of the deal, then an additional 18% on the first $2 billion (roughly $360 million) of its global Tysabri sales, and an additional royalty of up to 25% on any sales above the $2 billion threshold. The good news for Biogen is that the company's pro forma EPS is expected to rise between $0.50/share and $0.60/share and is effective as early as its next reportable quarter.
Conclusion: When it comes to those who may be looking to follow my lead in establishing a position in Biogen Idec, I'd continue to keep a watchful eye on the company's uptrend, any subsequent near-term upgrades as a result of the company's continued advancements directly related to such drugs as Recombinant FIXFc, and the company's next earnings report as shareholders should begin to see the effects Tysabri will have on the company's bottom line.
Disclosure: I am long BIIB. I wrote this article myself, and it expresses my own opinions. I am not receiving compensation for it (other than from Seeking Alpha). I have no business relationship with any company whose stock is mentioned in this article.