EMC has announced the release of its enhanced Greenplum Big Data Analytics Appliance for statistical analysis, predictive modeling, and machine learning. The appliance allows users to analyze data within a single architecture. The demand for this tool was created by the increasing quantity of data and the need for complex mathematics to give value to data locked up in previous architecture. Below, I will discuss how recent trends in the Big Data market will favor the sales of EMC's enhanced Greenplum Big Data Analytics tool. Specifically, I will look at the effect of rising Big Data sales around the world and the shifting tastes of consumers toward the new EMC product. The combination of these factors will enable EMC to sell more of its product and improve its long-term value.
Why will EMC achieve sales growth with the new Big Data analytics? Big Data analytics is increasingly being used in companies in numerous sectors. They span digital media, mobile apps, gaming, healthcare, security, finance, and government. According to market research firm IDC, the business analytics software market grew by 14.1 percent in 2011. The data warehousing had the greatest growth in 2011 at 15.2 percent over the prior year period, while the analytic applications segment grew by 13.3 percent. According to a recent McKinsey report, a retailer using Big Data could grow its operating margin by more than 60%. IDC projects that the business analytics market will grow to $50.7 billion in 2016, driven by big data hype.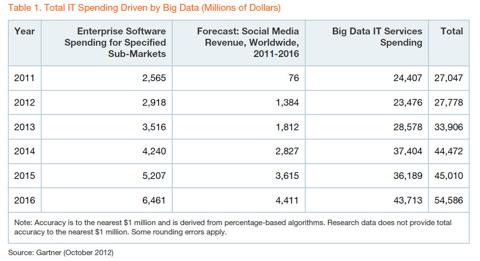 This chart shows Gartner's research results from October 2012 on spending driven by Big Data on social media, enterprise software, and Big Data services. This research pointed to an upward swing across the board. Dan Vesset, program vice president for IDC's Business Analytics Solutions unit said:
"Driven by the attention-grabbing headlines for big data, and more than three decades of evolutionary and revolutionary developments in technology and best practices, the business analytics software market has crossed the chasm into the mainstream mass market."
Financials
EMC's full-year 2012 revenue was $21.7 billion, an increase of 9% year-over-year. GAAP net income for 2012 increased 11% year-over-year to $2.7 billion, and GAAP earnings were $1.23, up 12% year-over-year. Non-GAAP net income was $3.8 billion, an increase of 11% year-over- year, and non-GAAP earnings were $1.70, an increase of 13% year-over-year.
The company reported fourth-quarter revenue of $6.0 billion, an increase of 8% compared with the year-ago quarter. The company's fourth-quarter GAAP earnings increased 3% year-over-year to $0.39. Its non-GAAP net income was $1.2 billion, an increase of 12% compared with the year-ago quarter.
According to David Goulden, EMC's President and CEO:
"EMC remains squarely at the center of the most disruptive and opportunity-rich shift in IT history, propelled by the benefits of cloud computing, Big Data and trusted IT. These high-priority IT spending areas are core to our strategic focus and represent market segments where EMC has established leadership positions and competitive advantage."
EMC third-quarter consolidated revenue was $4.98 billion, an increase of 18% compared with the year-ago quarter. Its third-quarter net income increased 28% year over year to $606 million. Its third-quarter earnings increased 23% year over year to $0.27. Its cash flow generation continued to be strong, with trailing twelve-month operating cash flow of $5.0 billion and free cash flow of $3.8 billion.
Joe Tucci, EMC Chairman and Chief Executive Officer, said:
"I am very pleased with EMC's execution and solid third-quarter financial performance. Global customer demand for our industry-leading products and services, which led to record quarterly financial results, is clear evidence that EMC is at the center of the most transformative, disruptive and opportunity-rich trends in IT history - namely hybrid cloud computing and the explosion of Big Data."
EMC and Big Data Analytics
Over the past year, EMC released several Big Data products into the market. It launched platform nodes and accelerators for efficient and cost-effective storage of Big Data from a single file system. It released infrastructure software to protect data, control costs, and optimize storage resources in a Big Data environment. It had an operating system in the market, a product combining file system, volume manager, and data protection across all nodes within a cluster.
The enhanced Big Data analytics, named the EMC Greenplum Data Computing Appliance (DCA), delivers one of the fastest data-loading rates in the industry without the complications of a proprietary hardware. It enhances the architecture's analytics capacity at a fraction of the cost of products from Oracle (NASDAQ:ORCL), IBM or Teradata (NYSE:TDC).
According to Josh Klahr, vice president of products for Greenplum, a division of EMC:
"With the release of the DCA Unified Analytics Platform Edition, we are continuing our history of innovation-with improved options for Hadoop deployments leveraging EMC Isilon's scale-out NAS storage, enhanced partner ecosystem support including such partners as SAS and Informatica."
It is noticeable that the Big Data analytics is among EMC's first products released to the market in the new year. The line of products is proving popular with time, and gaining a head start early in the year over its rivals is good for EMC.
When we recall EMC's executives extolling the contribution of Big Data product sales at recent earnings reports, it is clear the company has improved its position compared to its 2011 performance.
Competition
With gross margin of 64.51%, compared with 24.19% for Hewlett-Packard (NYSE:HPQ), 51.76% for IBM, and 55.41% for Teradata, and earnings per share of 1.23, compared with -6.41 for Hewlett-Packard, and price to sales ratio of 2.33, compared with 4.44 for Oracle and 4.54 for SAP AG (NYSE:SAP), EMC appears to be ahead of its peers. To mount a Big Data challenge, Hewlett-Packard released updated Autonomy and Vertica products a few months ago. Teradata recently introduced the Teradata Aster Big Analytics Appliance into the market. SAP has also unveiled New Analytics Innovations that Turns "Big Data" Into "Intelligent Data". With the new Big Data product, EMC will compete effectively with its rivals. And it must be noted EMC is supposedly one of the biggest in the niche it is operating in.
Looking at the previous sales of EMC's Big Data products, the prospect of rising sales in the industry worldwide, and the improving margins, I believe EMC is a solid investment at the moment.
Disclosure: I have no positions in any stocks mentioned, and no plans to initiate any positions within the next 72 hours. I wrote this article myself, and it expresses my own opinions. I am not receiving compensation for it. I have no business relationship with any company whose stock is mentioned in this article.