The struggling solar firm First Solar (NASDAQ:FSLR) announced fourth quarter results. Revenue grew 63% year-over-year to $1.1 billion, falling well short of consensus estimates. Earnings, adjusted for restructuring charges, swung to a profit of $2.04 per share, roughly in line with consensus estimates.
Gross margins were significantly higher than the year-ago period at 27.3%, but were down 110 basis points sequentially. Module manufacturing costs were 11% lower than a year ago at $0.66 per watt. First Solar's most-efficient facility achieved costs as low as $0.64 per watt, but it remains to be seen if these costs are low enough to compete on a global scale. Regardless, management provided one of the most bearish comments we've ever heard on the future of the solar industry, stating:
But what we have said is when we reported margins here that are still in the upper 20's, we said that we believe the margin in this business will normalize to something in the teens, and that's where I think is still the way to think about the margins over time. I'm not going to walk the math and say what does that imply and how many megawatts do I have to make myself hold in the bottom line, but I think the margins will continue to trend that ways.
Considering First Solar isn't generating much free cash flow with margins in the high 20's, this statement reaffirms the negative trajectory of the industry. Management even admitted that the company is going to engage in value-destructive pricing as it hopes to drive its competitors out of business, saying:
But it is a very aggressive market at this point in time and I think you're going to find that over time the strength of a company like First Solar with the balance sheet that we have and the capacity that we have, is going to sustain ourselves, whereas some of our other competitors it's not clear that they are going to be able to sustain, to be able to execute successfully, given how they are currently engaging the market.
The above statement is the exact opposite of an industry structure conducive to generating high returns on invested capital (ROIC) over time! Management considers numerous factors when evaluating potential deals, but the company's commentary leads us to believe that ROIC isn't near the top of that list. There isn't any simple hurdle rate for investment projects, but more importantly, we fear this will lead the company to make poor investments for the sake of growth or market share expansion (Image Source: First Solar).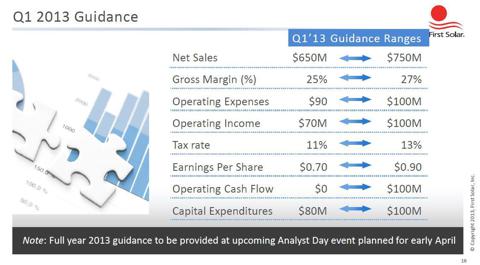 Click to enlarge
Looking ahead, the firm provided weak sales and earnings guidance for the first quarter (shown above) that came in below consensus estimates of $894 million and $0.94 per share, respectively. The company's guidance also reveals that it likely won't generate free cash flow during the first quarter. However, commentary on the conference call leads us to believe the company has enough business in the pipeline to generate positive operating cash flow for at least the next two years.
Regardless, we see a company and a management team that is not concerned about maximizing ROIC in an industry experiencing downward margin pressure and the loss of government subsidies. We believe shares of First Solar are fairly valued, and we have no interest in adding the company to the portfolio of our Best Ideas Newsletter.
Disclosure: I have no positions in any stocks mentioned, and no plans to initiate any positions within the next 72 hours. I wrote this article myself, and it expresses my own opinions. I am not receiving compensation for it (other than from Seeking Alpha). I have no business relationship with any company whose stock is mentioned in this article.