Overview
CECO Environmental Corp. (NASDAQ:CECE) provides air pollution control worldwide for many industrial applications including metals & mining, chemical production, energy industry, power generation, and refining. Shares of CECO have been steadily rising over the past year from $7.24 one year ago, to $10.83 today, a gain of 49.59%. Some may say that the stock has run up to much in a relatively short period, but I believe that shares are still significantly undervalued, and the market has not taken into the upcoming catalysts for CECO.
CECO Operations
CECO Environmental has a business model that derives its revenues from two sources. The first is sales of its air pollution products to customers. The second source of revenue for CECO Environmental is providing parts and services for their installed systems. The mix of revenue according to the CECO Environmental investor presentation, sales of products makes up 70% of revenues and parts and services makes up the remaining 30%. In addition, the company is diversified by product category, as the chart below shows no one division makes up more than about a quarter of the revenues for CECO Environmental.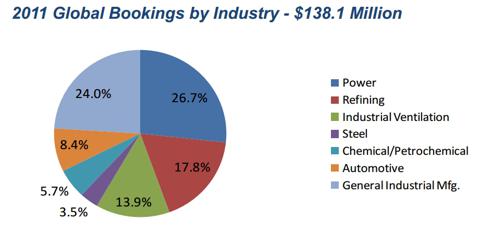 [Chart from CECO investor Presentation]
Catalysts
CECO Environment has three major catalysts that I believe are not being taken fully into account by the market. The three catalysts that could propel the share price CECO Environmental higher are: Regulations, Emerging Market Opportunities, and Acquisitions.
Catalyst #1: Regulations
New regulations by the Environment Protection Agency [EPA] and other environmental agencies worldwide are going to force industrial manufacturing plants, power plants, and many other industries to comply with high environmental standards. For example, a recent Reuter s article talked about Arizona recently suing the EPA because the EPA wants to force Arizona to install pollution control equipment at three existing coal plants. This is just a small sight at the future for existing coal power plants, either add pollution control technologies, or shut down. The more power plants and industries that are being forced by the EPA to improve environmental standards, the better business will be for CECO Environmental, because there will be increased demand for its products.
Catalyst #2: Emerging Market Opportunities
CECO Environmental has a strong presence in China, with China making up 20% of operating income for CECO Environmental. Chinese pollution actually has made world headlines for the extremely poor air quality in Beijing, and the actions taken to curb the pollution have been forcing people to stop driving, or closing down factories that cause heavy pollution. This hurts the economy in Beijing, because if people cannot drive anywhere they are likely not going to go shopping, and the factories that are closed prevent workers from earning money. The following picture shows the difference between a clear day and Beijing, and a day with smog, and the difference is striking, and shows the opportunity CECO Environmental has.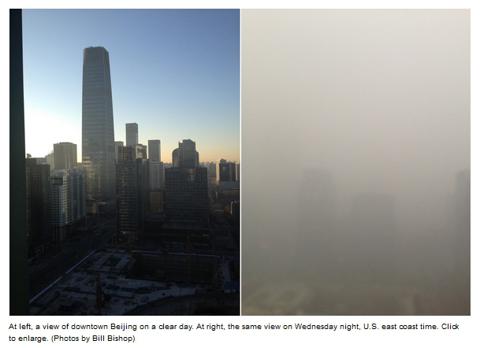 [Picture from Washington Post article]
The scale of the pollution in China is a huge opportunity for CECO Environmental, if the Chinese government really gets serious about fixing the air quality problems, there could be massive demand for air pollution products that CECO Environmental sells. The chart below shows CECO Environmental has been in China for seven years, and has a manufacturing facility in China, along with other distributors, and plans for a future manufacturing facility. In addition, that chart below shows CECO Environmental has facilities located in other key emerging market countries like Brazil, and facilities in India, with plans to expand further there.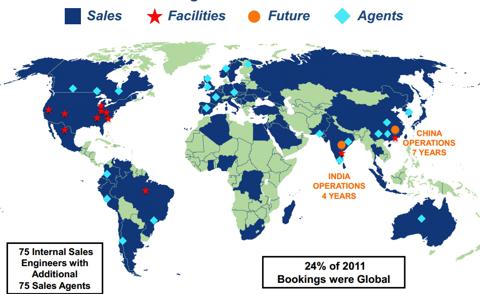 [Chart from CECO investor Presentation]
Catalyst #3 Adwest Technologies Inc Acquisition
On January 7th 2013, CECO Environmental announced that it had acquired Adwest Technologies, which specializes in regenerative thermal oxidizers [RTOs]. RTOs are used for capturing and destroying air pollution from exhaust gases at industrial plants. According to the Adwest Technologies website, "Adwest has provided over 800 Flameless RETOX RTO Thermal Oxidizer systems worldwide since 1988." With the installed base of 800 RTOs, CECO Environmental will be able to add sales to service and provide parts for the installed units. In addition, with CECO Environmental having a presence globally it can provide RTOs to its customers in countries where CECO Environmental has a presence in expanding markets like China, India, and Brazil. According to the press release of the deal announcement, Adwest Technologies has $12 million in annual revenues, which represents about 9% of the current Annual revenues of $138 million for CECO Environmental. With Adwest Technologies current sales of $12 million, and with the opportunity to expand into new markets, sales and services for Adwests RTOs will grow and provide meaningful growth in revenues for CECO Environmental.
Valuation
Using the Smartmoney.com discounted cash flow [DCF] calculator I will estimate the current intrinsic value of shares of CECO Environmental.
My assumptions/data for entry in the calculator:
Trailing 12 months EPS: $0.63
Long-Term Growth Rate: 18.28%
Growth will last for: 5 years
Perpetual Growth will be: 1%
Benchmark Return: 7.81%
[Benchmark return from Vanguard 500 Index Inv (MUTF:VFINX) 10 year Return data]
The image below shows the results using the DCF calculator to estimate how much shares of CECO Environmental are worth. Based on the DCF calculator results, the estimated value of shares of CECO Environmental is $19.05/share, which is 73.18% above its current trading price of $11.00/share.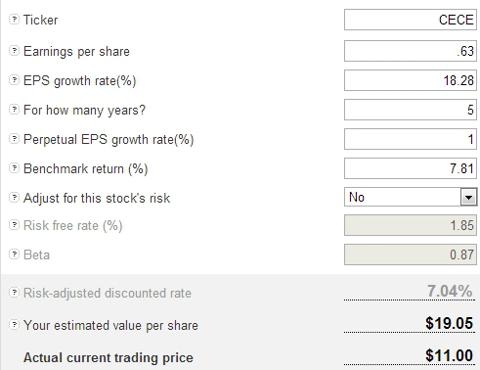 Conclusion
So one may ask the question: why buy CECO Environmental now at this

price level? CECO Environmental will be reporting earnings Thursday March 7th before the open, and with the catalysts I outlined above, earnings should continue to surprise to the upside, and lead CECO Environmental higher. As the chart below shows, CECO Environmental for the last 4 quarters has beaten its earnings estimates by an average of 21.15%.

[Table from CECO Environmental Zacks.com Detailed Estimates]
In addition to the catalysts I outlined above, CECO Environmental started paying a $.025/share dividend in the third quarter of 2011. Currently the dividend for CECO Environmental is $.045/share, which is an increase in the dividend of 80% over the last year. The company has more than enough earnings to sustain its dividend with a 29% payout ratio [$0.18 annual dividend/$0.63 EPS=29%]. CECO Environmental could easily raise the dividend further, because of the current earnings coverage, as well as the expanded earnings power that will be generated by the catalysts I outlined. While the dividend yield is not that big at 1.64%, I expect CECO Environmental will raise its dividend further to get around or over the 2% mark and at the same time provide strong EPS growth that should lead to PE multiple expansion.
Disclosure: I have no positions in any stocks mentioned, but may initiate a long position in CECE over the next 72 hours. I wrote this article myself, and it expresses my own opinions. I am not receiving compensation for it (other than from Seeking Alpha). I have no business relationship with any company whose stock is mentioned in this article.
Additional disclosure: I plan on purchasing shares sometime before earnings on March 7th.