Kodiak Oil & Gas (NYSE:KOG) announced Q4 2012 earnings on February 28th. I'll get to the earnings later in the article. First I'd like to discuss a new completion procedure the company described on the conference call. This could have far reaching consequences not only for KOG, but also for other producers with similar Bakken properties.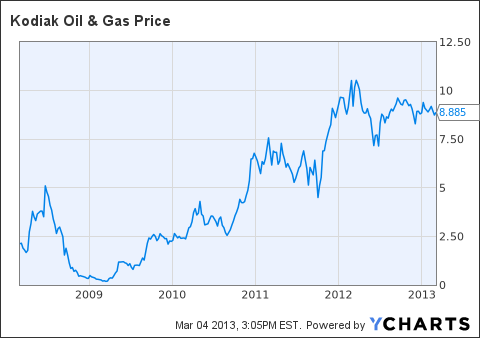 Kodiak Oil & Gas:
Mkt Cap = $2.36 Billion
P/E ((ttm)) = 18.13
EPS ((ttm)) = $0.49
Div (Yield) = N/A
Source: Yahoo Finance
The source for the following conversation is the KOG earnings call transcript which can be found here on Seeking Alpha, as well as a company presentation given in February.
New Completion Procedure
The observation KOG has made concerning well completions can be summarized by a quote from CEO Lynn Peterson's opening remarks on the Q4 conference call:
Based upon our new observations, we decided to [shut down] all producing wells within the immediate vicinity of completion operation of new wells. With this approach we are seeing a positive response from the shutting wells once they are returned to production. Which leads us to believe that we are initiating new fractures into the old well bores and finding new reserves. While this procedure has resulted in a delay of some production, it is our view that this approach will help us prudently manage the reservoir and enhance our expected long-term results.
This indicates a good possibility there is substantial communication between intervals (benches). If true, this could prove to have a big impact on production, drilling efficiencies, and proven reserves.
Pilot Programs Will Test Bench Communication Theory
KOG plans two pilot projects to further test the theory. The company believes it is important to test the concept throughout an entire 1,280 acre drilling unit. The pilot tests will be in the Smokey and Polar projects. In each pilot, KOG intends to drill six wells in the Middle Bakken and six wells in the Three Forks. The spacing is shown in the slide below: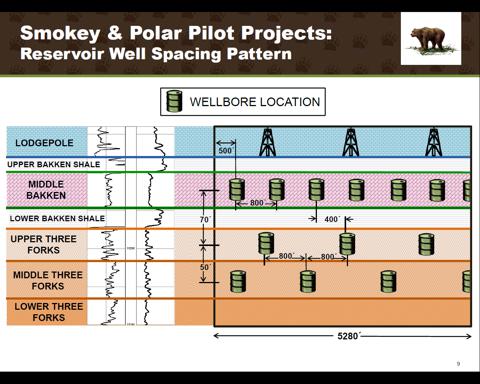 Click to enlarge
The individual wells in the Middle Bakken will be placed approximately 800 to 850 feet apart. KOG will locate the wells in the Three Forks based upon an alternating sequence between the upper and middle intervals, or benches. The vertical spacing between the Middle Bakken and Upper Three Forks is approximately 70'. The spacing between the Upper Three Forks and Middle Three Forks is approximately 50'.
With this staggered fracking procedure, KOG believes the benches may communicate better and open up the entire interval. They spread the work over an entire 1,280 drilling unit because if the technique works, they will have a much bigger interval to work with and more oil in place to recover.
Much of the work KOG is doing with well bore placement in the different intervals within the Three Forks is exploratory. They will adjust their plans as necessary and as core results indicate. Upon completion of the Three Forks wells, they should have a better understanding of the various intervals and how the reserves from each might communicate after fracture stimulation.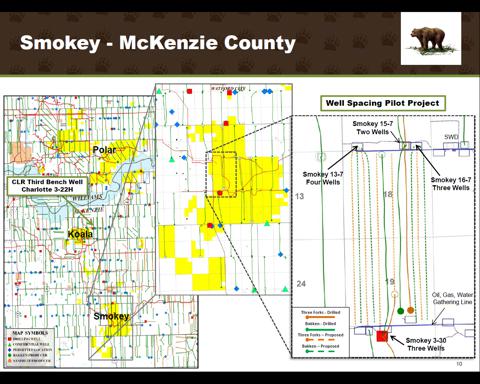 Click to enlarge
Completion operations in the Polar project area are scheduled to commence in midyear. KOG is plannin a micro-seismic project in the Polar area to gather additional information during the completion process. Completion operations in the Smokey area will be done throughout the year with full development completed after the Polar project.
The two pilot programs represent about a third of KOG's operated drilling program. The information gained from the two pilots should have a significant impact on how they design future development programs.
These results could affect operators in the entire basin. Two companies that immediately come to mind are Continental Resources (NYSE:CLR) and Whiting Petroleum (NYSE:WLL). I am sure these companies will be keeping a close watch on KOG's pilot programs' results.
As a result of these pilot programs, 2013 production growth will be back-end loaded. It will probably be the end of March before the company really gets rolling. Wells will start coming in during the second quarter. For the two pilot tests (two 12 well programs), the Polar is scheduled to start completions in May and June. That will be a big onslaught of large multi-well pads coming online.
Q4 Earnings
Q4 2012 highlights included:
Net income of $33.3 million, or $0.12 per diluted share.
Production was 18,200 boe/d compared to 7,200 boe/d in the same period in 2011.
Lease operating expenses (LOE) for Q4 2012 totaled $10.1 million, or $6.00 per BOE, a 40% decrease per BOE over the fourth quarter of 2011 of $10.08 per BOE.
Proved Reserves Up 138%
Kodiak's estimated total proved reserves at December 31, 2012 were approximately 94.8 million boe, as compared to 39.8 million boe at December 31, 2011. The 2012 total represents a 138% increase from 2011's estimated proved reserves on an equivalent basis, and is comprised of 80.9 million barrels of crude oil and 83.1 billion cubic feet (NYSE:BCF) of natural gas. The 2012 reserve mix is 85% crude oil, along with 15% associated natural gas. Approximately 46% of the 2012 total proved reserves are categorized as proved developed producing and approximately 54% are classified as proved undeveloped. Substantially all of the Company's estimated proved reserves are located in the Williston Basin.
Investors considering a stake in the Bakken oil revolution should keep an eye on Kodiak and see how the company performs on its pilot tests. It could be the catalyst for a nice pop in the stock. It might also proved very beneficial for stocks like CLR and WLL.
I'd like to thank Seeking Alpha user rjj1960 for alerting me to KOG's new completion strategy.
Disclosure: I have no positions in any stocks mentioned, and no plans to initiate any positions within the next 72 hours. I wrote this article myself, and it expresses my own opinions. I am not receiving compensation for it (other than from Seeking Alpha). I have no business relationship with any company whose stock is mentioned in this article.
Additional disclosure: I am an engineer, not a CFA. Please do your own research and contact your investment adviser. I am not responsible for investment decisions you make.