This article focuses on THL Credit (NASDAQ:TCRD) and compares it to the 13 BDCs covered in previous articles including:
Updates
February 27 - Triangle Capital (NYSE:TCAP) announced that it increased its dividend to $0.54.
February 27 - ARCC reported financial results with EPS higher than expected and covered its dividend so I adjusted the profit category higher. Revenues beat estimates by 8% and debt to equity remained about the same.
February 28 - PennantPark Floating Rate Capital (NASDAQ:PFLT) and HTGC announced increased dividends.
February 28 - BKCC announced that the initial purchasers of the 5.50% unsecured convertible senior notes due 2018 have fully exercised their overallotment option and have purchased an additional $15 million.
February 28 - HTGC reported financial results with EPS in-line with expectations.
March 1 - MCGC announced the closing of a $13 million subordinated term loan investment in Huron, a specialty manufacturer of components to the automotive industry.
March 4 - PSEC announced that it has provided a $70 million term loan to support the recapitalization of subsidiaries of Cinedigm Digital Cinema Corp. (NASDAQ:CIDM), a company that provides theaters with digital projection.
A few analysts have recently upgraded ARCC and SLRC, so I adjusted the analysts category higher.
PNNT has recently set new 52 week highs, so I adjusted the valuation category lower (less favorable).
Business Development Companies (BDCs) lend to small and mid-sized businesses, with limited financial leverage, paying out most of their income to investors and paying little to no corporate tax.
These are the five general criteria I use to evaluate BDCs:
Profitability (EPS to cover dividends, growth)
Risk (diversification, volatility, leverage)
Payout (sustainable, consistent, growing)
Analyst Opinions
Valuation (P/E, PEG, NAV)
For more information about BDCs, how I evaluate them, and my BDC investment philosophy, please see this article.
Below is an oversimplified table evaluating the companies I have reviewed among my universe of 30 BDCs giving them a relative score between 0 and 10 (10 being the best). In reality I use different weightings for each criterion. In future articles I will add the new companies to this table as well as update info.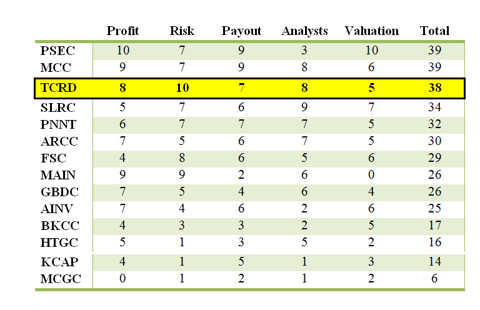 THL Credit
Market Cap: $418 million
Div Yield: 8.3%
Div/EPS: 97%
Div/Proj. EPS: 97%
P/E: 11.5
Price/NAV: 1.20
Debt/Equity: 0.14
Recent Developments
January 16 - announced the withdrawal of its application for a license from the Small Business Administration to operate a subsidiary as a small business investment company.
February 15 - closed on a $15 million investment in Embarcadero Technologies, Inc., which provides data management solutions to organizations.
March 4 - closed on a $20 million investment in Tri-Starr Management Services, Inc., a distribution, technology and integrated third-party logistics provider.
Profit
TCRD is one of the newer BDCs with a history of paying its dividend with net investment income and recently beat Q4 2012 EPS estimates by $0.02 or 6%. Annual EPS for 2012 was $1.38, a 33% increase from the year before and easily covered dividends paid during the year. TCRD has ample capacity to fund growth with existing debt and equity capital, especially with one of the lowest debt to equity ratios in the industry. "In 2012, we accessed approximately $150 million of additional capital through increasing the capacity on our revolving credit facility and the issuance of $50 million term loan in May 2012, and closing an equity capital offering in September 2012 raising $82 million of net proceeds." said the CEO, James K. Hunt. Analysts are projecting annual growth of EPS of 6% or more.
Risk
TCRD has a portfolio of 34 companies with a fair value of $394 million, up 48% from the previous year, and is one of the most diversified in the industry with a good balance of growth and stable sectors (see chart below). Technology is one industry that was underserved in 2012, but TCRD has made recent investments in this sector such as Embarcadero Technologies and Tri-Starr Management. The portfolio credit quality is strong with no loans on non-accrual status and a weighted average leverage ratio (Debt/EBITDA) of 3.8 times.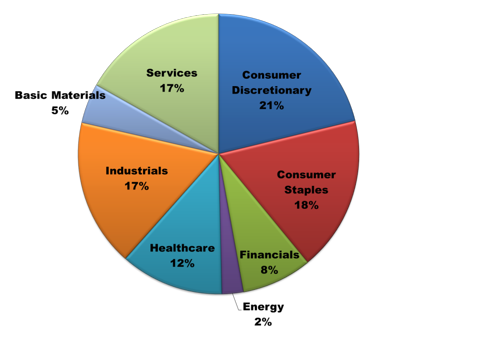 As of December 31, 2012, the investment portfolio at fair value was allocated 26% in first lien debt, including unitranche investments, 18% in second lien debt, 47% in subordinated debt, 7% in income-producing securities and 2% in equity, with 43% based on floating rates (subject to interest rate floors) and 57% at fixed rates.
Currently TCRD and American Capital have the lowest debt to equity ratios at 0.14, with plenty of capacity to grow the portfolio without further dilution of shares. In Q4 2012 TCRD had net investment income of over $9 million and interest expense of less than $1 million, equating to an 11 times interest coverage which is among the best in the industry.
So far the stock has low volatility ratios, but with less than three years of trading history (similar to GBDC in the last article and MCC) it's difficult to compare with the other BDCs. Institutional ownership of the stock is almost 60% and currently growing which is usually a good sign.
Payout
The current dividend yield of 8.3% is just below the group average but TCRD is the only BDC to increase its dividend every quarter since inception, from $0.05 in Q3 2010 to $0.33 in Q4 2012. On January 28, 2013 it paid a special dividend attributable to earnings generated from a significant level of prepayment premiums in 2012. With a history of EPS and dividend growth, along with the ample capacity for future growth, TCRD will most likely continue to increase dividends in the near future.
Analysts
Most analysts rate TCRD between a 'Buy' and a 'Strong Buy' with a target price between $15.50 and $17.00.
Valuation
The stock is currently trading 20% over NAV and a P/E of 11.5 which is close to the group average, but considering the 2012 EPS growth of 33% the PEG (depending on what future growth figures are used) is lower than average.
Summary
The management of TCRD has shown its ability to grow the portfolio in a fiscally prudent manner with low leverage and minimal dilution from constant share offerings popular among many BDCs including PSEC, FSC, PNNT, ARCC, HTGC, and KCAP. The current portfolio has impressive industry diversification with an average mix of secured vs. subordinated debt and fixed vs. floating rate investments. Dividends will more than likely continue to increase as the portfolio grows, securing TCRD as one of 'The Good' BDCs along with PSEC, MCC and PNNT.
This article was submitted before the Q4 earnings call where I will be looking for target debt to equity ratios, potential credit quality issues with existing investments, dividend growth potential, and overall competitive landscape.
Disclosure: I am long MCC, MAIN, ARCC, SLRC, PSEC, PNNT, TCRD, TCAP. I wrote this article myself, and it expresses my own opinions. I am not receiving compensation for it (other than from Seeking Alpha). I have no business relationship with any company whose stock is mentioned in this article.