When insiders conduct large market purchases, investors should pay attention. Open market purchases in particular can often express an opportunistic decision to gain an increasing stake in the company at a undervalued price. Sometimes, the purchase itself can translate into the trigger that leads to a higher valuation in the sense of a self-fulfilling prophecy. Additionally, these purchases abide by the thought that while there are many reasons for insiders to sell their shares, there are often very few reasons to buy shares apart from an expectation of future value to come about from the transaction.
At the same time, this is why we want to keep an eye on the leader company officer when he makes any transactions pertaining to the company he's running. When a CEO buys his own company's stock, it can often be a strong symbolic commitment from the one in charge. By following those who are understood to have a greater knowledge of the company's situation, investors can often follow suit and enjoy the rewards of a more timely purchase. For this reason, let us take a quick look at a recent transaction conducted by Mr. Edward Lampert, CEO of Sears Holding Corp. (SHLD)
According to the filed Form 4 found here, Lampert directly purchased 1,239,056 shares of SHLD on March 4, 2013. At a purchase price of $44.36, this transaction carried an atypically large value of $54.97 million. Already a 10% owner in the company, Lampert now directly owns a total of 25,041,046 shares of common stock. Additionally, he indirectly owns another 33,856,069 shares through various partnerships.
Despite his already large ownership in the company, the latest buy still translates into his growing support for Sears Holding Corp. Since the start of January 2012, Lampert has added to his position from time to time. A look at his purchase chart below also shows that he's been doing so even as the price of the company stock has increased.
| | | | | | |
| --- | --- | --- | --- | --- | --- |
| CEO Name | Company | Date | Shares Purchased | Purchase Price | Value |
| Edward Lampert | Sears Holdings Corp | 03/04/13 | 1,239,056 | $44.36 | $54,964,524 |
| Edward Lampert | Sears Holdings Corp | 01/09/13 | 332,048 | $40.89 | $13,576,982 |
| Edward Lampert | Sears Holdings Corp | 09/04/12 | 2,399,824 | $52.75 | $126,590,716 |
| Edward Lampert | Sears Holdings Corp | 01/12/12 | 105,650 | $31.20 | $3,296,280 |
| Edward Lampert | Sears Holdings Corp | 01/09/12 | 4,870,529 | $29.26 | $142,529,000 |
Sears Holdings Corp. now carries a market capitalization of $4.7 billion. Although the company maintains a price-to-book ratio of 1.49, the company also maintains a surprisingly low PEG ratio of 0.09 and price-to-sales ratio of only 0.12. The company's balance sheet has slowly been deteriorating over the past few years as shareholder equity has fallen from $9.1 billion in January 2010 to $3.9 billion by October 2012. Lampert's recent increases to his position in the company could be suggesting that a recovery is now at hand.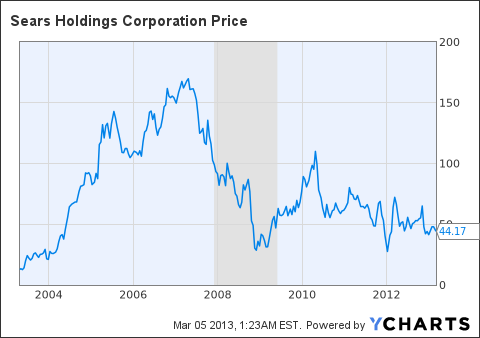 Disclosure: I have no positions in any stocks mentioned, and no plans to initiate any positions within the next 72 hours. I wrote this article myself, and it expresses my own opinions. I am not receiving compensation for it (other than from Seeking Alpha). I have no business relationship with any company whose stock is mentioned in this article.