Disappointing quarterly earnings reported by a company, followed by a sell-off, may sometimes give an entry point for investors who wish to buy a stock at a discount. When solar energy companies rallied from the leadership of SunPower (NASDAQ:SPWR), shares in First Solar (NASDAQ:FSLR) also rose. SunPower rose 160% in the quarter, helped by a $2.5 billion project announcement late-last year from MidAmerican Energy, a unit of Berkshire Hathaway (BRK.A, BRK.B). Trina Solar (NYSE:TSL) rose nearly 45%. First Solar performed the worst in the 3-month period, down 9% and giving up its entire stock price gains in the last week.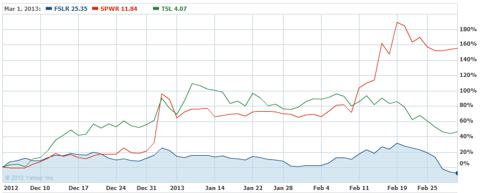 (Chart Source: Yahoo Finance)
Data Source: Yahoo Finance
First Solar dropped almost 25% decline in one-week period alone. Does the sharp decline in shares represent a buying opportunity?
Some macroeconomic conditions changed favorably since the company was first recommended as a buy in September 2012, trading at $18.92. Other worrying factors linger, which could limit any short-term rebound in First Solar.
Bullish Case
1) Higher Efficiency
First Solar improved its efficiency for the CdTe cell. Efficiency rose to 18.7%, up from a previous record of 17.3%. The company shifted its business towards higher growing markets, while reducing its reliance on the subsidized market.
2) Healthy Backlog
The Macho Springs and Copper Mountain 2 projects helped contribute to a 2.9GW pipeline for First Solar. The company recognized 679MW AC equivalents in the last quarter, leaving 2.2GW to be recognized. First Solar has more than $8 billion in revenue to recognize, a decline of $1.4 billion from the beginning of the year.
3) Lower Expenses
First Solar lowered its expenses in 2012 from $587 million to $421 million. The cost-control helped reduce the average installation cost to $1.39, down from $1.59. First Solar aims to reduce ongoing costs further, by between $70 million and $120 million. The net result was a positive cash flow in 2012. First Solar now has a debt balance of $563 million and a cash balance, including marketable securities, of over $1 billion.
4) Higher Sales
First Solar increased sales in 2012 by 22% compared to the year before. Sales rose to $3.4 billion.
Bearish Case
Investors should recognize some of the worrying trends for First Solar.
5) Book-to-Bill
The book-to-bill activity worsened for First Solar, as competition in the marketplace increased. Despite the challenges, First Solar aims to have a 1:1 book-to-bill ratio in 2013.
6) Capacity
Capacity utilization was steady for First Solar at 84%.
7) Gross Margin Decline
Gross margins dropped by 1.1% to 27.3% for First Solar. For the full year, gross margins declined by 9.8% to 25.3%. In 2011, gross margins were 35.1%. The decline is expected, as First Solar experienced lower average selling prices, while transitioning its business away from legacy markets.
8) Net Losses
First Solar earned $2.04 per share in the quarter (non-GAAP), but lost $1.11 per share for the year (non-GAAP). The loss was due mainly to restructuring charges.
9) Slow Growth in China
First Solar is slowly entering the Chinese market. In Q1, the company shipped 2 megawatts of modules for a project owned by Zhenfa. Investors should expect the environment to remain favorable to incumbents, which could limit First Solar's growth in the region. For example, to Trina's benefit, the Chinese government appears likely to increase incentives that promote distributor generators on rooftops. Trina believes it can sell 10 gigawatts for the year.
10) Profit-taking from SunPower
SunPower shares are already down 13.8% from a peak reached in February 2013. A further drop for SunPower might give investors an excuse to sell First Solar too.
Conclusion
After the sharp, sudden decline in its shares, First Solar looks like it holds tremendous value. The company trades with a forward P/E of 7, is improving its balance sheet by lowering costs, and is aiming to reach a book-to-bill ratio of 1. Risks still exist, which suggests that the current pull-back is not yet over. First, gross margins will remain under pressure, as competition remains elevated in the industry. As the backlog for First Solar shrinks, the company will need to win additional projects. Second, excess supply in the industry will continue to pressure the average selling prices for solar products. There is no end in sight for declines in selling prices, but cost management will benefit First Solar when product prices eventually stabilize.
Disclosure: I have no positions in any stocks mentioned, and no plans to initiate any positions within the next 72 hours. I wrote this article myself, and it expresses my own opinions. I am not receiving compensation for it (other than from Seeking Alpha). I have no business relationship with any company whose stock is mentioned in this article.